Playoff-hungry Flyers fill up on goals in Las Vegas
February 12, 2018 - 1:13 am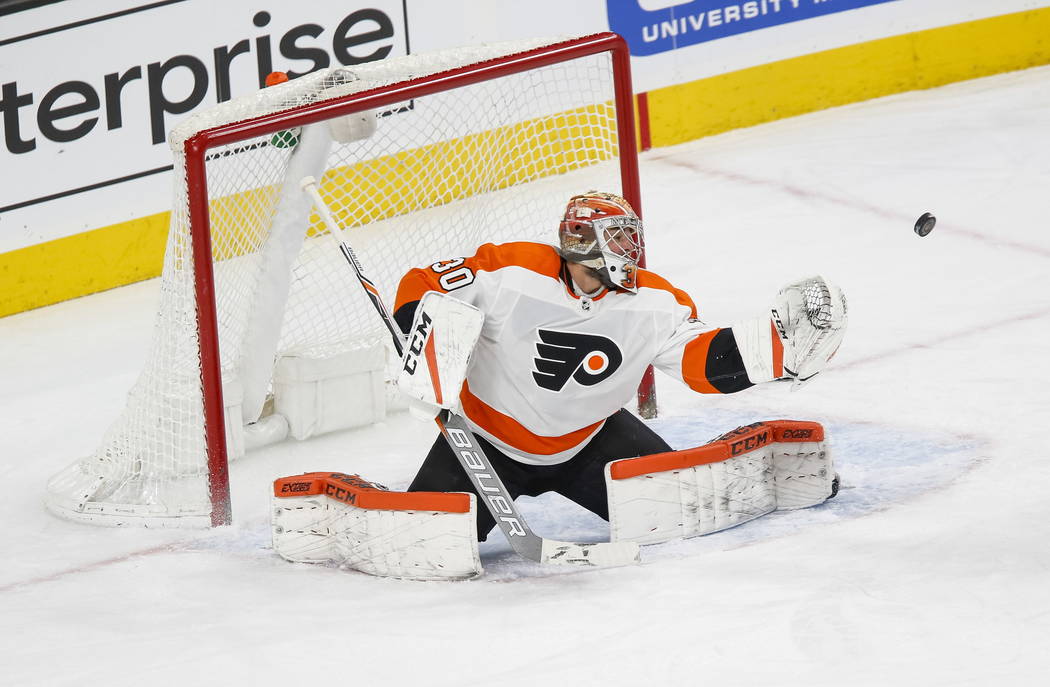 Here's what you find often this time of year, when an NHL All-Star Game has been played, a season's midpoint has passed and a conclusion to the schedule is suddenly distinguishable: Games involving teams with dissimilar realities when it comes to the playoffs.
One side might exist comfortably within the postseason picture.
One might be fighting for its life each time the puck drops to eventually be included.
In other words, games like the one between the Vegas Golden Knights and Philadelphia Flyers on Sunday.
The sports gaming folks tell you a good side to always bet against is the team coming off a long road trip with more than one day before returning to the ice. Things tend to get a little comfortable back home, and the Knights certainly proved the notion true.
Philadelphia beat Vegas 4-1 before 18,220 on a strange day inside T-Mobile Arena.
The wireless was down.
(How in the world does that happen in a place named after the nation's third-largest carrier?)
A main elevator was broken.
The home team wasn't any good.
The whole thing was a disaster.
"It happens," said Knights coach Gerard Gallant, whose team was coming off a six-game road trip and lost consecutive decisions at home for the first time this season. "Give the (Flyers) a lot of credit. They played well.
"There's a lot of truth to (playing poorly off a long trip). I'm disappointed, obviously. It's not an excuse, but it happens a lot and it happened to us. Philly deserved the game. We just weren't competitive enough."
It could be like this often for the Knights as the next six to seven weeks play out and playoff spots are clinched, this idea that no matter how large a lead Vegas might own atop the Pacific Division, those chasing berths in both the Western and Eastern conferences will bring supreme focus that needs to be equaled.
The Knights didn't really come close to doing so Sunday. They never solved the line of Claude Giroux, Sean Couturier and Travis Konecny, which combined for seven points and had a hand in the visitors' first three goals.
If you want a deceptive statistic from this one, look no further than shots on goal. Vegas was credited with 39 but never really threatened Flyers goalie Michal Neuvirth in a manner such a number suggests.
Philadelphia had just 17 but was absolutely the better team when it counted most.
It scored with 2:10 left in the first and then twice over the final 2:52 of the second, allowing the Flyers to then use the final 20 minutes to protect a lead and remind the Knights of an important truth: On those nights when the other guys want it more, you're likely to lose.
Of the next six games — all at home — there will be other such matchups against teams fighting for a playoff spot, specifically Anaheim and Calgary.
Those are other such times Vegas needs to do a better job matching intensity.
"For sure, everyone is in a push to get into the playoffs or stay in them," said Knights goalie Marc-Andre Fleury. "Every point matters, and we need those points, too. We're home here for a while, so we need to take advantage of it."
Philadelphia has won four straight, sits third in the Metropolitan and yet is still just separated from the second wild-card spot in the East by four points.
It would be in the playoffs if they started today but played as if it wasn't.
The Knights lead the Pacific by eight points and, not in a way any coach desires, played like it.
Meaning, the other guys were a lot hungrier.
Gallant and his players have done, for the most part, a terrific job avoiding the "P" word, but people can read, players understand where they sit and human nature dictates things such as playoff position and potential seeding will be thought about.
"I think it's natural to do so," said Knights defenseman Brayden McNabb, who scored the team's lone goal Sunday. "We're in a good position right now. We're happy where we are. But we're a team that's always going to have something to prove. We've said from Day One that we will take it one game at a time. That's our mentality, as big a cliche as it is."
They proved something Sunday: You can believe in the betting rule about going against the team coming off a long road trip.
The Knights more than supported it.
They weren't very good.
But the hungry team fighting to keep a playoff spot was.
Contact columnist Ed Graney at egraney@reviewjournal.com or 702-383-4618. He can be heard on "The Press Box," ESPN Radio 100.9 FM and 1100 AM, from 11 a.m. to 2 p.m. Monday through Friday. Follow @edgraney on Twitter.