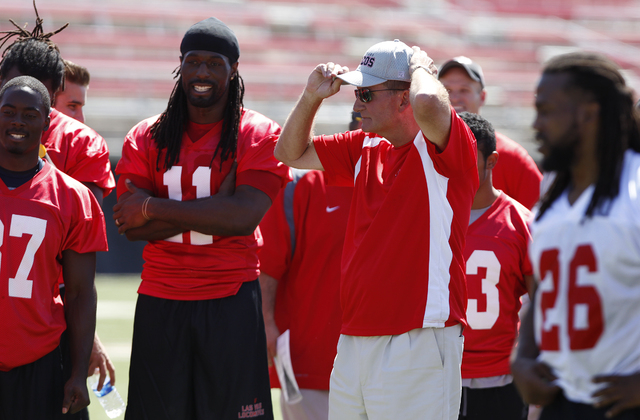 Jim Fassel is the experience in this equation. The one whose credentials wouldn't be scrutinized. The one who is a former NFL Coach of the Year, guided the New York Giants to the Super Bowl and took a United Football League franchise he built from scratch to two consecutive championships.
He is the one about which there would be no questions asked on things such as readiness and capability and the ability to hire a knowledgeable staff.
He is the one whose Xs and Os would pass the eye test and all other such assessments.
His is a name that has been widely associated with the coaching job at UNLV, vacant since Bobby Hauck announced his resignation Friday, effective Monday, two days after the team's final game of the season against UNR.
Widely associated with all others behind that of Tony Sanchez, the name you hear about first and most often.
If the race isn't over before it actually began, and you would have a difficult time convincing many today that Sanchez isn't already preparing to depart Bishop Gorman High for the Rebels shortly after the Gaels compete for a sixth straight state title Saturday in Reno, coaches such as Fassel have been mentioned as possible successors to Hauck.
Fassel is an interesting candidate for many reasons. He has a personal relationship with UNLV athletic director Tina Kunzer-Murphy and her husband. He has made Las Vegas his permanent home after a successful run with the Las Vegas Locomotives of the UFL, in which he led the team to the finals from 2009 to 2012. He has college and NFL head coaching experience, a resume that spans more than three decades.
He has, well, proven to be terrific at the game's highest levels.
"I would have to sit and talk with (UNLV officials) and really see where things are and what it would take," Fassel said. "The thing I love about college coaching is that the kids are still very much in a developmental stage. They have school to attend and play football. They aren't making $5 million a year with guaranteed contracts. It's a very influential times in their lives, and that's a lot of fun for a coach.
"I've always been more of a pioneer than a historian. I like challenges. I like building things. All of my friends said, 'Don't take the New York Giants job. Don't do it. The media is too tough. They have salary cap problems. There isn't a quarterback.' Well, we flipped it the very first year. I like that part of sports, accepting challenges. I've done it more than once in my life. I enjoy it."
This part isn't changing: UNLV needs to upgrade its program in terms of facilities and academic support and other important recruiting tools as much as anything else. The Rebels have had good coaches the past few decades and still failed miserably on the field.
Fassel undoubtedly knows this and wouldn't seriously consider the job if he wasn't assured those sorts of things would be addressed. No one with an ounce of common sense would, because the Rebels can't and won't win consistently until such improvements occur.
He is 65, and there probably would be as many questions about his age as there would be the inexperience of Sanchez, whose only college experience is as an undergraduate assistant for New Mexico State in 1996. From there, Sanchez has coached high school football in New Mexico and Texas and California and now Nevada.
The arms race that defines college football wasn't in the early-to-mid 1980s (when Fassel coached at Stanford and Utah) what it is now, but one thing has remained constant: When sitting in a living room of a recruit, parents want to hear about academics and the player about his prospects of making the NFL.
"You can go back to a time when Southern Methodist had more money than anyone, when they built Taj Mahals, and still couldn't win because they picked the wrong coaches," Fassel said. "Yes, kids look at facilities. They do. But, in my opinion, they look at the coach and staff more. You need both to be really good — good coaches and the ability to raise money and build facilities and upgrade everything a program needs.
"My daughter and her husband and family moved here for a job opportunity. We bought a house. My wife said, 'I like it here. Let's stay.' We're not moving. This it is. I'm not going anywhere. I get calls about (NFL) jobs, but I'm not leaving Las Vegas. We have a beautiful life here."
The popular opinion locally is that the UNLV search never really began, that Sanchez and his ability to bring the financial support of others to guarantee such upgrades has already won out. Perhaps. Maybe anything else is window dressing to offer the perception that more than one person was actually considered.
But if not, if Kunzer-Murphy is truly open to more than one candidate, Fassel would bring an intriguing resume to the interview.
Especially on the coaching side of things.
Las Vegas Review-Journal sports columnist Ed Graney can be reached at egraney@reviewjournal.com or 702-383-4618. He can be heard from 11 a.m. to 2 p.m. Monday through Friday on "Gridlock," ESPN 1100 and 100.9 FM. Follow him on Twitter: @edgraney.