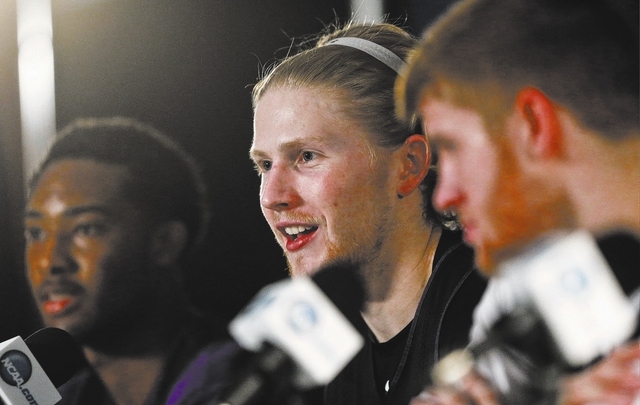 SAN DIEGO
Sunshine lives.
This one isn't a football player on the big screen in "Remember the Titans," and isn't a fictional surfer-turned-quarterback who transfers from a high school in California to one in Virginia in the early 1970s.
This one is real.
And he hunts and fishes and wears Spider-Man socks.
Jacob Parker is what you might expect from a Cinderella story in the NCAA Tournament, a free spirit who happens to be the leading scorer on a team that has won 29 straight games and last lost Nov. 23.
He is a junior forward and what you would think the face of Stephen F. Austin basketball would resemble.
He wears one of those shoestring headbands that keeps his long blond hair out of his eyes so he can continue averaging 14.4 points and grabbing 7.1 rebounds and shooting 55 percent.
He is Cameron Bairstow, only 40 pounds lighter and without an Australian accent.
Parker thinks police escorts during the NCAAs are pretty cool.
He appreciates the extra Gatorade and water in the locker room.
"Jacob has an extremely caring heart and an extremely vivid imagination," Lumberjacks coach Brad Underwood said. "These are 18-, 19-, 20-year-old kids. He enjoys having fun. He would be just as comfortable on an episode of 'Duck Dynasty' than he would be playing basketball.
"But his poise and patience and ability to be who he is off the court allowed him to be the Player of the Year in the Southland Conference on it."
The madness has again told us to disregard seed numbers next to a team.
I'm not sure what an upset is in the tournament anymore. Not sure such a thing exists.
But history still plays a part in matchups, and No. 12 Stephen F. Austin today will take the fact that it's the second-winningest program in the history of Texas and oppose a program with 11 NCAA championships and 18 trips to the Final Four.
It will meet No. 4 UCLA.
In the world of college resumes, this is a mismatch the likes of Holmes vs. Frazier.
But if the Lumberjacks can play the team and not the jersey, there is every chance they will push the Bruins for all 40 minutes of a South Region game that will award the winner a trip to the Sweet 16 and a date with No. 1 Florida.
Which makes having a player such as Parker all the more valuable.
These are tense moments that lead to nervous shots and anxious possessions, ones that need those who produce most to react with poise and confidence.
How can't you be confident in a kid who wears Spider-Man socks?
"My AAU coach always called me Peter Parker," Jacob Parker said. "I was the one white guy on the team, so I was coined 'The Shooter,' and he would spray a web for me to shoot the ball. The first time 'Sunshine' caught on, we were playing East Tennessee State, and some guys in the stands started calling me that. I like our (school's) town of Nacogdoches. It's not a big city, but I can do things I enjoy.
"UCLA has a lot of talent, so we just have to stay true to our principles, stay in line, not let them catch the ball at their favorite spots. We just can't get too far ahead of ourselves. We're looking forward to it. Should be fun."
Sure. A bowl full of cherries.
But you don't win 29 straight in anything and not be a capable side. The Lumberjacks lost at Texas by 10 in a game that was tied with 2:20 left. They last lost that November night to East Tennessee State and its clever student body shouting nicknames.
That was 120 days ago.
"I really don't think losing is an option to our team," Underwood said. "I'm being very sincere about that. We have a resiliency that way. I don't think it matters who we play. I will say (UCLA) poses problems we haven't seen. We can't simulate their length. But, ultimately, they are also 18-, 19-, 20-year-old guys. We're just going to throw it up and go compete.
"UCLA brings you back to reality pretty quick. But this is what it's all about. Go to the next game. Live in the moment. It is what we have done all year."
They did so Friday, when Stephen F. Austin used a four-point play with 3.7 seconds remaining in regulation to force overtime and beat Virginia Commonwealth 77-75.
They discovered the sort of improbable finish that oddsmakers and most others believe will be needed to take out UCLA.
Just don't tell Sunshine.
I'm figuring he has a plan in store for the Green Goblin.
You know, Steve Alford.
Las Vegas Review-Journal sports columnist Ed Graney can be reached at egraney@reviewjournal.com or 702-383-4618. He can be heard from 11 a.m. to 2 p.m. Monday through Friday on "Gridlock," ESPN 1100 and 98.9 FM. Follow him on Twitter: @edgraney.