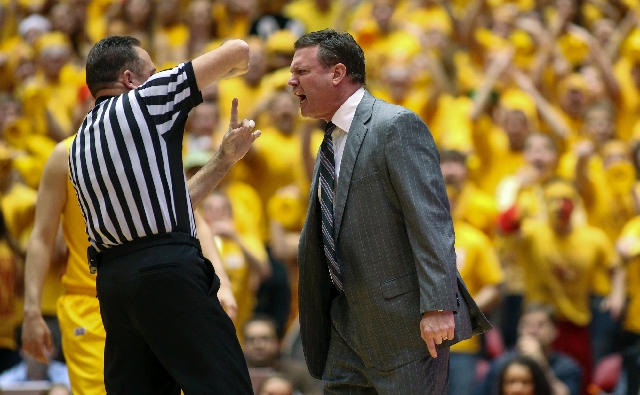 Full disclosure: I hate when basketball players whine about calls that officials make during games.
I hate when coaches begin postgame remarks about not using calls as excuses for losing and then, in a roundabout, avoid-a-reprimand-at-all-costs sort of way, use calls as excuses for losing.
I hate when writers not-so-subtlety blame those blowing whistles for specific outcomes when recounting the action.
I hate when play-by-play announcers cross the line from (acceptable) homers to (embarrassing) fans when bellowing about the supposed injustices shown their teams.
Just wondering: They all realize that a majority of college basketball officials aren't good, right?
This isn't news to anyone, yes?
I will give those who whine most this: It's getting tougher and tougher to hold tongues about the state of officiating, but if you're going to tell players to be tough and play through it and control only what they can, show a little discipline and practice such things yourselves.
An R-J colleague, Adam Hill, has another idea: Players and programs should sue referees for incompetency, insisting that bad calls directly lead to lost income by those affected.
Adam is a cross between Oliver Stone and a ufologist when talking conspiracy theories. I'm pretty sure he was Joseph McCarthy in another life.
His idea about making bad officials the next great tort case studied at law schools across the country — LOPEZ-SOSA V. DAVID HALL, coming to a mock trial near you — is an amusing but far-fetched idea.
His contention that most officials aren't that good at their jobs isn't.
College basketball officiating on most nights has varied from average to awful this season, one of the few negatives in one of the most exciting seasons produced in recent memory.
Indiana lost at Minnesota on Tuesday, the seventh time a No. 1 has fallen this season. The race for a national championship is as open as your neighborhood 7-Eleven. It has been that unpredictable. That crazy.
But questionable calls have remained as consistent a theme as surprising scores, some whistles so blatantly bad that conferences publicly have had to reprimand crews merely to save face.
The latest such incident came after a game between Kansas and Iowa State on Monday, when the Big 12 Conference admitted to "officiating errors" late in a game the Jayhawks would win in overtime.
It's a hard truth. The host Cyclones were robbed.
I don't believe it's a matter of training. Officials constantly are shown tapes of their games and made to explain by supervisors why certain calls were made. The competition to rise in the officiating ranks is fierce. It's not as though younger officials aren't wanting to climb the ranks.
I just believe those at the top still work too much.
It's an old issue but one that hasn't been properly fixed. As of Tuesday, 20 officials had worked at least 65 games at the Division I level this season. Of the 20, 12 have called games in 20 or more states.
Roger Ayers has worked 81 games, more than any other official. He has done so in 24 states. Since the 1997 season, he has worked games in 35 states.
I understand it from an official's point of view. A top referee can make thousands of dollars per game, depending on the conference hiring him. Sure, a man has to eat, but such a grind produces tired minds, which often lead to missed calls.
"I'm not sure it has been any better or worse than past college seasons," said Marc Ratner, commissioner of officials for high school sports in Southern Nevada. "I don't see that. There have been so many close games this year at the high Division I level, I think some (calls) have been magnified because of how competitive the games are.
"I do believe, at the top level for officials, it would be better if there was a more regional-type scheduling where maybe they only worked nine or so states. You have officials going into one state on a Friday to work a game, catching a plane right after or first thing the next morning and working a game Saturday. Travel like that can be tiring and stressful. It's tough."
It shows. It's not all officials, though the next one to call block-charge consistently well might be the first.
These guys still are overworked, and the game suffers for it.
Don't believe me? Listen closely.
The whining is getting louder.
I still hate to hear it, even though it's understandably getting tougher and tougher for some to hold their tongues.
Meanwhile, my buddy Adam is watching a game and celebrating the fact an official from Roswell, N.M., made the latest bad call.
Las Vegas Review-Journal sports columnist Ed Graney can be reached at egraney@reviewjournal.com or 702-383-4618. He can be heard from 11 a.m. to 2 p.m. Monday through Friday on "Gridlock," ESPN 1100 and 98.9 FM. Follow him on Twitter: @edgraney.