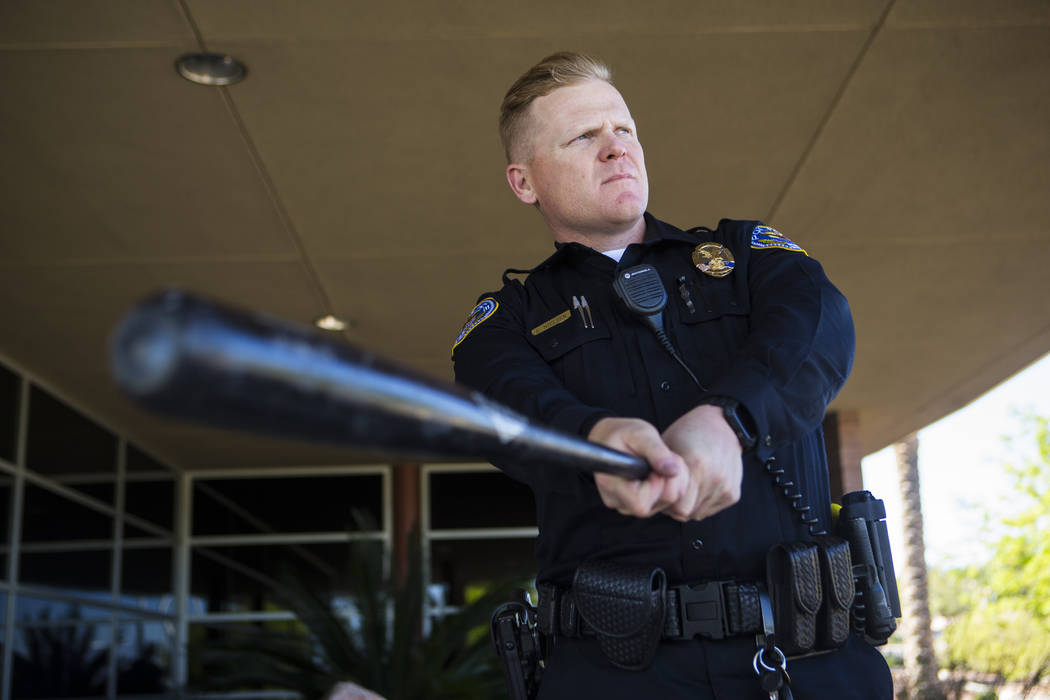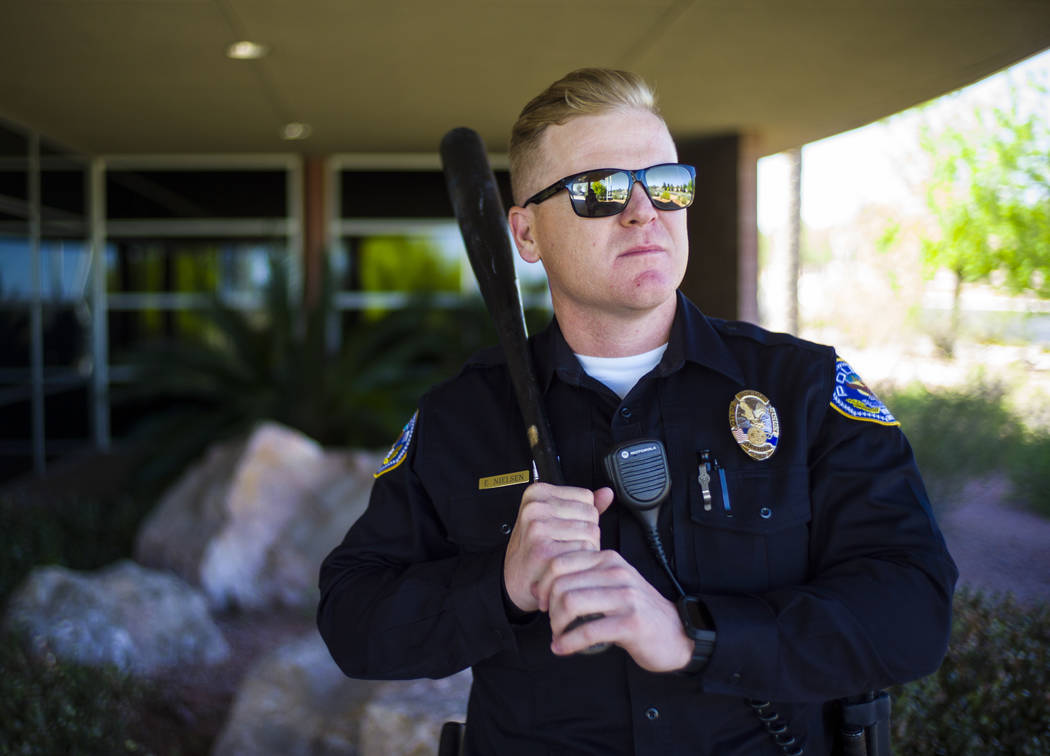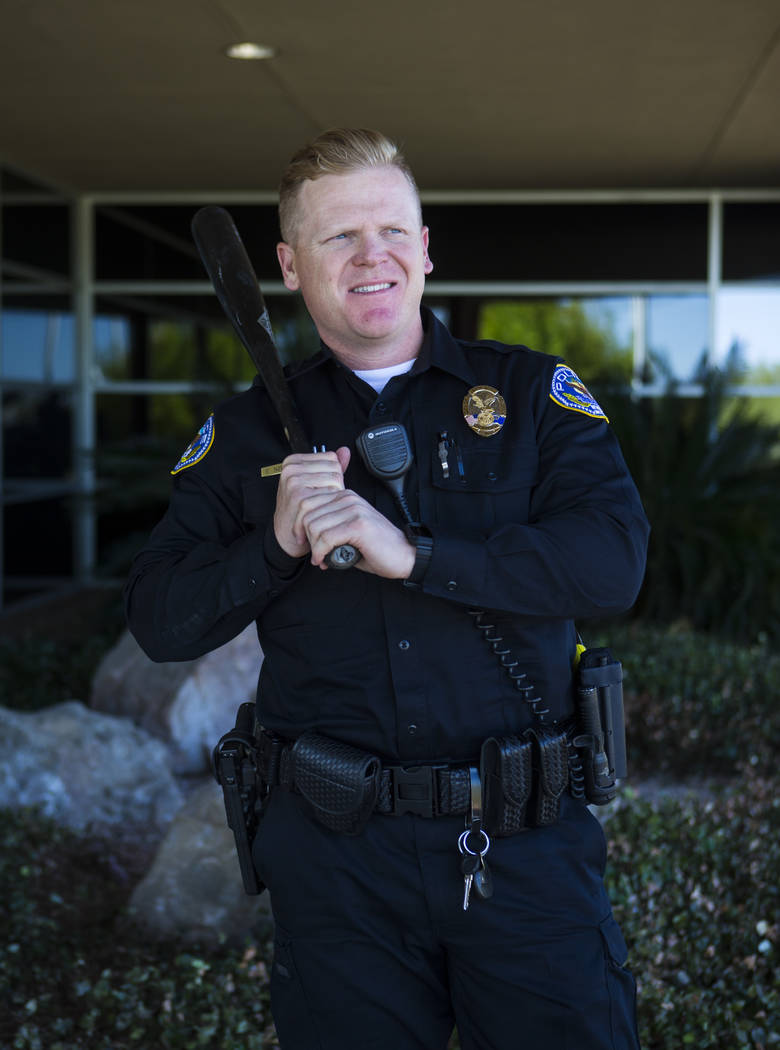 His life in law enforcement now, the uniform, the camaraderie, the structure, the teamwork, mirrors that of a time he sent baseballs flying out of Wilson Stadium, different places where others have been similarly dependent on him producing results.
This is the sort of tale — player walking onto local college program, improving each year, producing a Triple Crown season as a junior, playing five years professionally, returning home and joining the Henderson Police Department — that resonates.
Now, there is a new chapter to Eric Nielsen's story: Hall of Famer.
UNLV athletics will celebrate the class of 2017 on Thursday night, when six Rebels, a head coach and a contributor will join one team in being inducted at the Strip View Pavilion at the Thomas &Mack Center.
"Very humbled," Nielsen said. "It really hasn't sunk in. I was a cage rat who worked hard on the field and in the weight room. To also share this night with my team is as good as it gets. That's the coolest part about all of this."
He played for the 2003 baseball team that also will be honored, and yet his journey to such a distinguished place hardly began with fireworks and fanfare.
In fact, nobody wanted him.
His best friend's father convinced the UNLV coaching staff to take a look at Nielsen, who arrived from Silverado High on the Millennium Scholarship and redshirted his first season. By the following year, Jim Schlossnagle had been hired as coach of a roster on which were 15 locals.
Included among them were five from Silverado.
Included among them was the kid nobody wanted.
"I had just come from Tulane, and Eric reminded me of a lot of the kids there, one with a great makeup who was really intelligent and a very hard worker," Schlossnagle said. "UNLV hadn't been winning, and yet I felt that core group of local kids, led by Eric, could really get us going.
"Even as a young kid, Eric was very, very strong. He had a funky swing, but he was so strong and such a good athlete, he overcame it. Hit to all fields. Great understanding of the game. Would give himself up to score a run. Just really physically talented.
"The fact he eventually became a policeman, someone who will manage and oversee and lead and motivate others, who can give them structure, doesn't surprise me at all."
Schlossnagle had moved onto to Texas Christian, where he has built one of the nation's best programs, by the time Nielsen was tearing up Mountain West record books in 2004. The team captain was a first-team All-American and conference player of the year as an outfielder who led the league in average (.402), home runs (16) and RBIs (87).
First in slugging percentage, first in on-base percentage, first in runs scored.
The dream was to advance through the minors — he was drafted in the 12th round by Toronto — and eventually find himself in a major league lineup. But within every player exists a ceiling he will eventually touch, and that of Nielsen never progressed past Triple A with the Blue Jays.
He returned to UNLV, earned his degree in communications in 2009, did a little coaching and was approached by a friend who was a police sergeant in Henderson about joining him for a drive-along.
He has been on the force for two years.
"I was instantly hooked," said Nielsen, 35. "When the lights turn off for a lot of athletes, they need to find something that will emulate that natural high. I found it within policing, with guys all pulling on the same end of the rope, with that kind of teamwork."
He knows his isn't always the most popular of jobs in today's world, that many have for some time scoffed at the notion law enforcement is defined by serving and protecting, a societal shift in judgment as racial tensions peaked within communities across the country.
But things are getting better in his eyes, as agencies continue to implement new programs and retrain officers to improve relationships. For his part, Nielsen hasn't felt the apprehension between citizen and policeman.
"I do think most people realize we have a tough job and that this is a noble profession," he said. "We spend hours and hours and hours training on how to better ourselves.
"I miss baseball every day. At the time, being released was a tough pill to swallow, but it's a business. You learn to deal with failure and adversity. The game never owed me anything. Like with anything in life, you move on to the next challenge."
On Thursday, he will allow himself to look back.
This time as a Hall of Famer.
Contact columnist Ed Graney at egraney@reviewjournal.com or 702-383-4618. He can be heard on "Seat and Ed" on Fox Sports 98.9 FM and 1340 AM from 2 to 4 p.m. Monday through Friday. Follow @edgraney on Twitter.