Protecting lead catches up to Golden Knights in OT loss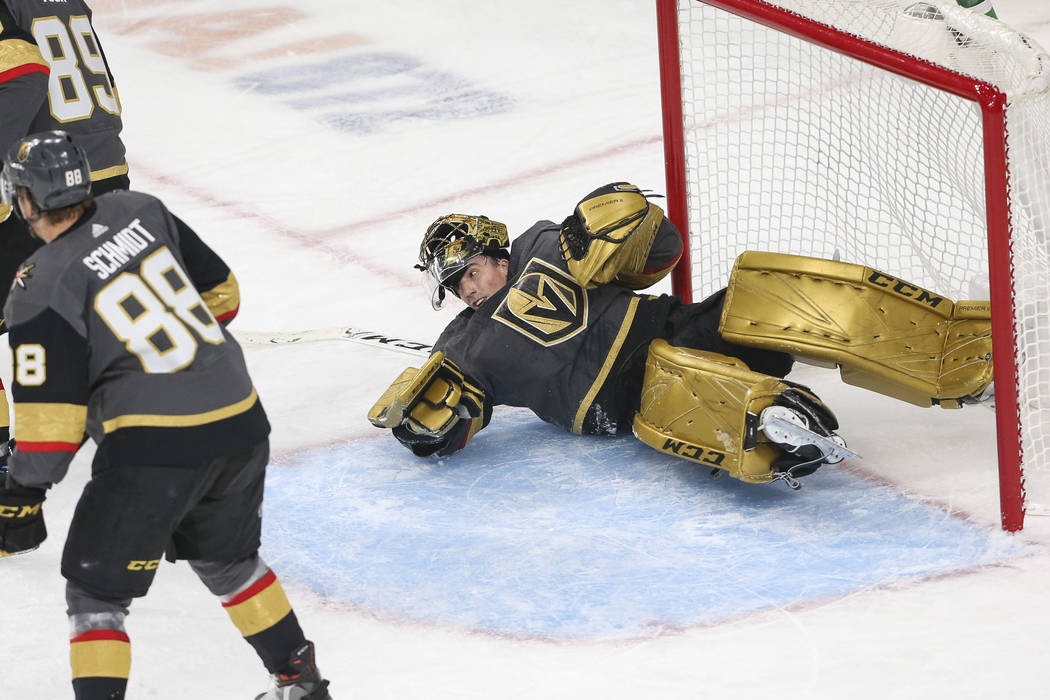 It doesn't change depending on the sport. The mindset is the same whether you're driving a golf ball or shooting a puck.
Playing with a lead can be murder on the old psyche, unless you're of the attitude Gerard Gallant wants from his hockey team.
"We always push," the Golden Knights coach said. "We never sit back."
Never is pretty tough to achieve.
The Knights didn't push as much as usual Saturday.
They held back in the last half of the third period.
They paid for it.
Never took the afternoon off.
For just the second time this season, the Knights lost a game in which they led after two periods, falling to Montreal 4-3 in overtime before an announced crowd of 18,173 at T-Mobile Arena.
More than anything else, the Knights are now 13-0-2 when entering the final 20 minutes of regulation with an advantage on the scoreboard because the Canadiens were much better from the moment that 20-foot-tall helmet made its 45-second descent from the rafters for pregame introductions.
Better. Faster. Far more aggressive.
For the love of Tomas Tatar — who remains a really nice guy and yet incredibly capable of missing an open net — Montreal deserved the two points like nobody's business.
It varies from team to team, how you play when up late, whether you choose to push forward for more scoring chances or retreat and protect the lead you have, whether your style translates to an assertive or passive nature in such moments.
"It's natural," Knights defenseman Brayden McNabb said, "to err on the side of caution with a lead."
When they were winning all those Stanley Cups, nobody protected leads like the Blackhawks, then a cluster of terrific two-way players who were enough of a threat offensively to prevent opponents from taking risks in search of an equalizer.
That's when they led by a goal.
When those Chicago teams led by two in the third, they were more a sure thing than cookies and milk being left out by children across the world come Monday night.
Do you know who else has been terrific when leading late for stretches in the past several years?
The Pittsburgh Penguins.
For much of those wins, they had a guy named Marc-Andre Fleury in goal.
He's also a major reason the Knights have closed out so many games since joining the NHL last season.
But he faced 47 shots Saturday. That's too many, and yet if not for some highlight-type saves by Fleury, Montreal has six or seven goals and wins going away.
"We didn't play our game," said Knights forward Jonathan Marchessault, who had his 13th goal of the season. "They played our game. They were fast, got a lot of shots off, worked hard. They were just better than us. The last five minutes of the game, I feel like we just waited for them to come into the zone, and that's not good enough. We need to go get the next one and focus on that. It doesn't matter what the score is. You have to keep going forward, and that's not what we did.
"We just sat back those last five to 10 minutes, and that's not good enough. We're usually a hard-working team, and we didn't work hard enough in this one."
Gallant doesn't change much when leading, except for something like inserting defensive-minded forward Pierre-Edouard Bellemare into more shifts as a way to protect against allowing a late goal.
But then the Canadiens pulled goalie Carey Price with 2:10 remaining in the third for the extra skater and Phillip Danault found himself in front of the net and, one jam of his stick later, had a hat trick and things were even at 3.
Then overtime arrived, and Montreal took one shot and scored and 13-0-1 became 13-0-2 when leading after two periods.
"Montreal came in here and played a gritty and competitive game," Gallant said. "They were fast. They were the best team I've seen come in here this year. I didn't mind our team's game, but (Montreal) was real good. Give credit to them. They played great, and we just weren't quite up to their speed.
"We don't change our game because we're leading by a goal or two goals. We play the same way. Do I make a couple of adjustments with my lineup? Yes. I don't want us to change our game. I never do."
Never took the afternoon off.
Holiday season and all.
More Golden Knights: Follow at reviewjournal.com/GoldenKnights and @HockeyinVegas on Twitter.
Contact columnist Ed Graney at egraney@reviewjournal.com or 702-383-4618. He can be heard on "The Press Box," ESPN Radio 100.9 FM and 1100 AM, from 7 a.m. to 10 a.m. Monday through Friday. Follow @edgraney on Twitter.