Raiders finally figure out how to finish in beating Browns
Updated September 30, 2018 - 9:07 pm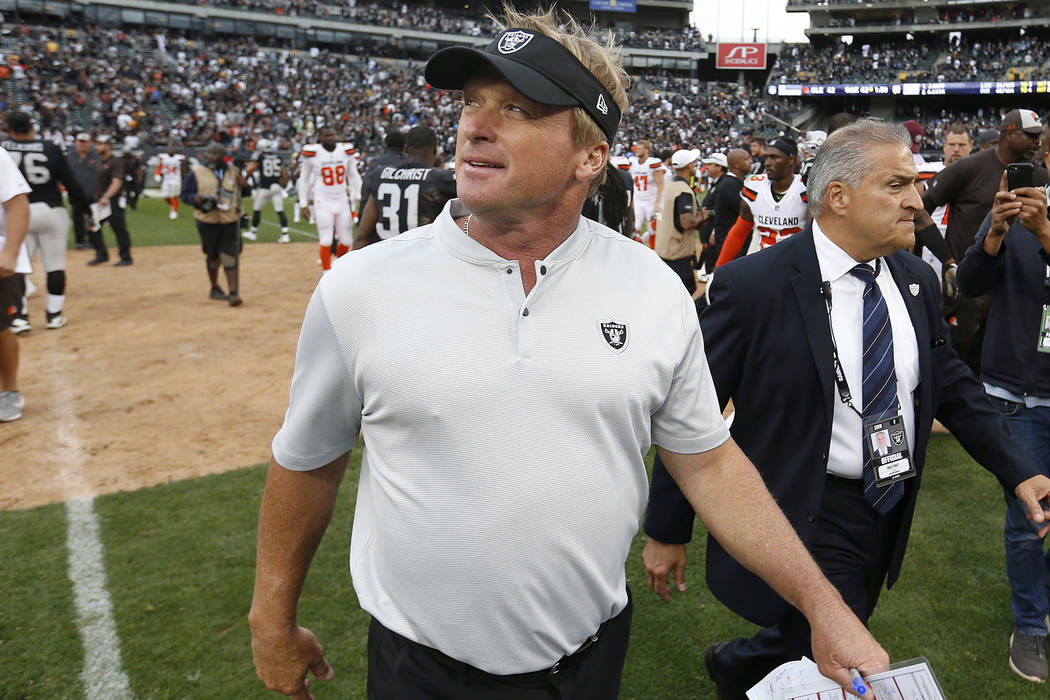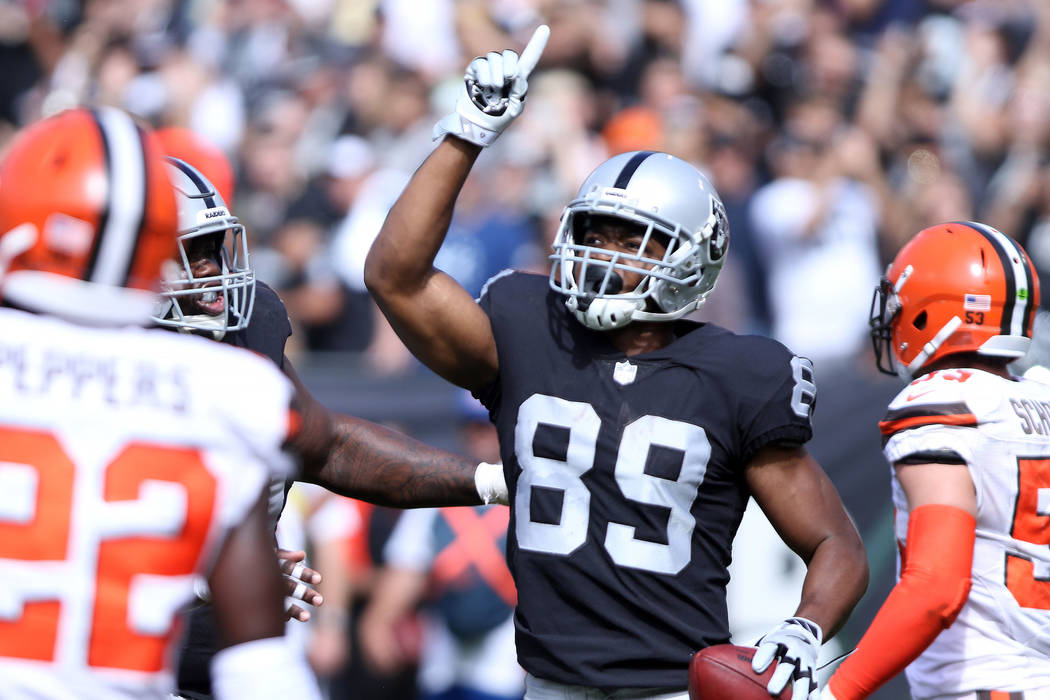 OAKLAND, Calif. — It's a sound heard across all levels of football, and it's as distinctive as Jon Gruden's voice.
It's the sound of proof, of indisputable truth indicating a belief is valid.
Or, in the case of the Raiders, that which Gruden has been preaching can indeed result in success.
The hooting and hollering and yelps of celebration reverberated behind locker room doors late Sunday afternoon, the Raiders having finally earned victory in 2018, a 45-42 final in overtime against Cleveland before an announced gathering of 53,387 at Oakland-Alameda County Coliseum.
All it took was four hours and four minutes, a combined 87 points, 1,053 yards and six turnovers, a third-string rookie kicker making a game-winning field goal off a ball delivered by a second-string long snapper, and a whole lot of momentum changing plays from both sides.
All it took was this: That kicker is named Matt McCrane. He was added to the roster Tuesday and didn't even appear on the official flip card, which still listed injured Mike Nugent as kicker.
All it took was as crazy and entertaining a game as you might expect given the score.
And as that final attempt was good from 29 yards, as it sailed through the goal posts to the roaring satisfaction of those who stayed to watch and hadn't given up faith due to a late fourth-quarter deficit, Gruden officially began celebrating his first win since returning to the sidelines as a head coach.
It had been 10 years.
"It feels like my first win in 100 years," he said. "I've never been so nervous on a 29-yard field goal in my life. We're happy, we're proud, we're excited, but we have to get a lot better. We have a long ways to go. Obviously, there are a lot of things we need to do better. But it's fun to win."
It followed three straight losses by the Raiders, who were staring 0-4 in the face by trailing 28-14 midway through the third quarter Sunday and 42-34 with 1:28 remaining in regulation.
I'm not sure what such a rally will ultimately mean over a 16-game schedule, but no matter how sturdy a team's resolve, losing week after week does, at some point, weaken a team's mental toughness.
The weight of failure can be severe.
But by finally making winning plays in the fourth quarter, a period in which the Raiders had been outscored 37-3 over losses to the Rams, Broncos and Dolphins, those players hooting and hollering behind locker room doors understood it was in them to finish.
Over the final 15 minutes and in overtime, the Raiders scored 24 points.
"You have to celebrate every win in this league," said wide receiver Amari Cooper. "We don't want to come in on Monday every week and be disappointed in a loss, even if it's a close game. That just gets you down. I'm glad we got this win — now it's time to stack them up."
More than a win
It's about more than that, about more than Sunday.
The hype that accompanied Gruden returning to the Raiders for a 10-year contract and reported $100 million was massive, and certainly allowed for just as big a share of criticism from all spots on the NFL map.
The pressure to prove himself a second time now and over the long term when the team relocates to Las Vegas in 2020 will be a constant storyline, a fact he didn't make any easier on himself by trading the team's best player (Khalil Mack) before the season.
He might have been hired on his reputation as an accomplished offensive mind who coached Tampa Bay to a Super Bowl victory, a mentor thought the best option to further develop a franchise quarterback in Derek Carr, but beginning 0-3 sure raised some doubts by some.
The Raiders needed the sort of proof only a win offers.
So, maybe, did their head coach.
"We just hadn't finished anything," Gruden said of the team's forgettable start to the season. "We played some good football in stints — played good football against Miami, played some good football against the Rams, had some really good tape against Denver. We're going to continue to do it. It was really fun to score and win a game and get that monkey off our back."
It all led to the sound reverberating from behind those locker room doors.
In football, there's nothing like it.
More Raiders: Follow all of our Raiders coverage online at reviewjournal.com/Raiders and @NFLinVegas on Twitter.
Contact columnist Ed Graney at egraney@reviewjournal.com or 702-383-4618. He can be heard on "The Press Box," ESPN Radio 100.9 FM and 1100 AM, from 11 a.m. to 2 p.m. Monday through Friday. Follow @edgraney on Twitter.