Raiders need to intercept a win against Jay Cutler in Miami
November 4, 2017 - 5:55 pm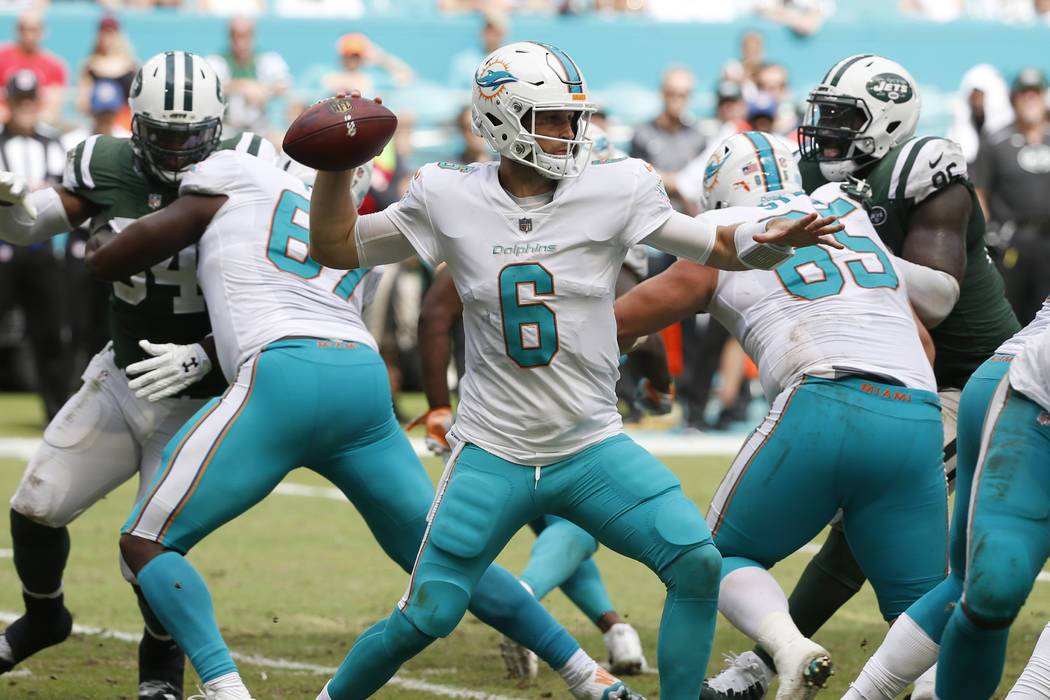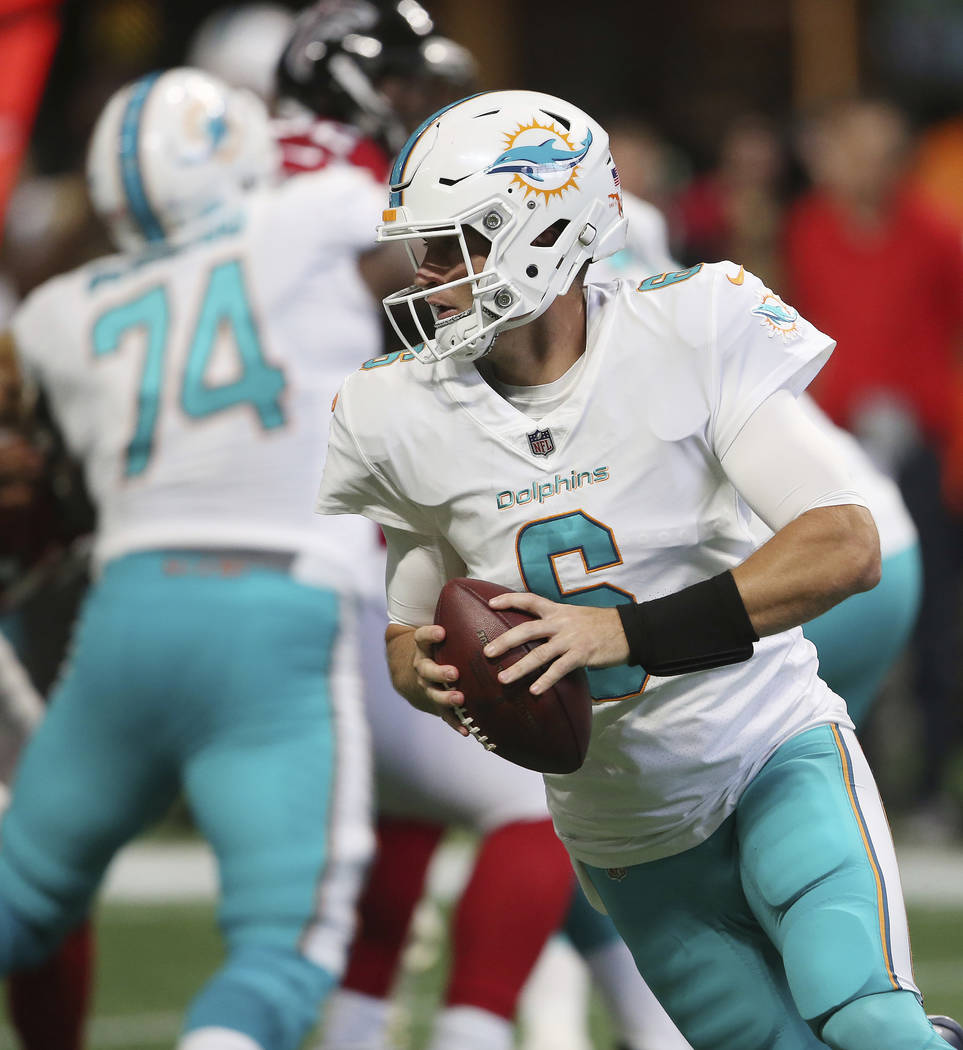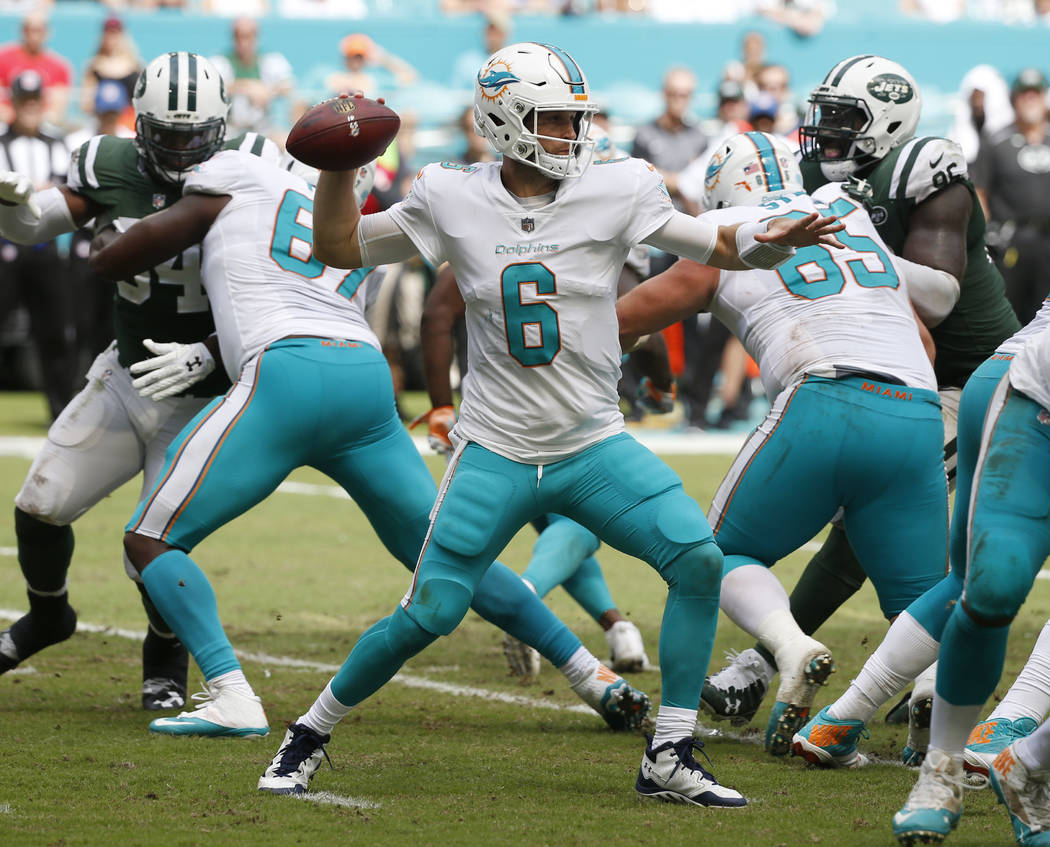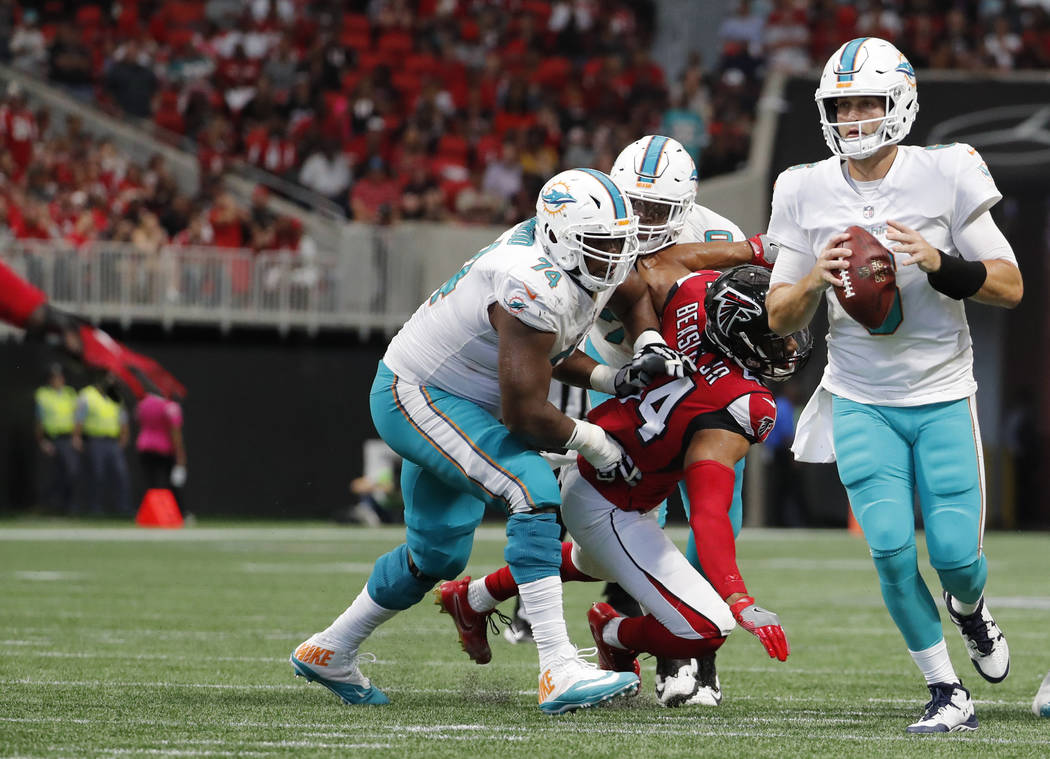 MIAMI GARDENS, Fla. — Sometimes, football has its advantages.
NFL defenses that struggle forcing turnovers mostly discover the answers to their issues in a dark film room with a flickering of countless failures dancing across a screen, painlessly reliving each missed opportunity to create some fortune and hand the ball back to the offense.
If you're the Raiders, you do all that while enjoying a week at a waterfront resort 3,000 miles from home.
Man, the sacrifices some make searching for one dang interception.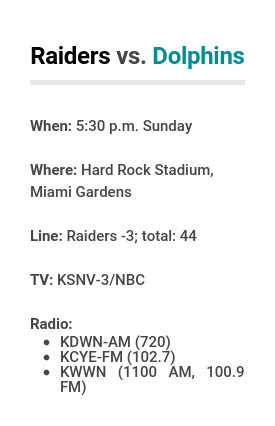 Mojo was a popular word used by the Raiders as they prepared in Sarasota for Sunday night's game against the Dolphins, remaining back east after a loss to the Bills to keep body clocks ticking in a consistent manner and perhaps discover that missing magic charm to rescue a drowning season.
I might have found it: His name is Jay Cutler.
Forget that he has been mocked more than any celebrity on South Park (which he once was, by the way), seemingly loathed on an annual basis by whatever fan base he happens to be representing at quarterback.
Cutler has been an NFL starter for more than a decade, and yet his resume always has seemed to fluctuate between underappreciated and misunderstood.
People just don't like him.
The Raiders couldn't care less about that.
They just know the guy throws a lot of picks.
The Dolphins pulled Cutler from retirement and out of a Fox broadcast booth upon losing starter Ryan Tannehill to a season-ending knee injury, and in addition to that NASA rocket of an arm he has always possessed, Cutler brought to this suburban city in north-central Miami-Dade County his all-too-familiar tendency to have passes caught by the other team.
The Raiders wouldn't know much about that this season.
Or anything.
It's not the central reason they're 3-5 and tied for last in the AFC West, playoff hopes becoming dimmer and dimmer with each loss, but there's no question their inability to turn opponents over has made things more difficult on a suddenly pedestrian offense. They just haven't made things easy on themselves, is all.
The sort of history nobody wants: For the first time, an NFL team has gone the first eight games of a season without an interception, this a Raiders defense that ranked ninth in the league last season with 16.
Injuries to the secondary — three of six cornerbacks will be sidelined Sunday — haven't led to any level of positive results in coverage, but it's also true the Raiders have flat dropped several would-be interceptions. They haven't taken many risks in 2017 and can't finish plays when they do.
"If you've been around a long time, you know (turnovers) come in bunches," Raiders defensive coordinator Ken Norton Jr. said. "Sometimes, you get them really fast. Sometimes, they come over a period of time. Sometimes, you get none and then they all come. You have to understand and believe in your principles. You have to understand and believe in your fundamentals and the way you work and the way you practice and know it's going to come.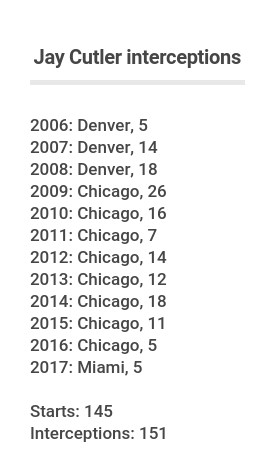 "We understand that there's a certain process. There's a certain technique. There's certain defenses that you call. It's about mastering your defense, mastering your technique. Then putting yourself in position to make plays."
All of that is well and good and not in any way a faulty perspective — scheme as much as anything else can lead to interceptions on a given snap — but the Raiders probably will count on another factor Sunday in hoping to record their first (or more) of the season.
Cutler has started 145 career games.
He has thrown 151 interceptions.
He has one in each of his past five games.
On the stat sheet, he's just what the Raiders need.
Cutler is listed as questionable while still recovering from multiple cracked ribs, but if you saw the Dolphins in a 40-0 loss to Baltimore 10 days ago, you know even a sore and banged up quarterback of his experience is better than the alternative.
Cutler might not be able to breathe, and each throw Sunday might feel as though someone is jabbing a 14-inch kitchen knife into his side, but at least he's not Matt Moore.
The Raiders need a victory far more than an interception, but when you're minus-6 in turnover margin, understanding how you came to be 3-5 becomes a lot clearer.
"(Interceptions) are going to come," Norton said. "It's just about working, keeping the belief and knowing that we know what's out there. It's just a matter of when. We'd like to see it sooner, but we aren't in charge of when it comes. We're ready to roll."
Nothing like Jay Cutler to get the picks party started.
Or so the Raiders hope.
Contact columnist Ed Graney at egraney@reviewjournal.com or 702-383-4618. He can be heard on "The Press Box," ESPN Radio 100.9 FM and 1100 AM, from 11 a.m. to 2 p.m. Monday through Friday. Follow @edgraney on Twitter.