Raiders owner to push for Las Vegas Super Bowl 2023 or 2024
Updated May 23, 2017 - 7:39 pm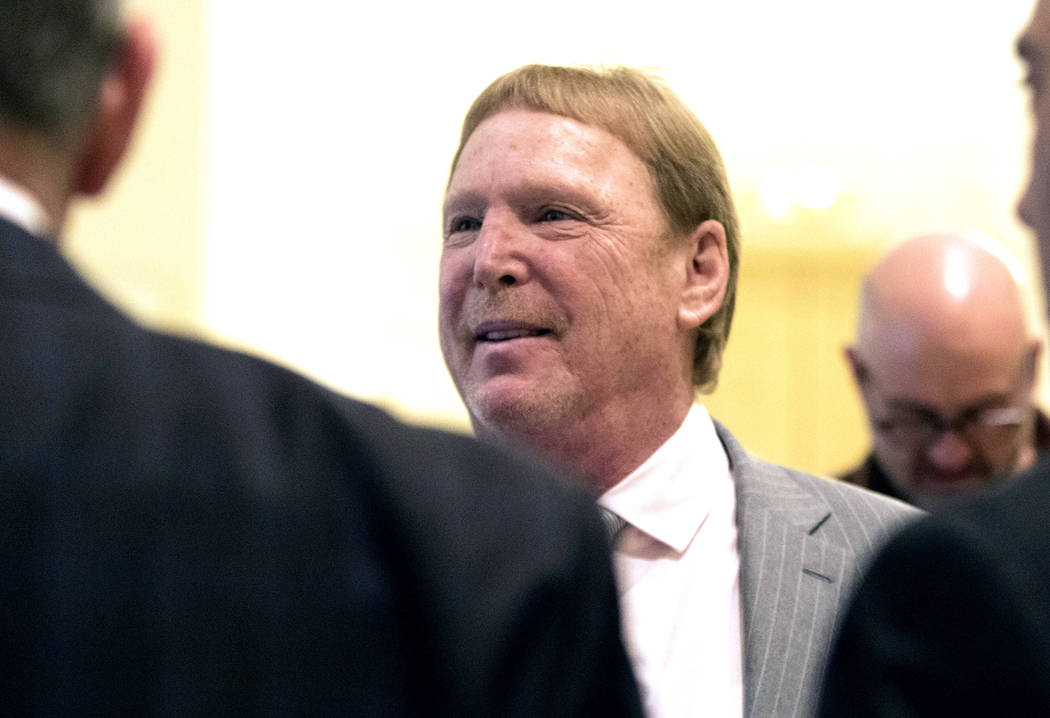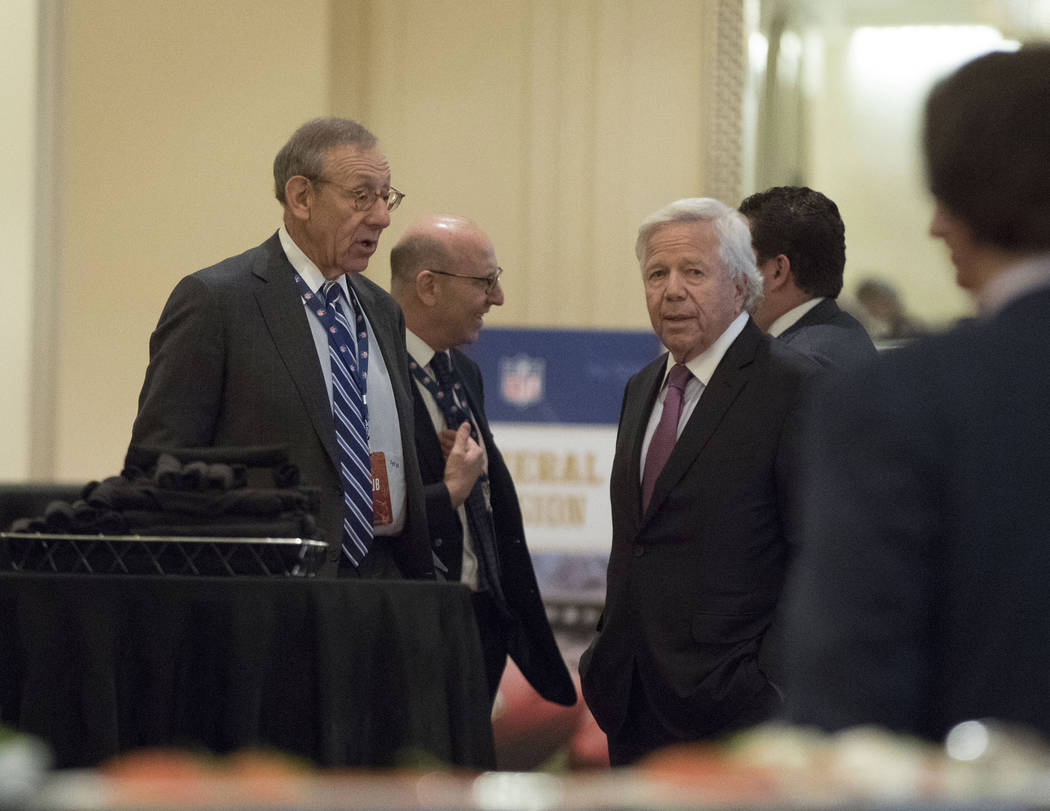 CHICAGO — Mark Davis is moving his NFL team to Las Vegas, but isn't one to discuss odds when predicting what that might mean for the city in terms of hosting global events.
But know this: He's a member of the league's Super Bowl committee.
NFL owners on Tuesday advanced the Oakland Raiders even closer to their eventual relocation by approving the lease for a $1.9 billion stadium off Russell Road, causing many to wonder how soon Las Vegas might host the game of Roman numerals.
"Hopefully sooner than later," Davis said.
It's eventually going to happen, because when you build the NFL a fancy new stadium nowadays, you are ensured of being awarded its grandest party.
If you build it, they not only will come, but so, too, will the world.
"We got (the stadium) done in a year, so why not a Super Bow in six years?" team president Marc Badain said.
Just a guess: They won't have much trouble finding options for the halftime show.
How soon could this become reality?
The next round of Super Bowls to be awarded are 2023 and 2024, and Davis said he intends on pursuing the game for Las Vegas in one of those years.
Owners could make such a decision at their spring meetings in May 2018.
"We're one of 32 teams that could try," he said. "There you go, getting me to talk odds."
How much the news regarding the Inglewood, California, project this week might affect the Raiders' ability to land a Super Bowl during that two-year cycle is unknown, but there is no question the league will re-examine granting the game to teams in the process of building new facilities.
Milli Vanilli — or whoever sang lyrics — was right.
Blame it on the rain.
The stadium to be shared by the Rams and Chargers was set to host Super Bowl LV in 2021, but when it was learned construction would be delayed a year because of a record rainfall in Southern Californian, owners on Tuesday awarded the game to Tampa, Florida.
The Inglewood stadium, now set to open in 2020, will instead host Super Bowl LVI in 2022.
"I'm sure we will meet as a committee and discuss what happened (with Inglewood) and how to handle (awarding Super Bowls to teams building stadiums) in the future," Davis said. "But, absolutely, we are going to try and bring one to Las Vegas. Hopefully, more than one."
He has, throughout the relocation process, done his best not to publicly react with overt signs of happiness as things fell in line with Las Vegas and the stadium project, intent on remaining respectful to those open wounds felt by an Oakland fan base suffering from the reality of again losing its team.
But he is obviously pleased with what has transpired, and his peers approving the lease now allows the Raiders to wrap up the financing portion of the project and move toward an anticipated groundbreaking by the first of the year.
Davis is still wearing a boot on his right foot from a recent surgery — "I'll be ready for training camp," he said — but you got the idea he was walking on air Tuesday.
"A lot of hard work by some really good people," he said. "It has been impressive that it has moved fast. It's amazing. The state of Nevada really took hold of this situation and went for it."
For this, he and Badain reiterated their commitment to make things right for UNLV in terms of stadium usage and Laborers Union Local 872 when it comes to construction work.
The former still must agree to lease terms, while the latter has been a constant presence at any gathering — official or otherwise — that has involved the Raiders and their quest to make Las Vegas home. A few things have remained constant throughout the process: an intent to make this a good deal for UNLV and lots of folks in hard hats.
"Look, from the first day we showed up in Las Vegas, UNLV and president (Len) Jessup was there with open arms," Badain said. "We have a great relationship with them and head football coach (Tony) Sanchez. Their new athletic director (Desiree Reed-Francois) worked for us in the 1990s in our legal department. It's very important to us that UNLV has a spectacular facility to play in.
"We also acknowledge the support from (Local 872) and plan to honor them appropriately."
Those are more immediate goals.
A long-term one deals with that game of Roman numerals and how fast Davis might persuade his peers to bring one to Southern Nevada.
"I think my (fellow owners) are really happy for us," Davis said, "but they still want to beat us on Sunday. That's how this league is."
It's also about putting on a spectacular show each February.
Which means it's not a matter of if for a Super Bowl in Las Vegas, but rather when.
More Raiders: Follow all of our Oakland Raiders-to-Las Vegas coverage online at reviewjournal.com/Raiders and @NFLinVegas on Twitter.
Contact columnist Ed Graney at egraney@reviewjournal.com or 702-383-4618. He can be heard on ESPN Radio 100.9 FM and 1100 AM from 11 a.m. to 2 p.m. Monday through Friday. Follow @edgraney on Twitter.
Future Super Bowls
2018 — U.S. Bank Stadium, Minneapolis
2019 — Mercedes-Benz Stadium, Atlanta
2020 — Hard Rock Stadium, Miami Gardens, Fla.
2021 — Raymond James Stadium, Tampa, Fla.
2022 — Los Angeles Stadium, Inglewood, Calif.