Raiders strike balance of giving between Las Vegas, Oakland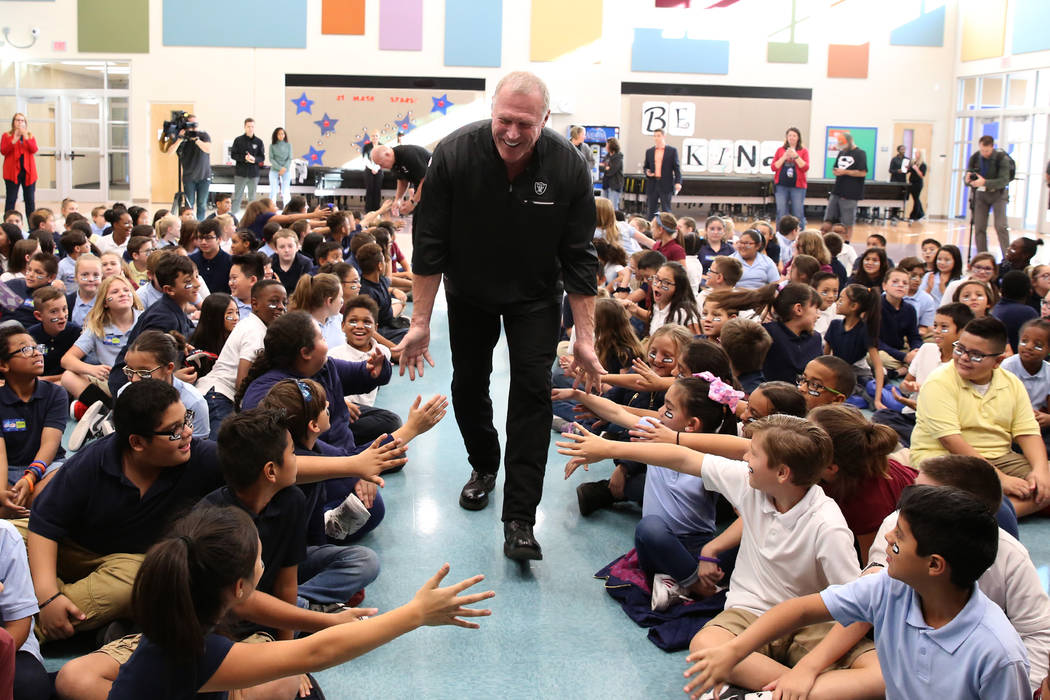 OAKLAND, Calif. —On one page is a picture of an elementary school girl running with a football at an NFL Play 60 Challenge in the East Bay.
On another, a group of children from Clark County raise their hands at a similar event in Henderson.
There are Make-A-Wish dreams being realized in the Bay Area to 400 pairs of shoes being donated to schoolchildren in Las Vegas.
There is hosting a Toys for Tots holiday celebration for needy children in Southern Nevada to inviting 122 students from the Boys and Girls Club of San Leandro for a winter wonderland dinner.
Story after story, picture after picture, youth football clinic after pediatric prom for those at Children's Hospital of Oakland, the Raiders continue to strike a balance of giving between their present and future homes.
Another season closer to relocation begins Monday night when the Raiders host the Rams at Oakland-Alameda County Coliseum, when Jon Gruden makes his official return to the sidelines and the home team tries to move on from a storm of speculation and second-guessing over trading its best player so close to things beginning for real in 2018.
The Raiders more than deserved much of the criticism pointed their way upon shipping an elite pass rusher like Khalil Mack to Chicago, but on the opposite spectrum of appraising the franchise is how it has continued to serve the needs of those in the Bay Area while looking to do the same in Las Vegas.
You can learn about it in the team's latest community report, a little more than 50 pages of accounts in which the Raiders chronicle their involvement in areas such as health and fitness and community engagement and game day experiences and charitable giving.
This reality won't change: There will always be a segment of Bay Area fans who decry the Raiders for again relocating to another city, understandable in both their anger and bitterness over losing the team a second time.
There will always be folks who won't forgive and forget and forge ahead in their devotion once things kick off in a palatial new stadium off Russell Road in 2020.
Either that, or they just can't buy into the whole shuttle system from too-far-to-walk parking lots.
It's their DNA
But none of it has and won't stop the Raiders from ensuring their philanthropic endeavors. They will be just as strong in the place they are leaving as the one they are headed to, an impartial sense of charity that owner Mark Davis is intent on continuing as things more and more shift toward Nevada.
"Oakland is part of our DNA," said Raiders president Marc Badain. "We will always be doing things there and have some legacy-type projects already planned even after we are gone. You are talking about decades of relationships between the team and the Davis family. That doesn't just stop when we move.
"Geography won't dictate those causes we support."
Davis is a product of the Oakland public school system, so when he heard recently that the district was financially strapped to the point it was cutting half its interscholastic sports — affecting more girls than boys — the Raiders wrote a check for $250,000 to help reinstate those activities.
There was the $1 million donation toward the relief and recovery efforts of wildfires in Northern California.
There was the $50,000 to the Las Vegas Victims' Fund in the wake of the mass shooting of Oct. 1, matched by the NFL, along with an additional $50,000 from the league to the American Red Cross for assisting with blood drives and other relief efforts.
There was a $150,000 donation to Veterans Village Las Vegas and supporting the Power of Love gala for the Lou Ruvo Center for Brain Health.
There are also numerous events in which Raiders alumni, led by director of public affairs Mike Taylor, have been present in both cities since relocation became official.
Another season closer to it begins Monday night.
That's the football part.
But while the balance between giving in Oakland and Las Vegas remains delicate, it's one the Raiders have embraced.
"We have very robust community relations teams in both places," Badain said. "I don't see that changing. Many of these causes are very personal to all of us, no matter where we are."
That's the non-football part.
More Raiders: Follow all of our Raiders coverage online at reviewjournal.com/Raiders and @NFLinVegas on Twitter.
Contact columnist Ed Graney at egraney@reviewjournal.com or 702-383-4618. He can be heard on "The Press Box," ESPN Radio 100.9 FM and 1100 AM, from 11 a.m. to 2 p.m. Monday through Friday. Follow @edgraney on Twitter.