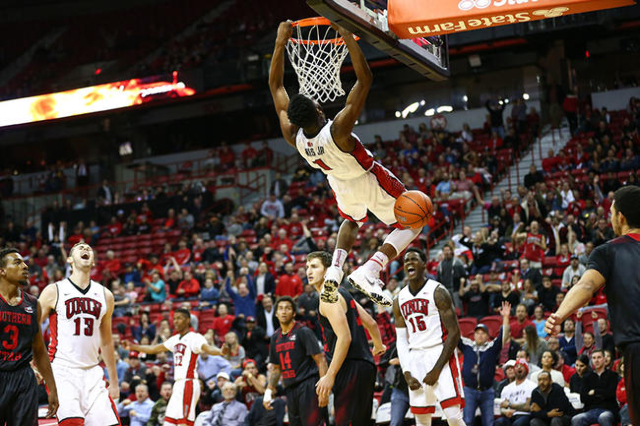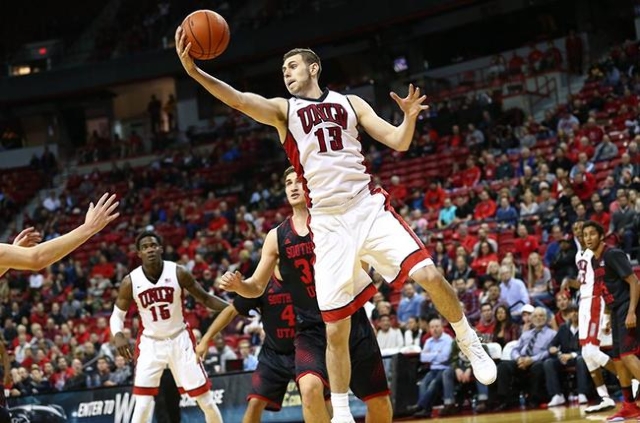 You can always teach better off a win. You can hammer points of emphasis much harder after three straight.
Nothing seems that bad when you're the one with more points at game's end.
The schedule for UNLV's basketball team to begin this season allowed the Rebels a cushion for success if they didn't fall into the trap of playing down to opponents, if they didn't suffer the sort of lapse in focus that has already caught several heavily favored teams across the country.
UNLV has things to fix before boarding a plane to paradise on Friday, things that could get exposed once the Rebels encounter teams with like skill and athleticism.
UCLA awaits in a first-round game of the Maui Invitational on Monday evening, where a nationally televised audience will get its first glimpse of what is a young, talented, promising, imperfect group of Rebels.
They will arrive with a 3-0 record, having defeated Southern Utah 84-64 on Wednesday night before an announced gathering of 10,824 at Thomas & Mack Center. The have emerged from an opening slate of games as expected: Unscathed, with both strengths to celebrate and weaknesses to improve.
"Depth and personnel is what this is all about," UNLV coach Dave Rice said. "Early in the season, our response to what takes place —whether it's success or adversity — is very important. For us, it's about one game at a time. We wanted three games before going to Maui. We have returning players with a lot of experience and new guys acclimating themselves to what we do. Now, we have three days to practice before a very challenging game against UCLA."
This helped the preparation: UNLV survived Cal Poly, embarrassed Division II New Mexico Highlands and simply out-talented Southern Utah, and in the process was able to see its press against different levels of skill while playing several bodies each game and not suffering a loss for it.
It gets much tougher now, first with the Bruins and possibly a game against Kansas should the Rebels get past UCLA. Indiana is also in Maui. So is Vanderbilt. It's a stacked field, one of the toughest the event has offered in years.
It's true the best athletes UNLV has faced thus far is during its own practices and against Southern California in a closed-door scrimmage.
But what the Rebels didn't do in winning their first three games is pull a UCLA against Monmouth or a Wisconsin against Western Illinois or an Arizona State against Sacramento State or a Georgia against Chattanooga or an Illinois against North Florida or a Virginia against George Washington.
If the opening week of college basketball told us anything, it's that favored teams better not worry about the name across an opponent's jersey. UNLV, impressive for stretches, sloppy in others thus far, didn't suffer the sort of defeat that makes headlines for all the wrong reasons.
Some of what we have seen from the Rebels was expected and some more pleasant surprise.
n For all the publicity UNLV's freshmen class has received, Patrick McCaw as a sophomore has built on what was a solid first season. He is even better now, with a more defined role at both guard spots. He scored a game-high 24 on Wednesday and had three assists to no turnovers in 32 minutes. That's a winning ratio any night.
"Patrick makes big plays for himself and others," Rice said. "He made some huge shots tonight. He's a guy who does everything for us."
n If the consistency of freshman center Stephen Zimmerman Jr. (11 points, 10 rebounds in 27 minutes) highlights most those starting, the energy from reserves is even more noticeable. Derrick Jones. Goodluck Okonoboh. Dwayne Morgan.
If the press Rice wants to run has any chance of succeeding and forcing mistakes against the better teams on UNLV's schedule, those off the bench need to play with the level of fire they exhibited through the 3-0 start. The Rebels last night had just eight turnovers to 16 for Southern Utah. Another important ratio.
"Our mindset is to go in there and play hard and win games," Jones said. "Everyone gets tired when you're going at them. Nobody is perfect. We have room to grow and get better. We're going to keep working."
The script played out to what most expected when things began for real. The Rebels should be 3-0. They were better than those who visited Las Vegas since Friday.
I'm not sure they're better than UCLA, but there is every chance they are and will prove so Monday night. There is every chance they will not.
It's time see them against like players, to evaluate the press and depth and energy against those who will counter with their own strengths.
But hand it to UNLV.
It took care of business before heading to paradise.
Not all favorites have done the same this season.
— Ed Graney can be reached at egraney@reviewjournal.com or 702-383-4618. He can be a heard on "Seat and Ed" on Fox Sports 1340 from 2 p.m. to 4 p.m. Monday through Friday. On Twitter: @edgraney