Rebels are what we always knew they were
February 9, 2017 - 1:04 am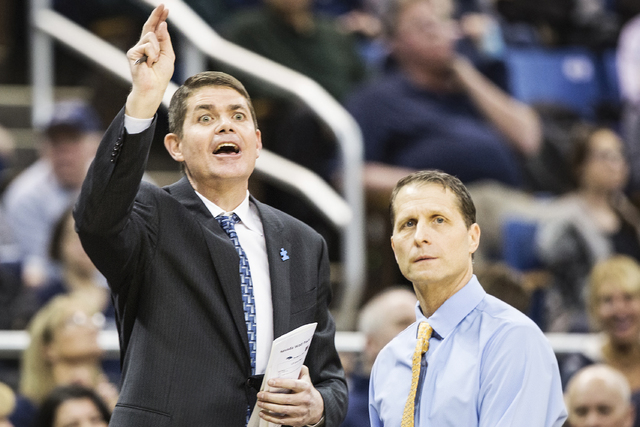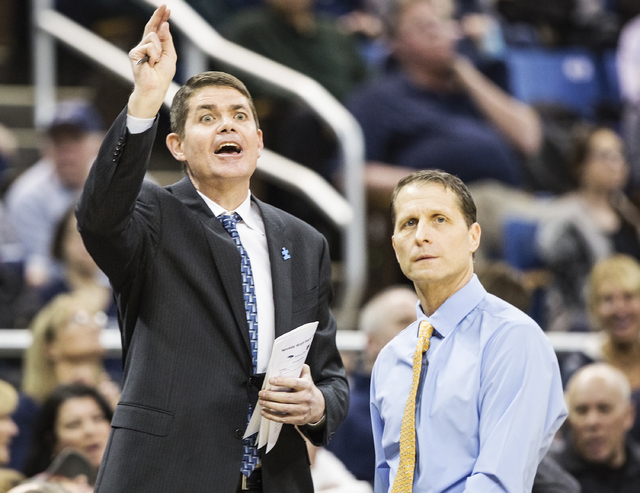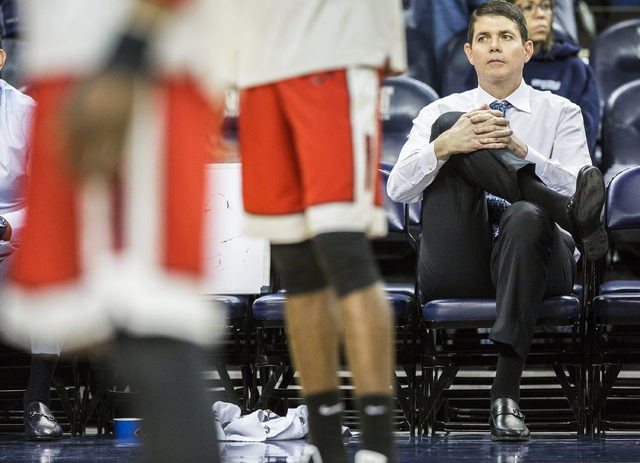 RENO — The fair point now is that you can't change. Or shouldn't.
Not those who understood from the beginning what this season would mean for UNLV basketball, for those who recognize that when a coaching staff needs to recruit nine new players in April, the chance it lands a group capable of winning at the Division I level compare to those of Michael Buffer turning down his next inflated paycheck for saying some names.
The fact UNLV faced a team that now employs its former head coach in Dave Rice on Wednesday night was an enhanced storyline given the current state of both programs, not to mention only three Rebels played for Rice, and just two were in uniform.
Rice shook some hands. Gave some hugs. Shared a few laughs. Then went back to work as an assistant for UNR. He was fired at a foolish time by UNLV. It's a tough part of the business. It's over. He's in a great spot with the Wolf Pack. Time to move on.
The fact this game was against UNR is never overblown.
At least not for the home team Wednesday night.
It was a rout for UNR from the outset and concluded with a final score of 104-77 before an arena record 11,841 at Lawlor Events Center, the latter only reiterating the fact those up north take this rivalry ultra-serious and can barely sustain their glee when one of their sports is better, in this case exponentially so, than that of the Rebels.
It was the largest victory by UNR in series history.
Over before it began.
It's also accepted by most that UNR and its fan base view the rivalry in a more serious vein than their Nevada counterpart, that the Wolf Pack and their faithful have always carried around a noticeable chip on their collective shoulders when it comes to competing against UNLV.
Think about it: UNR reportedly paid Buffer, the renowned boxing ring announcer, $10,000 plus expenses to introduce the starting lineups. The Wolf Pack wore special Battle Born inspired uniforms. Their students were packing the stands 90 minutes before tipoff and chanting, "(Bleep) UNLV!" long before any shots were taken.
All for beating a last-place team in total rebuild mode that they were favored by nearly 13 points to thump.
So, well, good on UNR, I suppose …
But all of that was expected.
So was this: UNLV has lost five straight, six of seven, eight of 10 and is 10-15 overall and 3-9 in the Mountain West. It doesn't mean the Rebels shouldn't be open to critique when deserved after certain games — coach Marvin Menzies is the first to hold himself and his players accountable publicly for things like a lack of effort and execution, far more than most in his position do nationally.
But the only difference now compared to before the season began is reality.
We can actually see it.
The truth can be difficult to accept, but thinking something is nothing like viewing it up close and ugly.
You're never recruiting that many players so late in the process and producing a winning team at this level, just as victories against the likes of UC Riverside and Cal State Fullerton and Northern Arizona and Western Kentucky shouldn't have offered any sense of false hope as to the true potential of UNLV.
Why any opinions shifted to the idea this team could contend in the Mountain West — even a Mountain West that is absolutely its worst in league history — is incredible.
Why, because they started the season 5-2 against nobody?
Menzies has nice kids. Well-spoken. Engaging. They want to win. They don't want to depart a rivalry game, including the first in this sort of raucous environment for most of them, 27-point losers.
They're just not good enough.
Menzies has to recruit better players.
A lot of them. Fast.
There might be a few wins left out there for UNLV this season. No score in this conference should surprise anyone. But nothing has changed about the Rebels except the fact we now have 25 games of the truth to better understand that those preseason thoughts were correct all along.
Call them out after certain games for specific things — bad shooting, missed assignments, not giving maximum effort. That's fine in the immediacy of one night.
But to change now and expect more than what this always was — a season to simply get through and allow Menzies and his staff a full year to recruit — will only make you more upset.
And it wouldn't be fair to anyone, especially players who want nothing more than to be better than reality insists they are.
Contact columnist Ed Graney at egraney@reviewjournal.com or 702-383-4618. He can be a heard on "Seat and Ed" on Fox Sports 1340 from 2 p.m. to 4 p.m. Monday through Friday. Follow @edgraney on Twitter.
VS.