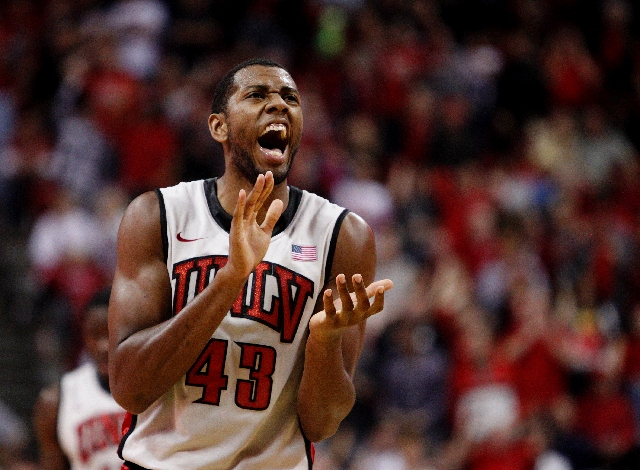 Finished products in the NBA Draft are like college basketball coaches who marry a Maxim swimsuit model, hold a percentage in a company that is sold for $100 million and lead a No. 15 seed into the Sweet 16 of the NCAA Tournament.
Not many exist.
Anthony Bennett isn't one, but in a year when the NBA expects the pool of available draft talent to be its weakest in decades, the UNLV freshman could be considered the best option come the evening of June 27.
He at least is in the conversation for such placement.
He at least is being talked about as the Top Ping Pong Ball.
News broke Sunday that Bennett soon would announce he is departing college after one season for the guaranteed riches of an NBA contract, which was about as surprising as Florida Gulf Coast being labeled a Cinderella story or the Mountain West morphing into a late-night punch line for its pathetic March showing.
There are those at UNLV who will tell you Bennett has had one foot out the door to the NBA since arriving on campus. He never was staying long and shouldn't.
Kentucky's Anthony Davis was the No. 1 pick in last year's draft and received a three-year contract worth $16 million; Kansas' Thomas Robinson was the fifth pick and will get close to $7 million over this season and next.
You don't look a gift horse in the mouth, especially when its teeth are covered in dollar signs.
If Bennett follows through with plans to enter the draft and doesn't suddenly have an epiphany that life won't be complete without more trips to Albuquerque and Laramie, here are the thoughts of an NBA player personnel director and a head scout on Bennett's potential.
They also weighed in on another UNLV player — junior Mike Moser — who could depart early.
Q: If he officially applies, how high will Bennett be drafted?
Head scout: "It's an ugly draft. Ugly. The worst I have ever seen it. In a good year, he is still a lottery pick but probably in the 13 to 14 range. This year, he's top five. There has been talk of him as the No. 1 pick. The fact it's such a down year is great for him."
Q: What are his most appealing strengths to teams?
Player personnel director: "He has an NBA-ready body. Long arms, strong kid. You can throw him into a game today, and he can handle himself physically. Can shoot it with range. Can stretch the floor. Can rebound the ball when he wants. People saw that he tired easily in games, but NBA teams will say, 'We'll get the kid in proper shape, and he will be able to go up and down the floor forever.' "
Q: He didn't play much defense at UNLV. How much will that hurt his stock?
Head scout: "Not at all. You have to realize that 90 percent of players in the draft each year aren't good defensively. The NBA is a totally different game in terms of spacing the floor and illegal defenses. In college, you just camp three kids in the paint the whole game. You can't do that in the NBA. (Bennett) has quick feet, so you can teach him how to stay in front of people, switch on the pick-and-roll, hedge and recover. Enough teams will say, 'We can make him into a decent defender.' That's all he needs to be. He doesn't need to be great at it to have an impact."
Q: Where does he project long term?
Player personnel director: "He is an undersized power forward, but that's fine because almost every team starts one now. So many teams play small. He'll have to work on his ball-handling, but he can be a hard guard shooting from 18 to 20 feet. He can be a Larry Johnson-type player. He might slide to the small forward spot eventually but not at first."
Q: His teammate, Mike Moser, also is considering applying for the draft. What would your advice to him be?
Head scout: "Stay in school. Please. Seriously. Oh, my goodness. Work on your game. Get stronger. Help your team advance deeper into the NCAA Tournament. That's the best thing he could do."
Player personnel director: "I assume he would get drafted in the second round if he works out well, and he might be able to carve a niche for himself as a late-game rotation guy who brings some energy off the bench for eight or so minutes, but he has a lot of work to do. It would serve him best to stay in school, even in a down year for the draft like this one. It's unfortunate he got hurt this year, but that's part of it. He would have to have very, very good workouts that are attended by multiple teams to really have a chance this year. Otherwise, it might be a stretch that he gets drafted."
Las Vegas Review-Journal sports columnist Ed Graney can be reached at egraney@reviewjournal.com or 702-383-4618. He can be heard from 11 a.m. to 2 p.m. Monday through Friday on "Gridlock," ESPN 1100 and 98.9 FM. Follow him on Twitter: @edgraney.
BENNETT, MARSHALL, NET ALL-DISTRICT 17 HONORS
UNLV freshman forward Anthony Bennett and senior guard Anthony Marshall have been named to the 2013 National Association of Basketball Coaches' All-District 17 Teams, the organization announced Tuesday.
Bennett was selected to the first team, while Marshall is on the second team for the second straight year.
San Diego State's Jamaal Franklin, Colorado State's Colton Iverson, Air Force's Michael Lyons and New Mexico's Kendall Williams were the other first-team members, while San Diego State's Chase Tapley, Wyoming's Leonard Washington, New Mexico's Tony Snell and Colorado State's Pierce Hornung made up the rest of the second team.
LAS VEGAS REVIEW-JOURNAL