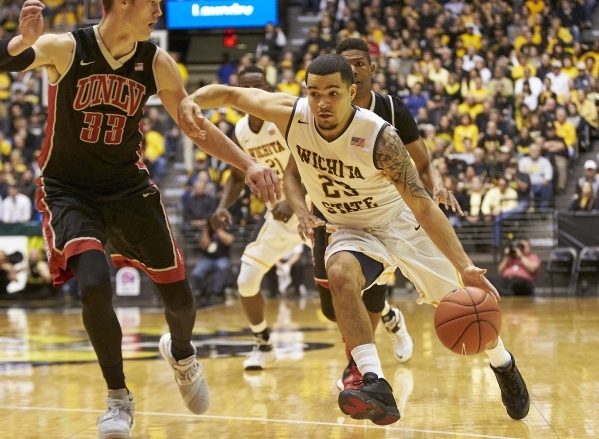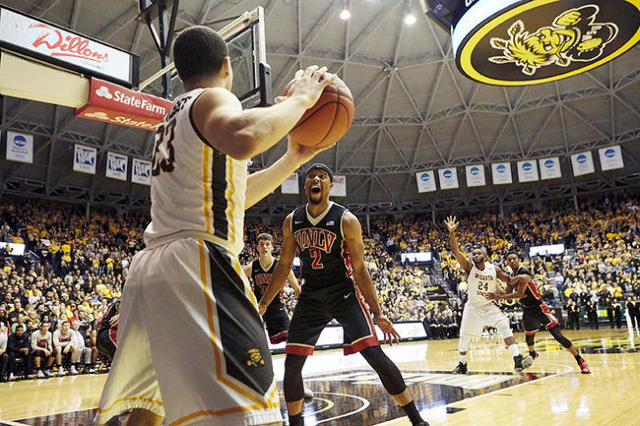 WICHITA, Kan. — The lesson is this: That a week and a month and a few months from now, and perhaps into the madness of March, UNLV's basketball team can take from a December game in south-central Kansas along the Arkansas River a definite truth about opposing an elite point guard.
If you allow him to control the pace of things, your odds of winning decrease exponentially.
Fred VanVleet was far from perfect Wednesday night in Koch Arena, but his presence made all the difference in UNLV falling short in its first true road game of the season.
Wichita State won in a place it hardly ever loses, beating the Rebels 56-50 before a raucous 10,506 and claiming a 35th straight home victory. The Shockers are more of a sure thing in Kansas than wheat blowing in the wind across vast farmland.
But if the Rebels are as deep and hungry and coachable as Dave Rice insists his fifth UNLV team is, losing in this place against this opponent will only produce benefits as other important games arrive.
The obvious: You can't shoot 40 percent and commit 19 turnovers and allow 14 offensive rebounds and produce just two fast-break points and beat most people on their floor, never mind a team that has won at least 30 games in each of the past three seasons. You can't press and trap much when you can't score.
UNLV did pretty much everything you can't in this environment and hope to win.
The not-so-obvious: VanVleet might have unknowingly made the Rebels better down the line.
He is a wonderful college player, and it appears the pulled hamstring that cost him four games is just fine. The preseason All-American finished with a game-high 17 points, four rebounds and four assists in 33 minutes. He also had three turnovers and shot 1 of 4 from the free-throw line. Not perfect at all, but very effective.
"He is really little," said 7-foot UNLV freshman center Stephen Zimmerman when describing VanVleet, kindly listed at 6 feet but definitely short of that range. "He is really good, very smart. He's a great player."
Winning in March is more about strong guard play as anything else, and UNLV's backcourt spent most of 40 minutes Wednesday being taken to school by a player who helped lead the Shockers to a Final Four as a freshman and to an undefeated regular season the following year and to an NCAA win against Kansas and the Sweet 16 last March.
The starting UNLV trio of guards in Jerome Seagears, Patrick McCaw and Ike Nwamu combined for 11 turnovers, led by five from its point guard in the fifth-year senior Seagears. He tried doing too much, perhaps wanting to match VanVleet. It happens. Nothing brings out shoddy play from certain guys than trying to prove one's worth against a much better player.
"We watched a lot of film (of VanVleet) before his injury," said McCaw, limited to 2-of-8 shooting and five points, more than 13 below his team-leading average. "He makes a huge difference. It showed. We had to figure out how to contain him."
They weren't successful at it, but this was also a two-point game with 22.6 seconds remaining. The opportunity to steal what would have been a massive win for the Rebels on a night they did far more bad than good was there. It wasn't meant to be.
The Shockers bump you and deny everything defensively, and UNLV just couldn't score enough for stretches. Its guards didn't respond well at all to the physical nature of Wichita State, often driving into traffic with no real purpose.
The Rebels had only eight points with 6:26 left in the first half. They didn't guard the dribble well at all and didn't make smart decisions with the ball. Their first six possessions included two airballs and two travel violations. They played most of the first half offensively on their heels.
That's when a point guard needs to take control and either settle things down or make a play for himself or another.
The Rebels didn't have such a player.
Wichita State did.
"This will serve us well, like the Maui (Invitational) did and the Oregon game did and all the other hard games we have coming up," Rice said. "We need to get over this and learn from it. VanVleet is very, very good. Our players had a tremendous amount of respect for their team. The experience of playing in a game like this will help immensely moving forward."
The experience of facing an elite point guard could pay off as much as anything else if UNLV's backcourt learns the lessons this game imparted.
Fred VanVleet wasn't perfect for Wichita State in victory.
He was just the difference in it.
And in UNLV becoming a 35th straight victim here in south-central Kansas along the Arkansas River.
Ed Graney can be reached at egraney@reviewjournal.com or 702-383-4618. He can be a heard on "Seat and Ed" on Fox Sports 1340 from 2 p.m. to 4 p.m. Monday through Friday. On Twitter: @edgraney
Check our GameDay page for full coverage of the UNLV-Wichita State game.