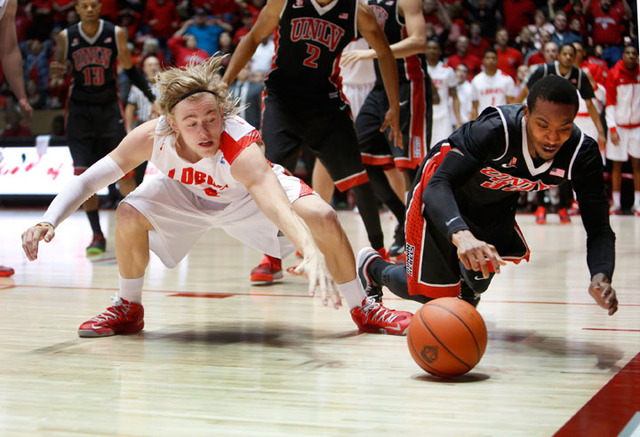 ALBUQUERQUE, N.M. — There is a tradition in many youth sports where those players who perform well in pool-play games earn a start once the bracket portion of a tournament arrives.
It's not the same in major college basketball, and any game against New Mexico in The Pit can hardly be described as a preliminary one.
But the idea holds true about being rewarded for a strong performance.
Deville Smith is about more than just orange slices on the sideline now.
He has more than earned the minutes he is about to receive.
UNLV came limping into one of the toughest road venues in the country Wednesday night and walked out with its collective shoulders back and chests out. The Rebels beat New Mexico 76-73, in large part because the player recruited to emerge most at point guard this season took full advantage of just his fourth start.
He will get a fifth at first-place San Diego State on Saturday.
He is sure to remain in the lineup for the foreseeable future.
Smith scored 17 points on 6-of-9 shooting in a season-high 33 minutes, joining other Rebels in making huge shots each time the Lobos crept to within a touch of taking a second-half lead.
That's right. UNLV took its first lead at 9-8 and never relinquished it. It led by as many as 16 in the first half. It was as impressive here as it was disappointing in home losses to Air Force and UNR.
A major reason: a junior-college transfer from Mississippi.
"The spark, the experience he brings, our guys really rally around Deville," UNLV coach Dave Rice said. "I like having someone produce themselves as the main point guard, and I think Deville will be that guy moving forward."
He is the transition guy, the player you sign to handle the position for a few seasons while you do your best to recruit a true point guard capable of leading your program for years.
Smith started the season's first two games, sprained his right knee, returned to play well enough at the Las Vegas Classic in December to be named the event's Most Valuable Player, tweaked his right hamstring, was averaging just 18 minutes entering Wednesday's game and is now healthy again.
Kendall Smith assumed the spot for most of the nonconference schedule and into Mountain West play, but like countless true freshmen across the nation, his game has hit a wall and he's struggling. He's also a combo guard.
Those true points aren't always easy to unearth.
Rice last had one that produced to the level his system needs at Brigham Young in 2007, when he was an assistant coach and Austin Ainge was running the Cougars' offense.
Rice also coached a kid named Jimmer Fredette, but one of the greatest players in college history was hardly your traditional lead guard. Oscar Bellfield was one at UNLV during Rice's first season, but his skill set wasn't at the level you win with deep into March. Anthony Marshall played the point last year. Another combo guard.
"I will always want a true point guard who has the ability to score," Rice said. "The hardest thing to find is a pass-first point guard who on a given night has the capability to score 30 because that's what the defense gives and the next night the defense takes it away so he gets four points and 15 assists and is perfectly fine with it.
"We will absolutely play against one Saturday in (San Diego State senior Xavier Thames). I love him as a player. Love him. Fifth-year senior. Tough. Fourth year playing at the Division I level. My job as a coach will be to give Deville freedom in transition and to make plays off ball screens and to manage him in our half-court sets."
It's the sort of matchup Smith dreamed about when arriving at UNLV, a place he knew needed a temporary lead guard as Rice continued to build his program through recruiting high school players.
This is one victory in January and yet so much more for UNLV, having dropped consecutive home games to teams it had, well, no business losing to. But if the Rebels rediscovered a sense of confidence by beating the Lobos, they also took a big step forward in settling a position that has been in flux for some time.
This just in: No one has accused UNLV of having great guard play.
"I just need to stay focused and be in the gym and keep putting up shots and working," Smith said. "We're not about taking other guys' spots. We're about competing hard and winning. A win like this can really bring us together.
"I came to UNLV because I liked the environment. I knew they needed a transition point guard who could make an immediate impact."
It hasn't been immediate, but it sure was timely Wednesday.
Deville Smith earned himself a few extra orange slices, and a lot more playing time.
This was a bracket-play game.
Come Saturday, times 10.
Las Vegas Review-Journal sports columnist Ed Graney can be reached at egraney@reviewjournal.com or 702-383-4618. He can be heard from 11 a.m. to 2 p.m. Monday through Friday on "Gridlock," ESPN 1100 and 98.9 FM. Follow him on Twitter: @edgraney.