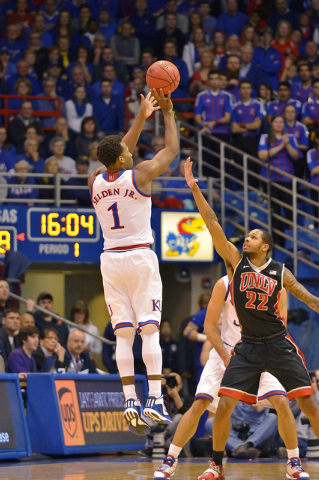 LAWRENCE, Kan. — The tradition is everywhere. They link arms and sing the alma mater before tipoff. They pack those red and blue bleachers shoulder to shoulder. They sway like a wheat field in the breeze.
And there is this: When an opposing basketball team gets near the cliff's edge, Kansas is almost always good enough to push it over.
When things get away from you here, they get away fast.
Bill Self has coached the Jayhawks for 12 years. He has lost nine home games. Total.
UNLV is the latest side to learn this lesson, having ended the nonconference portion of its schedule Sunday with a 76-61 loss to the No. 13 Jayhawks before your typical raucous Allen Fieldhouse sellout of 16,300.
UNLV led 33-29 at halftime.
It was tied at 51 with 11 minutes remaining.
It was 63-53 Kansas six minutes later.
When you play well for 32 or so minutes here, you're going to get "Rock, Chalk, Jayhawk, K-U" all the way home.
Which, by the way, the faithful have been chanting since the 1800s.
"If you can come in here and play well, you can do so in almost any building," Rebels point guard Cody Doolin said. "It was fun for us, even though we lost. It doesn't get any better than this in college basketball. I think we will learn from this and it will help us in the long run."
It's to his point we can now evaluate UNLV's nonconference results, ones which have positioned the Rebels in a far better standing than last year when thrown into any NCAA Tournament at-large discussions.
There wasn't a resume to speak of then, when the Rebels had no quality nonconference wins and promptly followed with a 10-8 finish in the Mountain West. They never gave themselves a chance.
But this year's results are much better. UNLV has a Ratings Percentage Index of 45, a number that will improve today when the Kansas game is factored in. The Jayhawks have an RPI of 2.
The Rebels also own a Top 20 schedule, another rating that will jump from playing here.
More importantly, they have a marquee win against Arizona (No. 14 RPI) and one against Temple (No. 35) that looks much better now that the Owls beat Kansas by 25 and two talented transfers have become eligible.
The Rebels want Temple to win this season … a lot.
UNLV wouldn't be anywhere near an automatic NCAA at-large choice if the field was posted today, but it would definitely be on the board among other bubble hopefuls.
"I've talked to our conference office and it feels we will be rewarded for playing a tough nonconference schedule," UNLV coach Dave Rice said. "Absolutely, we're in better shape this year. No doubt about it. The (selection) committee always talks about teams getting credit for playing a hard (nonconference) schedule. Well, we played a very hard one. I think that's the best thing we can do as we try and build our program.
"I do think we're in a position where we have to do very well in conference. All we can control is our next game. We have to get ready for Reno on Wednesday. That's the challenge. What is going to be our response? It's all about having the same sort of focus and preparation for that game as we did for playing Arizona and Kansas."
Here's why: A team's RPI and strength of schedule is going to take hits just playing most Mountain West teams, never mind losing to them. You can't be a contender and do what San Diego State did in falling at Fresno State on Saturday. Those are killer results for any side with a legitimate chance at winning the league.
UNLV is good enough to do so, partly because it's talented and steadily getting better and partly because the league is so down. But the one thing it can't do is something that has hurt the Rebels during Rice's tenure.
It can't lose to conference teams it should beat.
Not this season.
UNLV played hard enough here. It had some good stretches. But in the end, Kansas was better and the Rebels had come to the end of a taxing stretch of games that included facing three Top 15 teams over the last two weeks and also a trip to Wyoming. When you get beat 45-31 on the boards and allow 20 points off turnovers, you're not winning, not in the land of linking arms and singing the alma mater before tipoff and swaying like a wheat field in the breeze.
"We just have to be a little stronger and tougher in these games," Doolin said. "Kansas just out-executed us down the stretch.
"I think we will bounce back and fix the things we need to fix. We're playing well and I think coming back home this week will be a big advantage. If we take care of business at home, we're going to have a chance to contend in conference."
They're in a better position this year.
They have a marquee win and another that might be considered one in March.
In the bubble talk of January — and why not, because we can never get enough of it — UNLV's non-conference resume is at least on the board for consideration.
Las Vegas Review-Journal sports columnist Ed Graney can be reached at egraney@reviewjournal.com or 702-383-4618. He can be heard from 11 a.m. to 2 p.m. Monday through Friday on "Gridlock," ESPN 1100 and 100.9 FM. Follow him on Twitter: @edgraney.