Rebels not quite good enough to beat a team like Cincinnati
Updated December 1, 2018 - 8:15 pm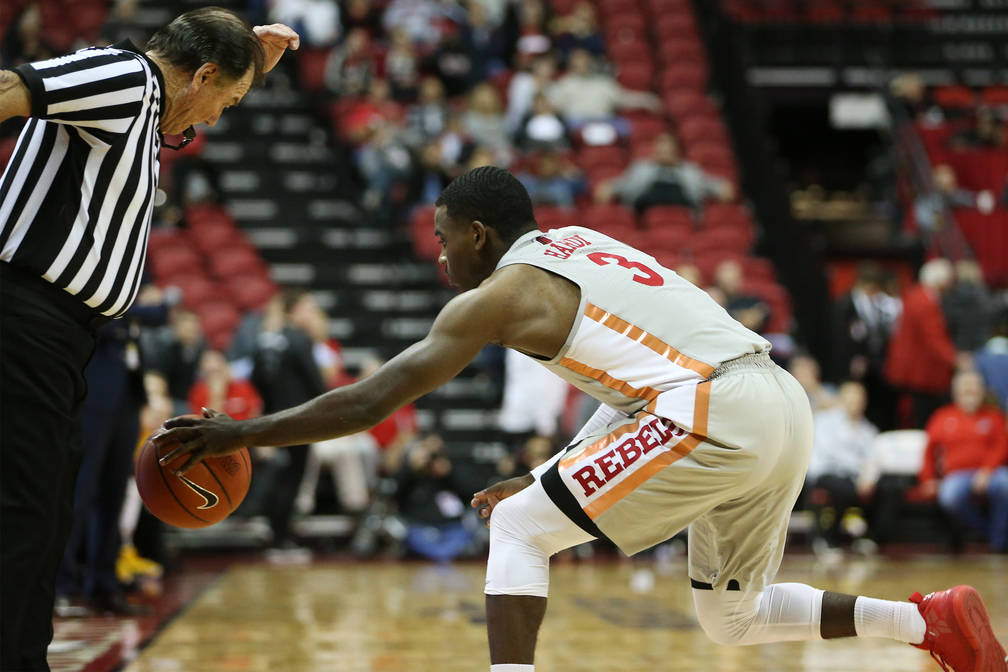 It's the marathon runner who pulls up at mile 24, the defensive back who is a step slow on a post pattern, the golfer who leaves a winning putt six inches short.
Such was UNLV's basketball team Saturday.
Just not quite good enough.
In a game they never led and, well, one you really never thought they would win, the Rebels fell to Cincinnati 65-61 before an announced gathering of 9,572 at the Thomas & Mack Center.
There weren't 6,000 folks in the place, but those who did come saw how close and far UNLV remains from beating a perennial NCAA Tournament opponent such as the Bearcats.
Mick Cronin is Cincinnati's coach. He accepted the UNLV job in March 2016, then never called to say he wasn't taking it.
Or, come on now, never really was.
He was booed loudly during introductions.
That chapter is closed. Time to move on.
In what officially began UNLV's toughest string of nonconference games — I'm pretty sure nobody forecast an eight-point home loss to mighty Valparaiso — the Rebels again didn't execute nearly enough to climb over the proverbial hump against a worthy foe.
"We had many goals (for the game) and achieved some but fell short," UNLV coach Marvin Menzies said. "I think the fans who came or watched on television saw a lot about our future. It always hurts to lose. Sometimes, you feel like it's a missed opportunity. I think this was one of them."
Yes and no. They did well to cut down mistakes after an opening several minutes in which you wondered, 1) if the Rebels would score and 2) if they might set an NCAA record for turnovers.
To finish with 14 after recording four in their first five possessions and nine in the first 10 minutes is notable. The same holds for outrebounding by six a team in Cincinnati that prides itself on physicality, even for a Rebels side that ranks 10th nationally in rebound margin.
Those were bright spots.
But in a game you knew would be played at a tempo of the Fox Glacier flowing across New Zealand — UNLV ranks 250th in possessions per game, and the Bearcats are 317th — the Rebels didn't finish at a level that allowed them a legitimate chance.
They shot 35 percent, 7 of 24 on 3-pointers and turned 16 offensive rebounds into 16 points. They were also 18 of 29 on free throws, and it's not crazy to suggest UNLV can't beat anyone good missing that many from the line.
They might not be able to beat anyone bad, either.
"We have to take care of the ball and make the right plays with confidence," said sophomore guard Amauri Hardy, who scored a career-high 22 points on 6-of-11 shooting. "We did a great job fighting."
They scrapped, they clawed, they just couldn't out-Bearcat the Bearcats.
It wasn't the best day for two of three senior starters to offer so little. Shakur Juiston (three points, six rebounds and five turnovers in 23 minutes before fouling out) had one of his worst games as a Rebel, and point guard Noah Robotham went scoreless in 20 minutes with one assist.
Robotham is shooting 30 percent through seven games, including 21 percent on 3s.
That's, um, not good, especially for a player whose specific role is to make shots from distance.
Kris Clyburn, the other senior starter, played to a minus-2, but still had 12 points and nine rebounds.
Gorman scored more
Menzies was asked afterward about first-half officiating and deferred comment, a wise decision given his team got more than the lion's share of calls in the final 20 minutes, finishing with 13 more free-throw attempts than the visitors.
Games like this are tough to call. There's such little flow. Cincinnati had 62 possessions to 61 for UNLV.
The national average is 73.
The referees were fine.
Quipped one reporter when the Bearcats led 4-0 at the first media timeout: "I wonder if either team will score more than Bishop Gorman football in the state championship game."
Answer: No.
The Gaels beat Bishop Manogue 69-26.
"We took a step forward," Menzies said. "We went into a fight, and it was one and we held our own, but they got the decision."
Cincinnati is better. UNLV went the distance. There were a few bright spots.
The Rebels just aren't quite good enough to win such a game.
Contact columnist Ed Graney at egraney@reviewjournal.com or 702-383-4618. He can be heard on "The Press Box," ESPN Radio 100.9 FM and 1100 AM, from 7 a.m. to 10 a.m. Monday through Friday. Follow @edgraney on Twitter.