Rebels ready to move past five-game skid
April 23, 2014 - 11:14 pm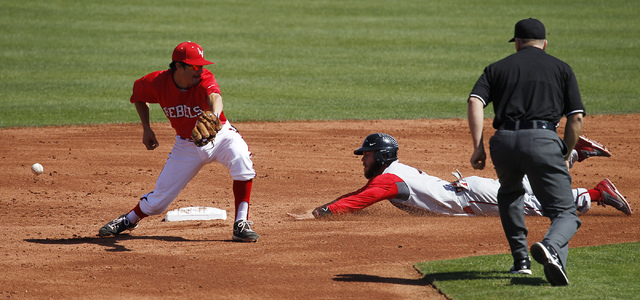 Tim Chambers looked around the cold, hard, slick-as-ice turf at Falcon Field in Colorado Springs and wondered:
When did Crash Davis become his catcher?
"It felt like that scene from 'Bull Durham,' where (Davis) is telling the hitter what pitch is coming next," Chambers said. "I've never seen anything like it. They just hit missile after missile."
"Charlie, here comes the deuce. And when you speak of me, speak well."
Erik VanMeetren is a junior catcher for UNLV's baseball team and don't for a second believe he was tipping off hitters for Air Force last week. The Falcons didn't need any help in sweeping a three-game series from the Rebels.
They just played better in winning by scores of 10-9, 14-4 and 7-6.
What the setbacks to a last-place team did was extend UNLV's losing streak to five games, its longest in a season highlighted by Top 25 rankings and talks of NCAA regional berths and possibly making a national splash come the middle of next month.
What the streak has done is drop the team's Ratings Percentage Index from 12 to 35 and pushed the Rebels from being ranked to the purgatory of "receiving votes."
(That last part is sure to change for the better with the team's next win, however, given there appears to be more college baseball polls than there are grains of wheat in China.)
What it all means is this: A three-game conference series against first-place New Mexico that begins Friday night at Wilson Stadium has gone from somewhat important to overly critical.
The Rebels (25-15, 13-8) are tied for second in the Mountain West, four games back of the Lobos in the loss column, and what felt like a certainty a few weeks ago when it came to NCAA at-large chances for the Rebels isn't all that assured now.
Which in no way has their head coach worried.
"I've been around teams when losing streaks happen and fingers start getting pointed and fights break out in the dugout and frustrations show through," Chambers said. "Not this team. We got back from the (Air Force) trip and I was still pouting, but the kids had moved on. I'm not panicked in the least. I know my kids. They're as mad as I am we've dropped some games, but it's over for them. We've hit a bad stretch. It's baseball. It happens."
To almost everyone.
Of those teams ranked this week in the Baseball America Top 25 — respected just slightly more than the Big O Tires/Starbucks/Perfect Game/CBI Composite/Weird Kid From His Basement poll — five teams among the Top 10 have at least 10 losses. Of those in the Top 25, eight have at least 13 losses.
The important part for UNLV is not allowing five straight losses to become six and six to become eight and so on. The Rebels have 14 regular-season games remaining, including nine in conference, and a 10-4 finish over that stretch would likely again move them into an at-large discussion.
They also host the conference tournament with an automatic NCAA berth on the line at a stadium that has produced a 15-2 home record this season.
"I think it helps that we know how good New Mexico is coming in here," UNLV first baseman Patrick Armstrong said. "We will definitely be focused. No excuses. We need to play better than we have. It was a pretty quiet plane ride home from Air Force, but they did an incredible job and beat us in every aspect of the game.
"This week begins a really important stretch for us. It's hard not to think about (national rankings and NCAA regional berths), but a number next to our team's name can't define us. Our backs are a little against the wall being tied for second right now. We still have a lot to prove."
Baseball is a little nuts. Make that really nuts. Air Force is just 15-25 overall and 5-13 in league, but pounded out 40 hits in its sweep of UNLV. The Falcons got to UNLV ace Erick Fedde for seven runs (two earned) and eight hits in six innings.
It happens, sure as Crash Davis believes strikeouts are boring and fascist and that a pitcher enticing hitters into ground balls is a more democratic approach.
"Sure, the losses at Air Force shocked us," Chambers said. "You look at their record and say, 'How the hell have they lost so many games if they can hit like that?' Bang, bang, bang. They hit everything.
"(Fedde) has never been hit like that. He's pissed right now. I wouldn't want to be the team to face him Friday night. I don't care who you are. Print that. He's showing up.
"We'll be fine. It's baseball."
Meanwhile, Weird Kid From His Basement will be updating his poll.
Las Vegas Review-Journal sports columnist Ed Graney can be reached at egraney@reviewjournal.com or 702-383-4618. He can be heard from 11 a.m. to 2 p.m. Monday through Friday on "Gridlock," ESPN 1100 and 98.9 FM. Follow him on Twitter: @edgraney.