Rebels show that they haven't quit on Tony Sanchez
Updated November 11, 2018 - 8:22 pm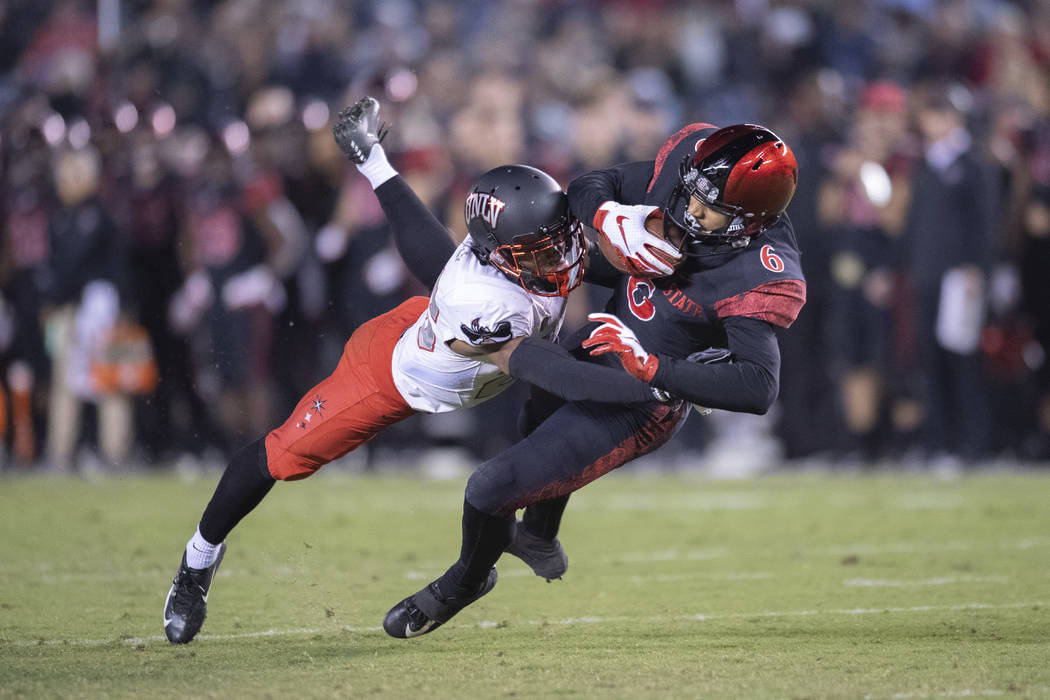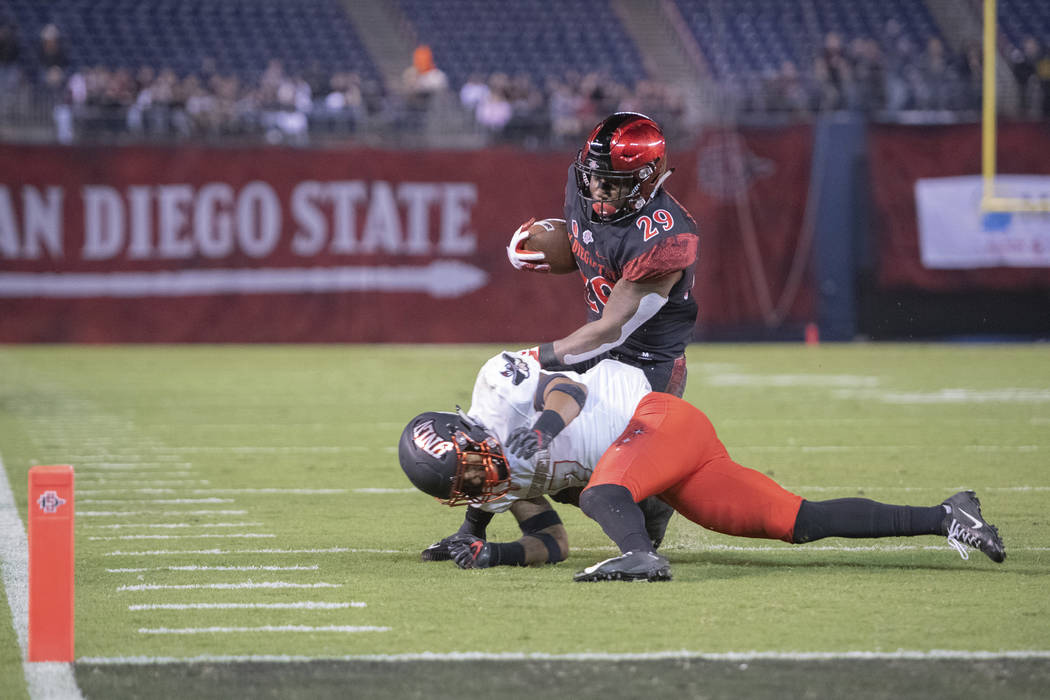 SAN DIEGO — When a losing streak reaches such a level — six straight and no end seemingly in sight — the first ingredient often to vanish is a team's energy.
Its effort.
Its desire to compete.
That didn't happen for UNLV football and, because of it, the Rebels on Saturday were rewarded with one of the biggest wins in the four-plus seasons of coach Tony Sanchez.
The talk of losing out is over, and the uncertainty of Sanchez's job status unquestionably should be paused, after the Rebels rallied to defeat 23-point favorite San Diego State 27-24 before an announced crowd of 24,986 at SDCCU Stadium.
UNLV won for the first time in seven games because it defended as well as it has all season and a senior running back who has appeared lost without his trusty sidekick returned to the form that has had him seriously chasing the school's all-time rushing record.
It hasn't been the prettiest of Mountain West seasons for UNLV — OK, so it has been downright ugly — but for one night in a place the Rebels never win, everything worked.
For one night, we saw the team that began the season 2-2 and had legitimate aspirations of becoming bowl eligible.
For one night, the torrent of losing ceased and the clouds lifted and a ray of positivity shined upon UNLV.
"Our guys fight, they stick things out and they have some toughness to them," Sanchez said. "And to win special games, you need special players, and Lexington Thomas is one. That is a dude making a great college football play. That's why you bring guys like that in."
The play he was referring to was a 75-yard scoring run, a simple inside zone read from which Thomas broke free, putting the Rebels ahead for good with less than four minutes remaining in a place UNLV hadn't won since 2000.
Armani Rogers is listed as UNLV's backup quarterback, having not played since Sept. 22 at Arkansas State because of an injured foot. In his absence, just as last season, Thomas has struggled producing at the level he did with Rogers running the offense.
For just the second time since Rogers went down this season, Thomas eclipsed 100 yards rushing, finishing with 133 on 21 carries and two scores.
"It means a lot to the team, not just me," Thomas said. "No matter how the game is going, I'm going to give it everything I have. We're not giving up. Coach Sanchez has preached to us about finishing. We finished great in this one.
"I've been here four years, and this is my first win against (San Diego State). I had never scored a touchdown against them until now. So a lot of stuff went well, most importantly being we got the win."
It went better than anyone could have imagined defensively, as the Rebels held San Diego State to 368 total yards and limited star running back Juwan Washington to 66 yards rushing on 21 carries.
The injuries to UNLV's defense have reached a level of too many to count, especially on the back end, but when a game-saving play was needed, Jericho Flowers intercepted San Diego State quarterback Ryan Agnew with 1:23 remaining and the Aztecs at midfield.
UNLV now sits at 3-7 overall and 1-5 in the Mountain West with games at Hawaii next Saturday and at home against UNR on Nov. 24 remaining.
They aren't numbers anyone should throw a party over, but when you consider the noise that has engulfed the Rebels lately about another losing season and the job status of their coach, beating this team in this place can go a long ways in healing some wounds.
"(UNLV) deserved to win because they outplayed us," Aztecs coach Rocky Long said. "They controlled the line of scrimmage on defense because we didn't block them, couldn't block them and weren't able to run the ball. Normally, the team that controls the line of scrimmage wins the game."
That was UNLV on Saturday.
Here, against San Diego State, of all teams and places.
Sanchez warrants a fifth season as coach. I've written it and believe it.
But at some point, given how those six straight losses played out, proof was needed that he hadn't lost the team.
That it would still play for him, fight for him, compete for him.
It did all that and more.
More Rebels: Follow online at reviewjournal.com/Rebels and @RJ_Sports on Twitter.
Contact columnist Ed Graney at egraney@reviewjournal.com or 702-383-4618. He can be heard on "The Press Box," ESPN Radio 100.9 FM and 1100 AM, from 7 a.m. to 10 a.m. Monday through Friday. Follow @edgraney on Twitter.