Rebels take in history of 'The Big House'
September 18, 2015 - 9:14 pm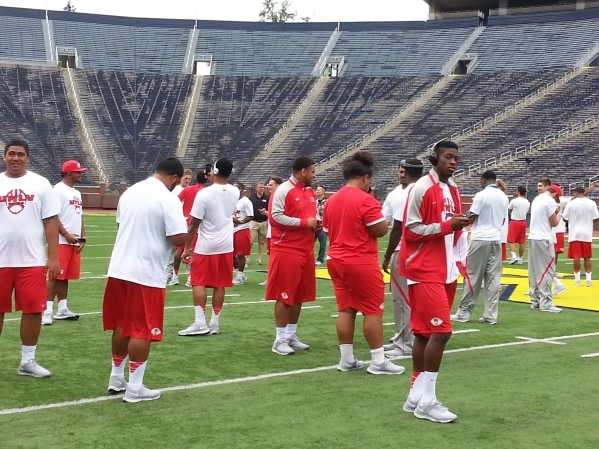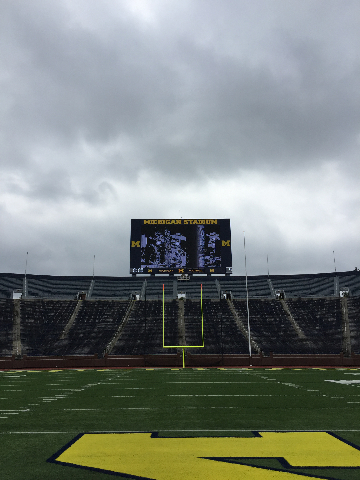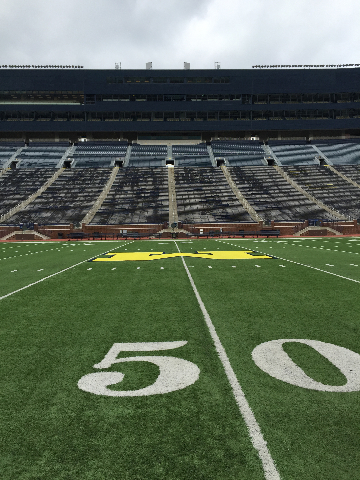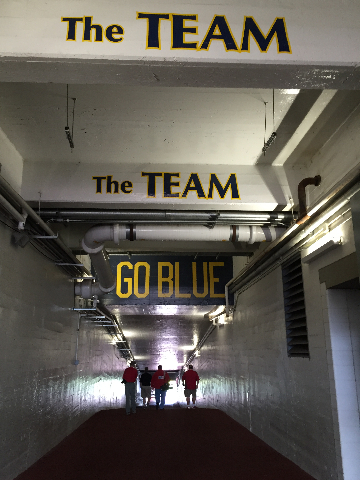 ANN ARBOR, Mich. — Tony Sanchez gathered his UNLV football players at midfield Friday afternoon, their shoes covering part of the big, yellow, renowned letter.
M.
He took them to Michigan Stadium, to "The Big House," for 30 or so minutes, because part of what makes college football so wonderful and enchanting and ageless is its traditions.
They are to be respected and embraced and cherished and used for selfies.
And then immediately set aside for a team such as the Rebels, so as not to get caught up in the pageantry around the game and get pummeled on the field during it.
Although the latter might be difficult to avoid.
The betting line keeps rising, now up to 35½ points, those wagering of the belief UNLV has no chance to keep things respectable against the Wolverines today in the place that seats 107,601. It really is something, each inch of turf seemingly exhaling into the air unforgettable moments of the past.
It is the home of Tom Harmon's four-touchdown game, of Charles Woodson's electric punt return, of Desmond Howard's "Goodbye Howard, Hello Heisman," of Jim Harbaugh's touchdown pass to John Kolesar, of Tate Forcier-to-Greg Mathews, of Mercury Hayes' game-winning catch, of a record tsunami 115,109 yellow shirts swarming as one for the Wolverines against Notre Dame in 2013.
You should see the pictures captured during that game. It's as if one of those firefighting helicopters sprayed the entire stadium from above with yellow paint.
This place, as those signs that greet visiting teams walking down their tunnel remind you, is all about The Team, The Team, Go Blue.
"First of all, I'm a college football fan," Sanchez said. "I've loved it since I was a little kid. I watched all the games from the Big House on television. That's what you did when you were little — go outside and play football light pole to light pole, go inside and watch games. The thing I respect most (about Michigan) is the history and tradition. They do a great job embracing all of that, so it's going to be a fun afternoon.
"It's a great place, but we don't want our players thinking about any of that when the game arrives. We need to make sure they're ready to play. When I coached at Cal High, we played at Seahawk Stadium (in Seattle) and the Oakland Coliseum. When I coached at Bishop Gorman, we played at University of Phoenix Stadium (in Arizona). We did the same thing those times at (NFL stadiums) — let the kids come and see it a day early, get the jitters out and go play."
Lyndon Johnson outlined his Great Society program at the 1964 commencement ceremonies inside Michigan Stadium, but I'm guessing the faithful around here hold the image of Howard striking his Heisman Trophy pose in far higher regard than the largest reform agenda since Roosevelt's New Deal.
It is the largest stadium in the country and second largest in the world, trailing only the 150,000 capacity of Rungrado 1st of May in North Korea, but that's where they executed a bunch of army generals via burning in the 1990s for trying to take out Kim Jong-Il, so being a 35-point underdog doesn't seem all that awful in comparison.
What makes it even more compelling now is the head coach who will lead Michigan today, as a favored son has come home to try to return the Wolverines to a place of exclusivity, where history states they have won 11 national championships, and yet none since 1997.
The Victors might have been written in 1898, but the school's famous fight song hasn't celebrated many conquering heroes and champions of the West (or anything else) for some time. Michigan hasn't stood atop the Big Ten Conference in 12 years.
The hope is that Harbaugh, the former All-America quarterback for the Wolverines, can be the one to restore the glory, pleated khaki pants and all.
"When he comes running out of the tunnel, that's not intimidating," Sanchez said. "When his team comes running out, that's a little intimidating. It's really about you and yourself and your team and the X's and O's. Coaches don't really think about other coaches. (Harbaugh) has done well wherever he has been. He brings a toughness, which is an important ingredient when building team. If you don't have that, you can't hang your hat on anything.
"They want to put you in a phone booth and fight, a very physical brand of football. It's Michigan football."
When the 30 or so minutes had passed Friday and all the pictures had been snapped and UNLV players had soaked in the place that was erected in 1927 at a cost of $950,000 and had an original capacity of 72,000, built on land that had been home to an underground spring whose moist surface engulfed a crane during construction that remains under the stadium today, Sanchez reminded them of the reason for being here.
He told them to focus on football and the (impossible?) task at hand.
Then he told them to get on the bus and head back for study hall at the team hotel.
The history lesson was over.
"If you're focused on the stadium," UNLV senior tight end Jake Phillips said, "you're focused on the wrong thing."
Even this stadium.
Even "The Big House."
Ed Graney can be reached at egraney@reviewjournal.com or 702-383-4618. He can be a heard on "Seat and Ed" on Fox Sports 1340 from 2 p.m. to 4 p.m. Monday through Friday. On Twitter: @edgraney
Check our GameDay page for all the news leading up to the UNLV-Michigan game.