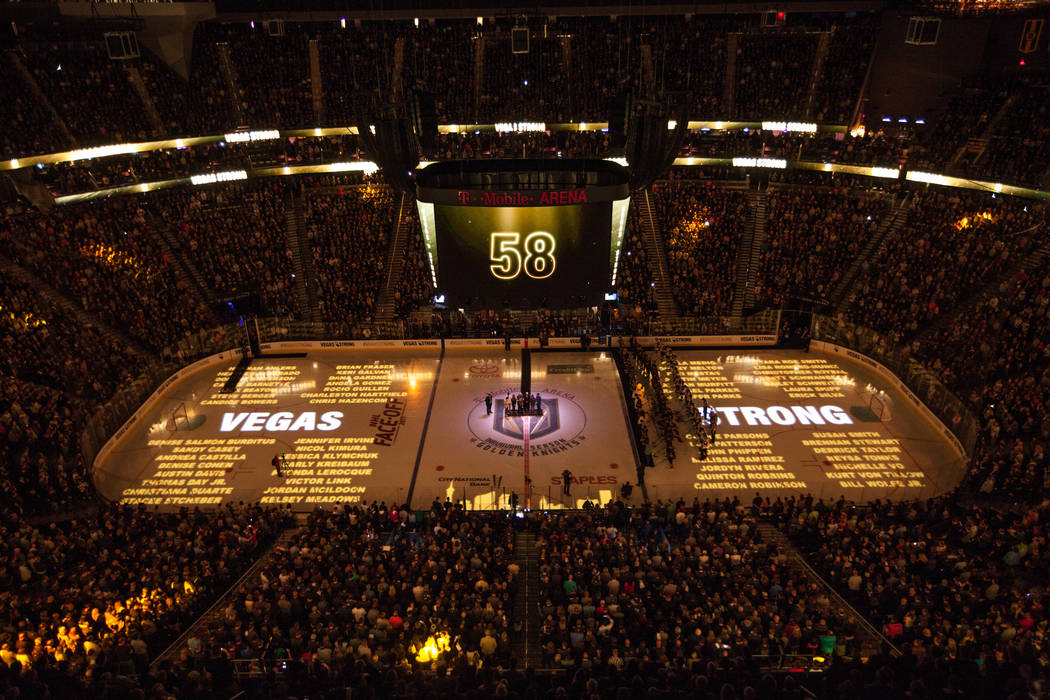 In our line of work, we mostly deal with numbers. Stats. Records. Anything defined by digits.
And there wasn't a more significant one for Las Vegas this past year, perhaps ever, than 58.
I will not remember 2017 for any specific game or athlete, any NFL relocation news or NHL expansion draft.
They connect as one, those columns I wrote following the Route 91 Harvest festival shooting, which left 58 dead and 546 injured and a town, our town, suffering a level of profound grief no community should ever have to endure.
I will remember my son's voice cracking and his eyes welling with tears as his face was exposed across the screen of a smartphone when calling from college about the city he so deeply loves.
I will remember the names of the dead being emblazoned on ice at T-Mobile Arena, and a second ticking away for each one on the video screen high above at the home opener for the Golden Knights.
I will remember that when the count reached 57, like a template of hope promising the town will emerge from under such a menacing cloud, a voice bellowed from the darkness …"Vegas Strong!"
I will remember that as another NFR began its annual 10-day stay at Thomas & Mack Center, those cowboys and cowgirls competing sat atop their horses and tipped their hats out of remembrance and respect.
I will remember all of it, just as none of us will ever forget.
Contact columnist Ed Graney at egraney@reviewjournal.com or 702-383-4618. He can be heard on "The Press Box," ESPN Radio 100.9 FM and 1100 AM, from 11 a.m. to 2 p.m. Monday through Friday. Follow @edgraney on Twitter.