Restart mistake leaves Earnhardt Jr. spinning in place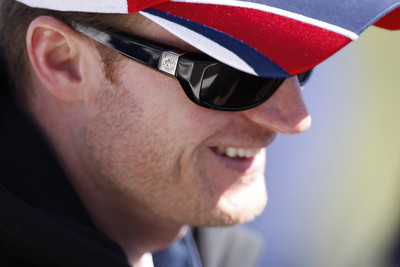 Red stinks. It grabs your attention, but often indicates some sort of warning or threat or disaster. Communism. Fire. A scarlet letter. The whole Satan thing. There are wackos out there who have done studies that indicate the color elicits the strongest reaction from people.
Dale Earnhardt Jr. despises it today.
"The damn red flag," he said late Sunday afternoon. "The anxiety just kills you. It just kills you. You have been running hard all day and then have to park for 20 minutes. It's all you can stand. It's all you can take. I just wish all you knew what it felt like."
Obviously, he never had to wait for UNLV football coaches to call timeout on fourth-and-short to design another slow-developing run play.
Earnhardt's winless streak in NASCAR points races sits at 64, stretching to May of 2006 in Richmond. He wasn't going to win the UAW-Dodge 400 at Las Vegas Motor Speedway, not the way he was restarting on cold tires and Carl Edwards was driving the field's hottest car.
Do you remember all those times pulling away from the curb after a heavy rain and spinning your tires? That was Earnhardt when it counted most, the sport's most popular driver all rust and poor form when he needed to be his sharpest.
He should have held back on a restart on lap 263, should have tested the limits of NASCAR's two-car-length limit when directly behind Edwards, should have done things differently with five laps remaining and the field approaching a green flag.
Instead, Earnhardt spun tires and eventually finished second, not bad for a guy who probably doesn't remember what it feels like running near the front.
"I've been out of the game so long," Earnhardt joked. "I ain't had a whole lot of practice out there. I looked like a tool out there."
He didn't mention a specific brand of tool, which means he must not have a major sponsorship with one, because NASCAR drivers don't take a second breath without shamelessly hyping one of the countless companies that decorate their cars and fire suits.
Earnhardt had plenty of time to ponder such endorsements when the red flag was waved following a crash between Jeff Gordon and Matt Kenseth, setting up an 18-minute delay and two-lap finish that Edwards effortlessly drove to victory.
"I'm happy," Earnhardt said. "I'm sorry I'm not happier. Carl wasn't going to get beat. I just wanted to finish where I felt the car was capable of finishing. I thought we did that."
Second place is a step forward for Earnhardt. Progress. A sign that perhaps he might soon be known again for accepting trophies than selling the most merchandise. An indication that leaving Dale Earnhardt Inc. for Hendrick Motorsports following last season really was as much about giving him the best chance to win a NASCAR title as getting far away from his stepmother and DEI owner, Teresa.
It's never going to be easy. Earnhardt has been the best driver for Hendrick after three races — better than Gordon and two-time Chase champion Jimmie Johnson — but his will always be a different level of pressure to manage.
Imagine a Matchbox car covered by the shadows of the Grand Canyon at dusk. It must be how Earnhardt feels every other minute or so.
It is a ghost he will forever find tougher to elude than a crash in Turn 3. It's one thing to try running down Edwards or Gordon for a checkered flag, but chasing a spirit is hopeless. It can't be caught. The comparisons to his late father are like Earnhardt's next autograph seeker — always looming.
But there's a chance his struggles could ultimately repay him with a championship. Earnhardt, 10th in points, says he approaches every lap now thinking only about how best to qualify for the season-ending Chase, which he has missed two of the last three years. Losing has altered his priorities and sharpened his perspective.
"I'm going to run hard and try to win races, but what I'm really watching is being in that top 12," he said. "I've waited (in the past) and been lackadaisical, like, 'We'll get around to it and put some runs together to get in there.' I'm not doing that this year.
"I would have talked myself into being satisfied with a top-five finish (Sunday), but we worked so hard to get second. … It's tough, man. I would have rather just run second under green flag and no crash. Red flags are no fun. I hate 'em."
Apparently, there are studies that suggest he isn't alone.
Wacky as that sounds.
Ed Graney can be reached at 383-4618 or egraney@reviewjournal.com.
More NASCAR Videos and slideshows