Richy can rescue Rebels on mound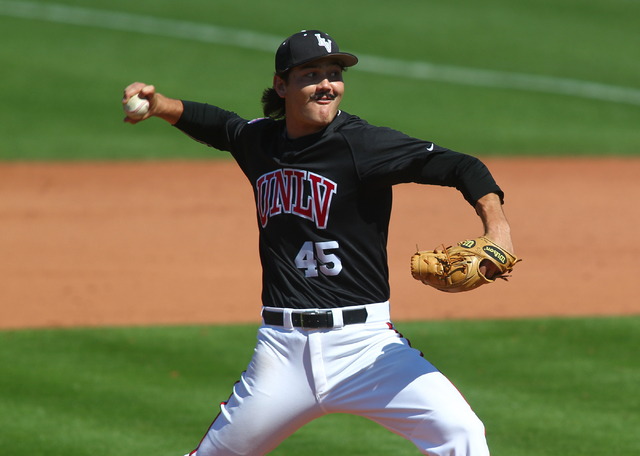 The news hit John Richy like a fastball that missed its spot.
Square in the heart.
"There were no words, nothing you could really say," Richy recalled. "It was so tough to hear. Devastating. Tragic."
He was about to begin warming up for a scheduled start May 9 at San Diego State, about to do what he has done time and again for UNLV's baseball team the past three seasons, about to stretch and throw and get loose to pitch another game for the Rebels.
Then the fastball missed its spot.
Then his heart dropped.
His roommate of the past two years, one of his closest friends, had received the sort of diagnosis that can threaten to derail the most promising of seasons.
Erick Fedde, the team's No. 1 pitcher and a projected top-10 pick in next month's Major League Draft, would require Tommy John surgery on his injured elbow. He was done for the year, and UNLV needed another front-line starter.
Richy would be one for most teams nationally. The junior has been that good for the Rebels, compiling a 10-3 record and 2.72 ERA this season. He has a strikeout-to-walk ratio of 93-21 and has limited opposing hitters to a .243 average.
That's a No. 2 pitcher with No. 1 stuff.
There is no question UNLV's margin for error shrunk considerably with Fedde's injury, when the depth that defined the team's pitching staff all season became far less imposing without its best arm.
What it means: Be it this week at the Mountain West tournament at Wilson Stadium or during an NCAA Regional the Rebels are all but guaranteed to be playing in, the importance of winning the first game in a bracket just became even more critical.
Which means the expectations atop Richy's shoulders just became far heavier.
"You're not going to replace a guy like Fedde," UNLV associate head coach/pitching coach Stan Stolte said. "That was a kick in the stomach to all of us, a guy who was as close to a sure thing on Friday nights as you can get.
"But it's also true that John Richy has pitched in a lot of big games and won a lot of them. He is a Friday night starter for 80 percent of the teams in the country. Every time he pitches, we have a great chance to win. He's a kid that responds to the moment.
"John felt terrible about Fedde. It hit him very hard. Those guys are so close. I know he had a little extra energy that night he heard about it at San Diego State."
The numbers showed it. Richy pitched with as much passion as talent that evening, holding the Aztecs to one run and four hits in eight innings. He then allowed a run on seven hits in seven innings while beating UNR on Thursday, meaning he is 2-0 with a 1.20 ERA since he first heard those frightening words about his roommate and close friend: torn ulnar collateral ligament.
The Rebels on Saturday concluded a three-game sweep of intrastate rival UNR with a 4-2 victory at Wilson Stadium and in the process gained a share of the regular-season conference championship with New Mexico.
UNLV opens the league tournament Thursday as the No. 1 seed, and three straight wins would give the Rebels the title. The following week, a regional would consist of four teams playing a double-elimination bracket.
Translation: Losing the first game of either tournament could prove costly, never mind how much pressure it would inflict on a pitching staff.
"I just have to remain focused and do what I have been doing all year," Richy said. "Leave it all on the field. Knowing that I have the (No. 1 spot) now, it's up to me to pick (Fedde) and the entire team up and give us the best chance to win. Nothing changes. Do everything in my power to win games. I have to toughen up and do my job."
It will take Fedde more than a year to rehabilitate his elbow, a fact that creates uncertainty about his draft status and where he now might be selected.
The Tommy John procedure, sadly, has become more common for pitchers of all levels than triple-digit temperatures here in July.
Meanwhile, Fedde's close friend has assumed the spot atop UNLV's pitching rotation. It isn't how either planned things.
"(Fedde) is the toughest kid and hardest worker I know," Richy said. "He will come back from this stronger than ever, no doubt. Getting hurt was the last thing on his mind. We're here to help and support him in any way we can."
For the new No. 1, that means more now than it did a few weeks ago.
Las Vegas Review-Journal sports columnist Ed Graney can be reached at egraney@reviewjournal.com or 702-383-4618. He can be heard from 11 a.m. to 2 p.m. Monday through Friday on "Gridlock," ESPN 1100 and 98.9 FM. Follow him on Twitter: @edgraney.