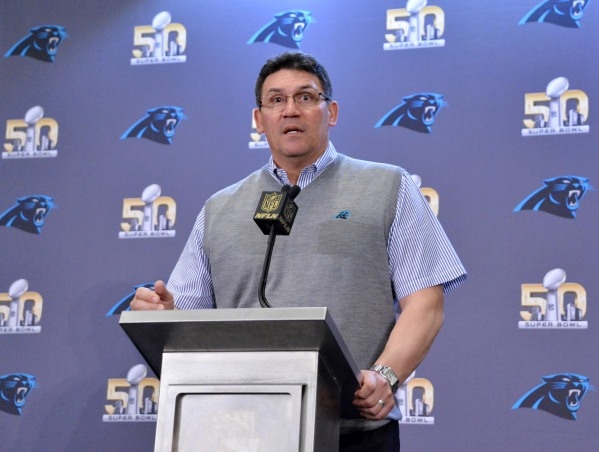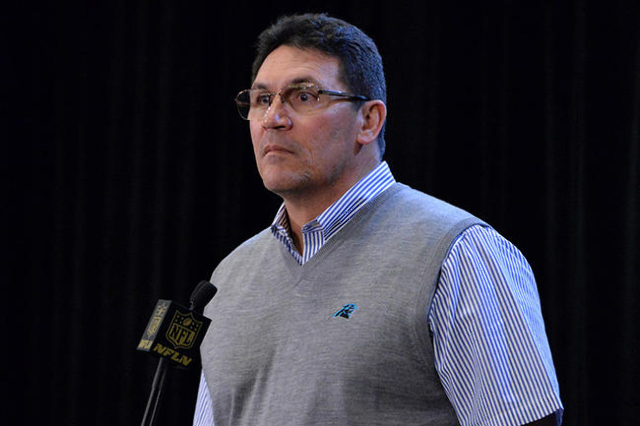 SAN FRANCISCO — There are trackers and everything, as informal as updated scores crawling across the bottom of your TV screen. The firings of NFL coaches and general managers always make for big news the day following a season's final regular-season game.
Black Monday.
It's like a bad mob movie. Watch who gets whacked.
When the Carolina Panthers take the field at Levi's Stadium on Sunday to engage the Denver Broncos in Super Bowl 50, they will be directed by perhaps the best example of an owner's patience in trusting his coach.
Most other owners should take notes.
Jerry Richardson was supposed to have fired Ron Rivera a few times over. That's what billionaires usually do when wins don't stockpile as quickly as they would prefer. That, and buy a new mansion to forget their troubles.
But the hit was never carried out on Rivera, be it during a Black Monday siege or early in the 2013 season, when Carolina was 1-3 after producing losing records his first two years. The general manager (Marty Hurney) who hired Rivera was fired six games into the previous season. He was the one whacked.
Richardson's faith in a man who interviewed for eight NFL head coaching jobs, or maybe it was nine, or maybe it was 11, in the six years before landing in Carolina has been repaid with the ultimate gift, a place in this historic Super Bowl and likely a second Coach of the Year award for Rivera in three years.
His story is one of timing and fortune and an incredible knack for knowing his players and how best to motivate them.
Rivera interviewed for the Dolphins job that Cam Cameron landed. Cam lasted one season in Miami. Rivera was a candidate for the Rams job that went to Scott Linehan … who was fired early in his third season. Rivera was up for the Atlanta gig that Bobby Petrino accepted … and then resigned from after 13 games.
None of it is lost on Rivera, that fine line between success and failure, between getting whacked and being retained, how hindsight can be a wonderful thing when you are days from coaching a Super Bowl in the state you attended college (California) and went to high school just outside Monterey.
"It kind of means," Rivera said, "my cruise has gone full circle."
Crazy. He played middle linebacker for the Chicago Bears' team that won Super Bowl XX, coached by the bombastic figure of Mike Ditka and on a defense coordinated by the equally emotional Buddy Ryan.
You would figure Rivera might have inherited some of their crazy.
But there isn't much ranting and raving to him, still an imposing figure at 6 feet 3 inches tall and 240 pounds and yet someone who has assumed the personality of his 16-1 team. It's one trait he learned from Ditka, to allow for originality in a locker room.
The Bears back then had Jim McMahon and a defensive tackle as big as a refrigerator. The Panthers have Cam Newton dancing and dabbing and playing the part of Superman.
"We have a lot of guys from different areas that really do appreciate who they are and who supports them," Rivera said. "We're a multicultural team. I really do think that's a big part of it. For the most part, our core, our group of leaders on our football team have been with me for five or four years.
"It's not like this happened overnight. It's taken five long seasons, seasons of ups and downs — a lot of downs to begin with. Then we rose up and we've had our moments. I think we've grown. We've taken advantage of the opportunity to become who we are today because of the people that are around."
This is who he is: Rivera is 54, and on Sunday could join Tom Flores as the only Hispanic coaches to win a Super Bowl. Flores did so twice with the Raiders and was an idol of Rivera as the latter was growing up.
Rivera insists he is no gambler, and yet it was during the 2013 season, the one in which Richardson didn't fire him despite a public outcry to do so, the coach was given a nickname of "Riverboat Ron" for adopting a more open-styled approach.
What else would you have with Newton at quarterback?
"Obviously, Coach Rivera provides an atmosphere that is very honest," defensive end Jared Allen said. "He wants your best, but he allows guys to be themselves and have their personalities in the system. We are about fundamentals and doing the right things through preparation, but at the same time he encourages guys to have fun. I think he understands from being a player that guys are playing their best when they are out having fun. He always reminds us to be no more than who you are and no less than who you are. Just be you."
Fact: Seven coaches were fired after the 2013 season. Gary Kubiak, who was dumped by Houston, will coach the Broncos against Rivera and the Panthers, against the guy Jerry Richardson trusted enough not to whack after a 1-3 start that year.
The Panthers would finish 12-4 and win the NFC South. Now, they're in the Super Bowl.
Great ending for Ron Rivera.
Bad one for a mob movie.
Ed Graney can be reached at egraney@reviewjournal.com or 702-383-4618. He can be a heard on "Seat and Ed" on Fox Sports 1340 from 2 p.m. to 4 p.m. Monday through Friday. On Twitter: @edgraney