Ronda Rousey's air of invincibility just like Iron Mike
November 13, 2015 - 10:41 pm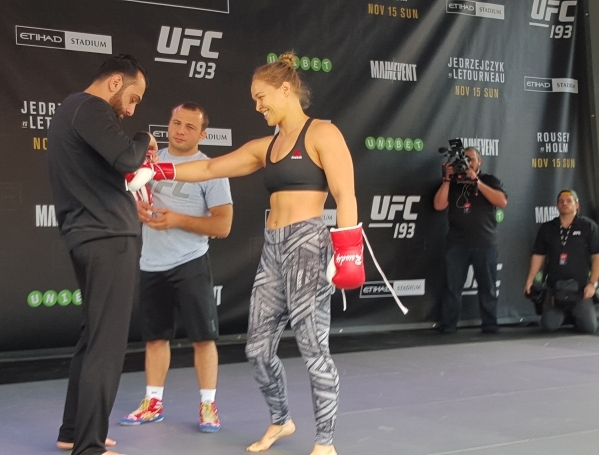 I never was able to flip the steaks.
It's as vivid now as in June 1988, a typical Southern California evening of a slight breeze and nearly flawless temperatures.
Summer vacation. Charcoal grill. A beverage or two or 10. A heavyweight title fight from Atlantic City on TV.
Mike Tyson was engaging Michael Spinks, and between them they were 65-0, a match that would ultimately gross $70 million, or what Floyd Mayweather Jr. might now describe as pocket change.
I was outside tending to whatever cut of meat a few college kids could afford back then, intent on grilling fast enough so as not to miss much of the action.
That's when my friend walked outside.
"It's over," he said.
Ninety-one seconds. Not even enough time to flip 'em.
Ronda Rousey has the same sort of domination and preposterous level of intimidation that Tyson enjoyed for years as he rose to a feared undisputed champion, and you can make the argument the world's most recognizable mixed martial arts fighter is more of a sure bet today.
When it comes to how fast Rousey finishes opponents, it's not about flipping steaks.
You don't even have time to buy them.
Her six consecutive victories in the Ultimate Fighting Championship is the longest active streak within the women's bantamweight division, and she has needed just 25 minutes and 36 seconds of cage time in 12 professional fights.
She has ended eight of those bouts in less than a minute each.
None of this would seem a good thing for Holly Holm, a former world boxing champion and also undefeated MMA fighter who as a 20-1 underdog opposes Rousey tonight (PST) in the main event of UFC 193 in Melbourne, Australia.
"Ronda has transcended the sport," said Marc Ratner, the UFC's vice president of regulatory affairs. "It's a very special time. To see the amount of credentialed media come all the way to Melbourne. I never thought I would see this day. Ronda is a very special fighter. Not in the sense of a man or woman. Just a fighter."
Ratner, the former executive director of the Nevada Athletic Commission, has a unique perspective in that few can better compare Rousey's incredible run to when Tyson was being labeled the hardest hitter in heavyweight history and making opponents shudder at his very existence.
Or at least pray they wouldn't get killed.
Frank Bruno famously genuflected approximately 30 times on his way into the ring to meet Tyson in 1989 at the Las Vegas Hilton, but such imploring of a higher being didn't help. Tyson won by knockout in the fifth round.
Invincibility, or the mere suggestion of it, is a rare but wonderful thing in sports. Tiger Woods had it. So did Michael Phelps and Michael Jordan and Wayne Gretzky and Babe Ruth and Joe Louis and others. It doesn't last forever, but within whatever time period an athlete is graced with such a remarkable level of success can produce snapshots for generations to embrace.
Tyson then and Rousey now define such mastery.
"When Mike fought, it was all about intimidation," Ratner said. "He would come in with the towel over his head and no socks and the black trunks and often the fight was over before it began. Ronda has that about her, too. She walks out to "Bad Reputation" and has a look on her face that is all business. You can't turn away from her. She's always ready to fight. It's an amazing phenomenon."
An unbeatable Rousey continues to be a good thing for the UFC, for the marketing machine she has created and the mainstream crossover her brand has delivered. There is intrigue to those with perfect records. Drama. Mystery. It's better for the sport, or at least its bottom line, when someone is this powerful in and out of the cage.
But few are the dominant athletes in history who didn't eventually taste defeat.
It happened to Tyson for the first time as a professional not two years after Spinks didn't get up after being knocked down a second time and my sirloin went from medium rare to burnt leather. Tyson was knocked out in the 10th round by Buster Douglas in February 1990, by a 42-1 underdog at the Tokyo Dome. It's rightly considered one of the biggest upsets in sports history, as would anything other than Rousey remaining perfect and dispatching of Holm in the land of 10,000 beaches and more kangaroos than people.
"Even when Mike lost to Buster Douglas, people didn't believe it and assumed it was a fluke," Ratner said. "There were all kinds of excuses made, such as Mike didn't train for the fight and a controversial long count in Round 8 after Douglas was knocked down.
"But with Ronda, even with her making movies and all the appearances she does, she's never out of the gym. She works every day. She's never out of shape. She walks around within 10 pounds of her fighting weight. I believe people want to see the unbeatable person. It's an amazing time right now for the sports of mixed martial arts, and a lot of that credit goes to Ronda."
Suggestion: Cook your steaks early tonight.
— Ed Graney can be reached at egraney@reviewjournal.com or 702-383-4618. He can be a heard on "Seat and Ed" on Fox Sports 1340 from 2 p.m. to 4 p.m. Monday through Friday. Follow him: @edgraney