San Diego State's magic carpet ride ends in NCAA title game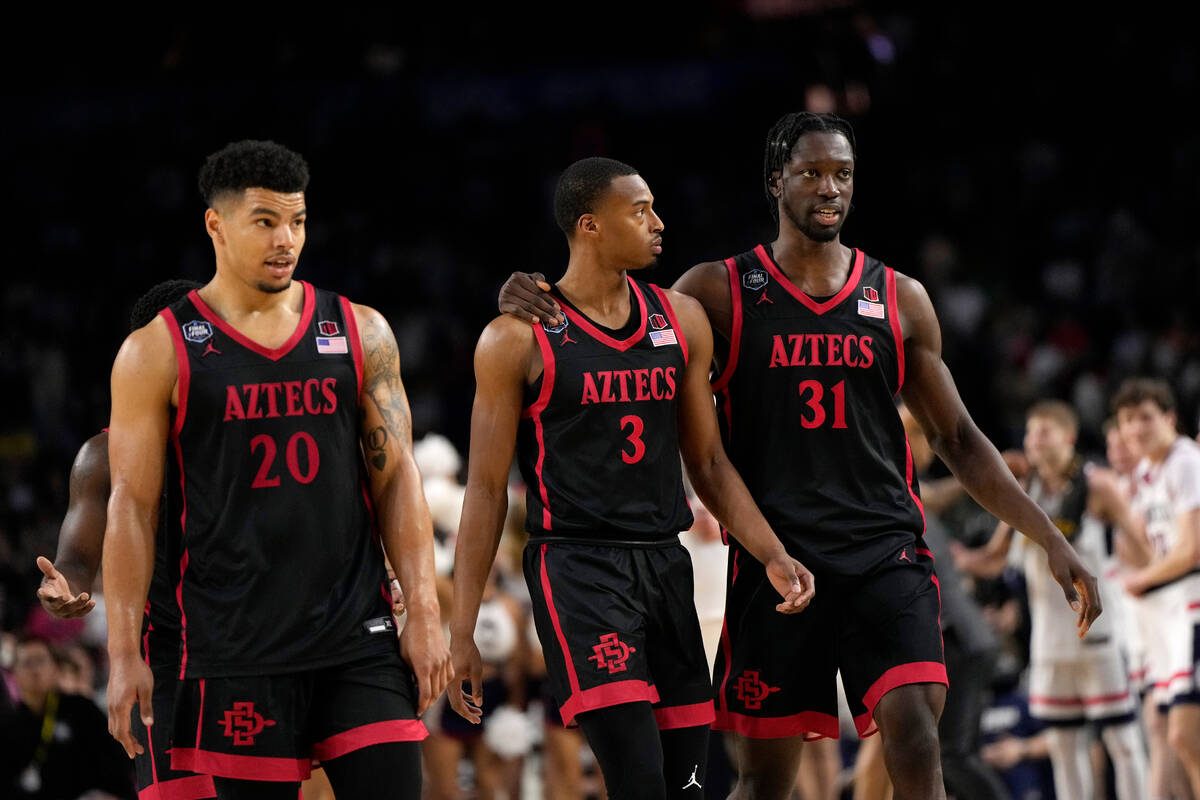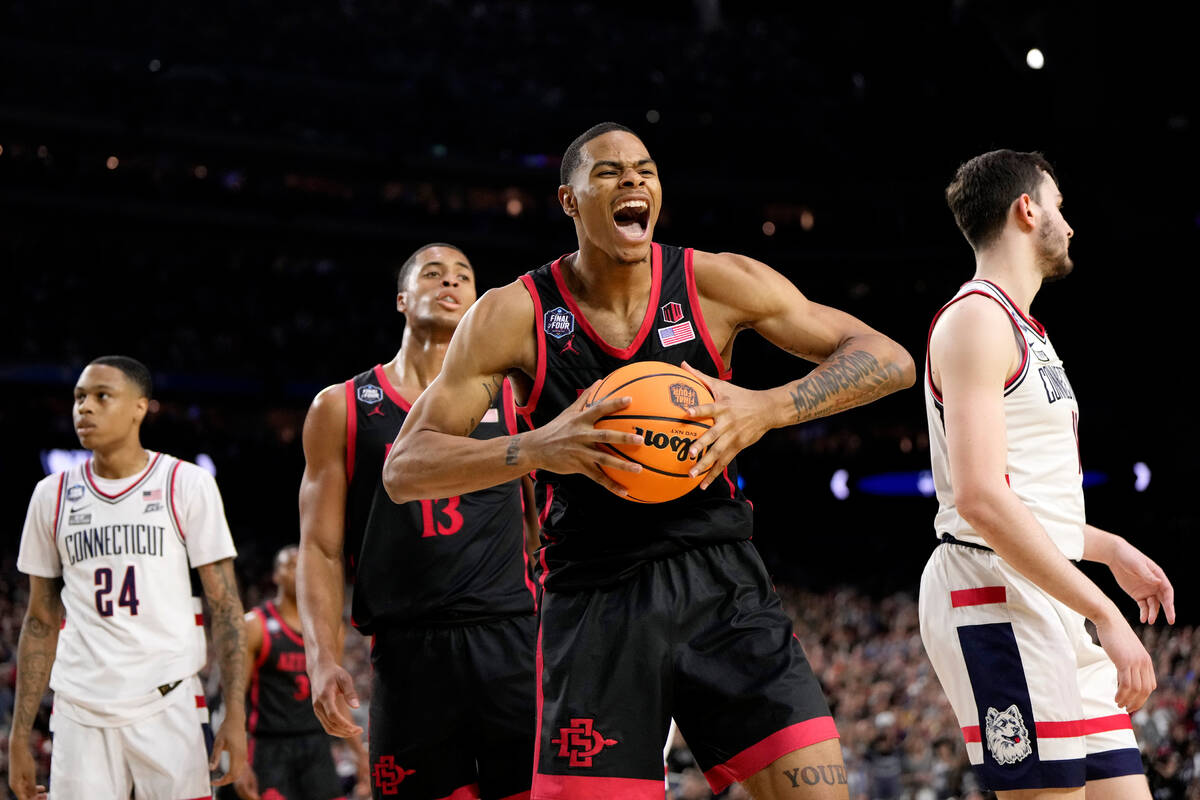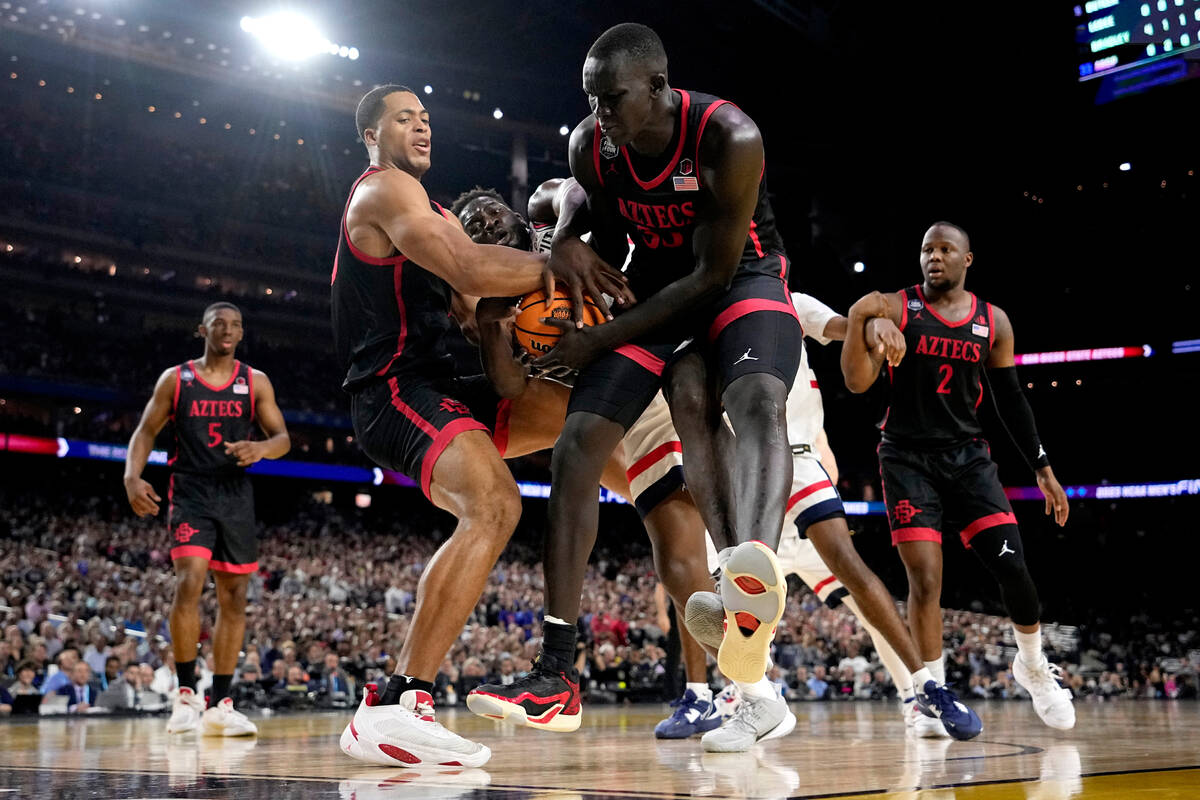 HOUSTON — They couldn't hold back the tears, couldn't hide their emotions, struggled to come up with the right words about what this run meant to them and their university.
About what it said for Mountain West basketball.
San Diego State's magic carpet ride through the NCAA Tournament crashed one win from a national championship.
It wasn't hard to figure out why.
The Aztecs fell to a better Connecticut side 76-59 on Monday night before 72,423 at NRG Stadium, allowing the Huskies to celebrate their fifth national title and affording the Aztecs all sorts of heartache for coming oh-so-close to the ultimate of moments.
"San Diego State, we put our name on the map," senior forward Keshad Johnson said. "We put our school on the map. We're recognized now. Win or lose, I'm sure everybody respects us."
Left no doubt
But there is no question, no doubt, not a hint of uncertainty. When they look back at this 2023 NCAA Tournament, when it's judged against others, one fact will stand on its own.
The best team won.
And, folks, it wasn't particularly close.
San Diego State played the Huskies as tough as anyone else in the draw and still lost by 17.
"We feel good about the things we did," San Diego State coach Brian Dutcher said. "Disappointed in the loss, but there was a brotherhood in that locker room that will never be divided by a margin of victory or not winning at all. That brotherhood will last a lifetime. I told them that."
Among those present after the loss was former Michigan star and now Wolverines coach Juwan Howard, there to support the Aztecs and Dutcher. Howard was a member of the famed Fab Five when Dutcher was an assistant at the school.
That sense of brotherhood.
Senior guard Matt Bradley called it a great comeback story. How the program's 30-2 season was wiped out by the pandemic. How the Aztecs lost in a first-round game against Creighton last season. How things then turned this season into such a memorable journey.
"I was so stuck on winning this national championship since we got to this point," Bradley said. "Before March started, I was just like, 'Let's make a great run.' But once we were here, I just felt to win it would take it up so many more notches. I think over time, I'll definitely be happy with the run, but I'm disappointed in how we couldn't close out this game."
They just weren't good enough. Connecticut had much to do with that.
San Diego State actually rallied to get within 60-55 with about four minutes left.
It sure made UConn mad.
The Huskies finished on a 16-4 run and celebrated as blue and white confetti fell from the rafters. The five national titles tie Duke and North Carolina for the most since 1975, the year John Wooden retired from UCLA … after his final game at the San Diego Sports Arena.
Better next season?
"We have a good team coming back," Dutcher said. "We're going to be very good next year. I had two freshmen, they're as good as any freshmen I have had in my program, couldn't get on the floor. They're going to contribute next year.
"People are going to say, 'Why didn't he play last year?' Well, we were really good last year. We're going to be good next year. We've had a lot of good teams at San Diego State, and we'll continue to have good teams."
That said, the Huskies deserve all praise.
They rolled this bracket, man. It was something else.
"It's something we hang our hats on," San Diego State junior guard Darrion Trammell said of his team's trip to the Final Four. "That's the chip on our shoulder — to not only gain respect for the San Diego State Aztecs but for the Mountain West as a whole. I feel we did that."
They did. They wept. What a magic carpet ride.
Ed Graney is a Sigma Delta Chi Award winner for sports column writing and be reached at egraney@reviewjournal.com. He can be heard on "The Press Box," ESPN Radio 100.9 FM and 1100 AM, from 7 a.m. to 10 a.m. Monday through Friday. Follow @edgraney on Twitter.