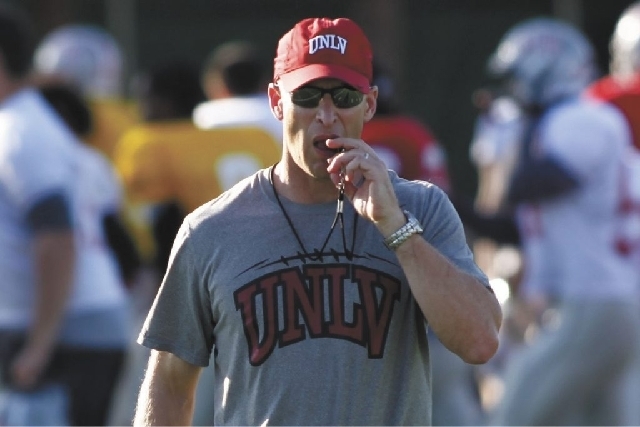 ALBUQUERQUE, N.M.
It is a historic weekend in this city of nearly 600,000 that straddles the Rio Grande, as TV on Sunday evening will say goodbye to the remarkable series "Breaking Bad," filmed and set here for five dramatic seasons.
Most everyone wants to know if Walter White will die.
I'm guessing Bobby Hauck couldn't give a hoot.
The fourth-year UNLV football coach awaits his own significant moment here Saturday night, when the Rebels will try to win a third straight game by opposing New Mexico in a Mountain West opener for both teams at University Stadium.
It's fairly simple: Hauck is coaching for his job this season, and Saturday night marks the most important game in which he will direct the Rebels since arriving in Las Vegas.
It's his biggest one yet. Nothing comes close.
It is a winnable road game that could see a favored UNLV side end its 23-game losing streak away from home and one that could secure for Hauck more wins than any of his previous seasons as Rebels coach.
It's not certain — no matter who ultimately sits in the athlete director's chair on a full-time basis — that Hauck will be asked to return in 2014. But the more his team wins, the more improvement it shows, the more it plays as it has in beating Central Michigan and Western Illinois the past few weeks, the tougher it's going to be for anyone to deny Hauck and a team that will return most of its key players at least the opportunity to finish what he began.
"They're all important," Hauck said. "Every week to us is the most important game in the country, the most important game ever. That's how it is in football, because you only get 12 of them a season. We treat every game like it's the Super Bowl.
"I don't get into what a game might mean for (his job status). I never do. You get one game a week, seven days to prepare and then it's over. You go to the next one. You have to go hard and steady. We don't want it to be a roller-coaster ride. We want consistency. As a team and coaches and individuals, you shouldn't approach it any other way.
"It's a long season. I don't know why I would be thinking about (the future). I don't ever look past the week. All that other stuff is for the offseason."
It's the best approach and the only one he should take, because the road is hardly a place for anyone associated with the Rebels to lack focus. The most surprising part of this week was UNLV opening as a favorite. The second-most surprising part was money going its way and the line increasing.
If anything, it tells you how little faith anyone has in a New Mexico side that was picked last in the Mountain Division and is 1-2.
"Obviously," UNLV offensive lineman Brett Boyko said, "we want to be able to get on a plane after a game on the road and be able to celebrate."
It hasn't been close most times. Of the 23 consecutive road losses, 21 are attached to Hauck's resume. Of those, 19 have been by 20 or more points. Under Hauck, the Rebels have surrendered 50 or more points seven times on the road and more than 40 on 13 occasions.
UNLV's best shots to end the streak under Hauck: A 24-13 loss to San Diego State last season and a 21-14 defeat against the Lobos in 2011.
"(UNLV players) are aware of it," Hauck said. "I don't have to talk about (the streak). You guys talk enough about it for everyone. It's wasted air. We just need to go play well. I'm not agitated. I've been ready to (win on the road) for three years. It is what it is. We can either put it to rest this weekend or wait until we travel again. It would be nice not to have to answer these questions.
"Winning would only say we're 3-2 on the season with seven games left. That's it. We would be 3-2. Nothing more."
It would mean a lot more in the big picture of whether a fifth year will be granted Hauck as coach. It could mean as much as any result.
This is his biggest game with the Rebels, whether he envisions it as just one of 12 dots on a schedule or not.
To suggest otherwise would be suggesting the fate of Walter White isn't important to millions of TV viewers.
And that's just crazy.
Las Vegas Review-Journal sports columnist Ed Graney can be reached at egraney@reviewjournal.com or 702-383-4618. He can be heard from 11 a.m. to 2 p.m. Monday through Friday on "Gridlock," ESPN 1100 and 98.9 FM. Follow him on Twitter: @edgraney.