Shakur Juiston's role at UNLV hasn't changed: Win games
Updated November 27, 2018 - 10:29 pm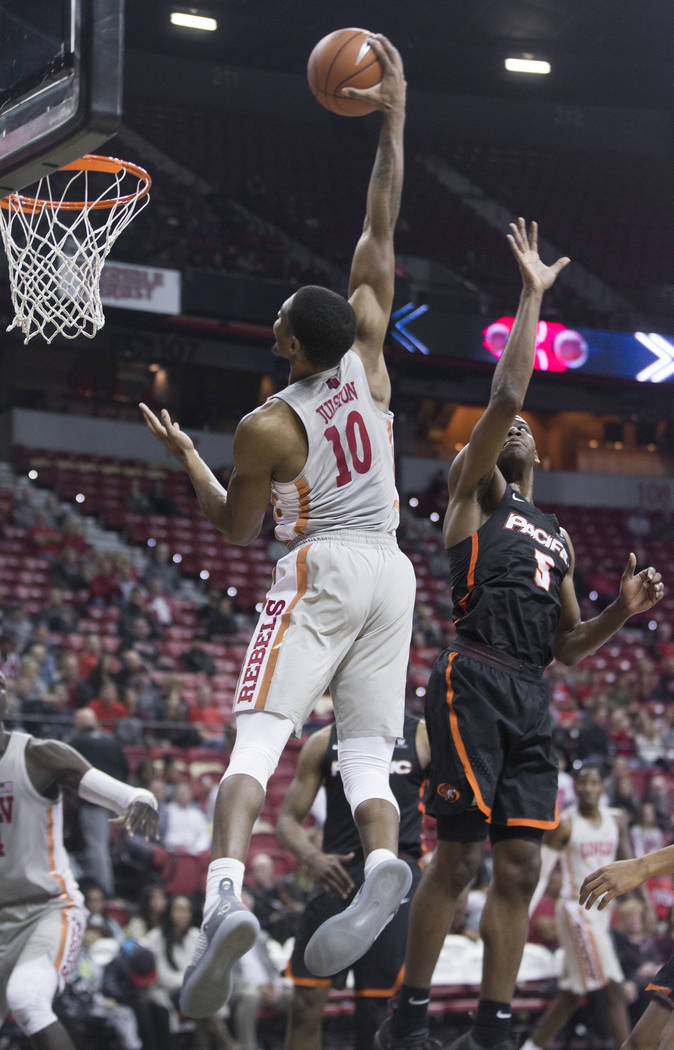 The idea is that moving over one chair on the sideline, from assistant basketball coach to the person in charge, forms a much larger presence, one with more expectation and responsibility and eyeballs glancing in your direction.
I suppose the same can be said for a player whose role shifts from one season to the next, from a secondary capacity to a team's star.
But that's the thing about Shakur Juiston.
He was already UNLV's best all-around player.
His chair is just fine, although the Rebels certainly don't need the senior forward sitting in it much.
UNLV continues its seven-game homestand to open the season Wednesday night against Valparaiso, when Juiston will take his usual place in the starting lineup and once again pursue rebounds like a cat might a feather on a bobbing string.
Brandon McCoy led the Rebels in scoring last season at nearly 17 points a game and was terrific offensively, but despite the fact he couldn't guard air still caused many to wonder who would replace his output once McCoy departed school after his freshman year.
The obvious choice was Juiston.
"I don't think he's looked at it that way," said UNLV coach Marvin Menzies. "I think it's more from the outside people looking in having said, 'OK, now you're the guy.' But I think (Juiston) always embraced family and team and wanting to win and wanting to improve. I don't think he's ever taken the onus of (being the man), and I don't think he should, to be honest with you.
"His role is to help us win games by any means necessary. Statistics are for the fans. There's only one I'm concerned with and it comes at the end of the game and that's, 'Did we get the win?' The fact of the matter is, (Juiston) is a marked man now, so he's going to struggle sometimes because of the defensive schemes put against him. But if he can still play to the things he can control — which is his defense and his rebounding — then that's going to be one of his roles every single night."
Five games and four wins into his final collegiate season, the former junior college player of the year is again near the top of UNLV numbers, averaging 12 points and 8.4 rebounds in 29.2 minutes.
Last year, those stats were 14.6 and 10 in 30.4 minutes.
He's shooting 48 percent as opposed to a Mountain West-leading 63.9 as a junior while still attempting an average of 10 shots. Juiston ranked seventh nationally in field-goal percentage last year and has been slow to reach that level early on, but much of that goes back to Menzies' point about opposing defenses focusing on No. 10 more.
They also believe him the obvious choice.
Just win games
He is the sort of player every team wants and needs, who compares grabbing a rebound to winning at life, who is easy to coach, who while he might not be the most talkative on the court, his ability to communicate with teammates in the locker room could prove invaluable as the season lengthens and the schedule toughens.
He can move to center when the Rebels go small and is far better when he simply blends with others like senior transfer Noah Robotham and improved returners Mbacke Diong and Amauri Hardy and Kris Clyburn.
Juiston doesn't have to be the highlight of a final stat sheet to have made the biggest impact.
His place, his seat, his role, is just fine as it is.
"I had (preseason meetings with Menzies) and he kept harping on me about what I thought my role should be, and I was ducking and dodging him because, honestly, I didn't know," Juiston said. "Then, one day, I told him my role should be to do whatever possible to be productive and lead the guys in the right direction.
"I didn't come here to get 30 points a game. I came here to play basketball and get wins, to be a big brother and mentor the younger guys. I believe my role is the same as last year."
The quality of a leader, it is said, is reflected in the standards they set for themselves.
Things are pretty straightforward for Juiston in this manner.
Win.
By any means necessary.
It's a role UNLV can more than accept.
More Rebels: Follow at reviewjournal.com/Rebels and @RJ_Sports on Twitter.
Contact columnist Ed Graney at egraney@reviewjournal.com or 702-383-4618. He can be heard on "The Press Box," ESPN Radio 100.9 FM and 1100 AM, from 7 a.m. to 10 a.m. Monday through Friday. Follow @edgraney on Twitter.