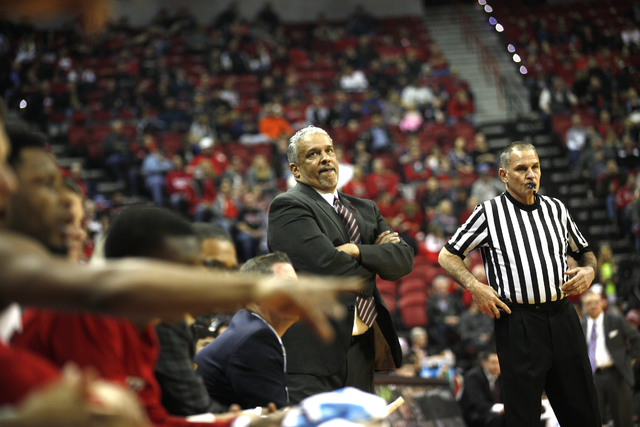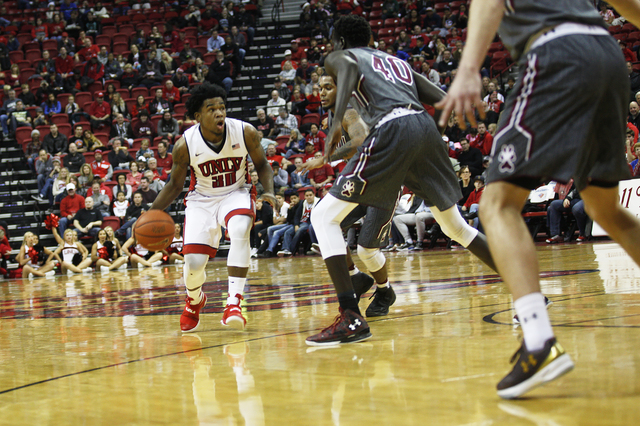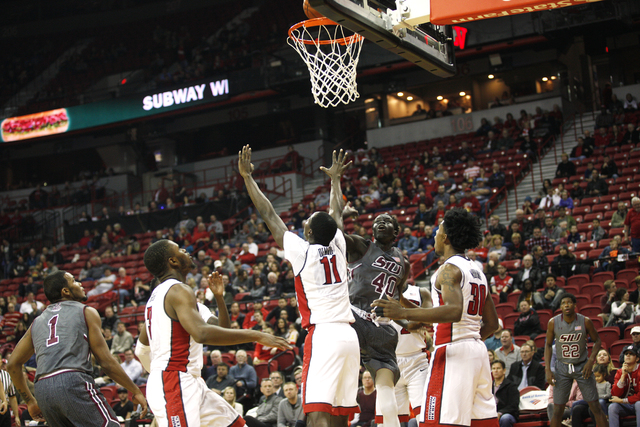 The steps will be slow and not always consistent, but those made in a positive direction are worth noting as the House of Menzies remains under major construction.
UNLV's basketball team has ensured itself a winning record in the nonconference portion of its schedule, news that wouldn't make headlines for countless programs across the country, but significant for a Rebels side searching for an identity to chart what the future might resemble.
I'm fairly certain it didn't lead SportsCenter on Monday night, but for those wondering, the Mountain West-Missouri Valley Challenge ended in a 5-5 tie this season, a deadlock clinched when UNLV beat Southern Illinois 68-61 before an announced gathering of 11,758 at Thomas & Mack Center.
The win improved UNLV's record to 7-5 under first-year head coach Marvin Menzies with a home game against No. 3 Kansas on Thursday night looming, meaning no matter what happens or how bad things might get against the Jayhawks, the Rebels will open conference play at Colorado State on Dec. 28 above .500.
Small, slow, positive steps.
"I don't think it's that important in the big scheme," Menzies said. "It's the beginning chapter. Who's going to remember that when they get to the end of the book? I guess it's good. It keeps the fans coming back with a little more optimism. I think they saw us fight tonight.
"It was a good finish and bad performance in several areas, but we came through in winning time, and that's the most important thing. At the end of the day, you have to get the W. I was happy to see us fight against an experienced, scrappy team.
"When we get into conference, we're going to have some tight games, and there is no substitute like this for coming out on the right side."
He makes a great point in that Southern Illinois in several ways resembles a Mountain West side, certainly not a great team but one capable enough that UNLV will have to make plays down the stretch of games to have any chance at winning, which the Rebels did Monday.
This is how things might look against Colorado State or Wyoming or Utah State, just with different uniforms.
It will also help if UNLV doesn't turn the ball over 23 times.
The Salukis turned those miscues into 22 points, and further exemplified how poor the Rebels can be with basic ball skills. UNLV entered Monday ranked 203rd nationally in turnovers with a 13.9 average and 277th nationally in turnover margin at minus-1.8.
It's a bad trend of forfeiting far too many possessions for a team that doesn't need to be giving away anything to opponents, fundamental flaws that need to be improved through constant drill work.
Christmas break couldn't come at a better time for UNLV coaches, who need to devote more of the team's practice hours to players executing pick-and-rolls and where to specifically throw the ball and things like jump stops and pivots.
"We can fix all that, 100 percent," Menzies said.
Preparing for Kansas off a win is far more important for a team such as UNLV, and the Rebels in outscoring Southern Illinois 20-11 over the final 10:43 received key plays from several names.
Promise is evident in freshmen like Troy Baxter Jr., and Cheickna Dembele, the former with an all-around game that should flourish over time and the latter all kinds of raw at 6-foot-11.
Once someone reminds Dembele his is a skill set better used in close right now and not outside with even a (frightening) thought of dribbling the ball, he will contribute as he did Monday with four key points late, seven rebounds and three blocks.
It seems as though junior guard Jovan Mooring might spend the season being really good in spots and really, really erratic in the others, but he's not afraid of the moment. Teams needs that.
I also can't for the life of me remember one thing Tyrell Green did last season — perhaps because he only played in eight games — and yet now the senior forward is UNLV's best player.
It's that kind of team.
"We were upset with (the turnovers), but we'll watch film and clean them up," said Green, who finished with 23 points and seven rebounds in 36 minutes. "We have to be stronger with the ball, especially with (Kansas) coming in, and we will be. We have to come locked in and ready to go, because we know they're going to be, for sure."
UNLV has one nonconference game remaining and a winning record has been clinched for that portion of the schedule.
It's not to be excessively celebrated, but the book has to begin somewhere.
Better a winning first chapter than not.
Contact columnist Ed Graney at egraney@reviewjournal.com or 702-383-4618. He can be a heard on "Seat and Ed" on Fox Sports 1340 from 2 p.m. to 4 p.m. Monday through Friday. Follow @edgraney on Twitter.
VS.