Smart Gorman kid made smart decision picking Duke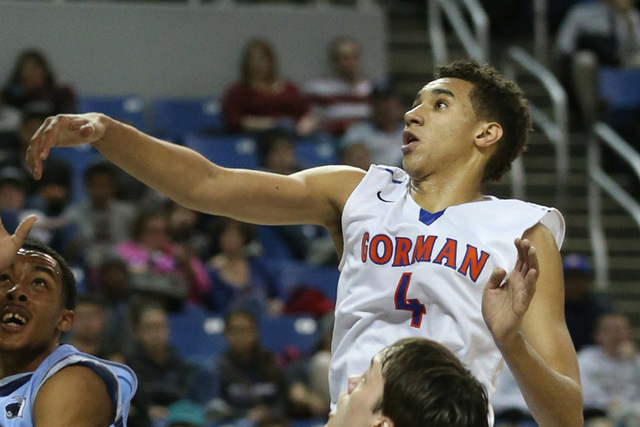 It was at this time last year when I inquired of a Pac-12 basketball coach: "Where do you believe Chase Jeter ultimately lands?"
Coach: "Stanford or Duke. No one else would win that battle. He's that kind of kid. Really smart. A big-picture thinker. It won't be just about basketball with him.
"It will be as much a life decision and about academics as anything. This is a different sort of kid."
Jeter on Monday evening made that coach seem all sorts of prophetic, announcing on an ESPNU telecast that he will attend Duke following his upcoming senior season at Bishop Gorman High.
He chose the Blue Devils over UCLA and Arizona and Kansas and Oregon and UNLV, the latter a program his father played for from 1987 to 1991 and who was a backup center on the school's national championship team.
But the fact Chris Jeter was once a college teammate to UNLV head coach Dave Rice and assistant Stacey Augmon didn't sway the decision of a player now ranked anywhere from eighth to 13th nationally.
Nor should it have.
If he desired a university of the highest academic standards, and he does, and he wanted to play for a nationally recognized program that is on television more than Ellen DeGeneres, and he does, and he wanted to be coached by a Hall of Famer who has won more games than anyone in history, and who wouldn't, the 6-foot-10-inch Jeter made the perfect choice.
He visited all the schools on his final list. He searched for environment and fit as he did the potential for immediate playing time. He made an educated choice. He trusted his head as much as his heart. He didn't stop his campus visits at the basketball arena or practice facility.
He was the kid that Pac-12 coach spoke about.
Intelligent. Thoughtful. Big picture.
It's also an important moment for Las Vegas.
Local prep basketball has followed much the same path as baseball and football and softball and soccer, dramatically improving as the decades pass. But this remains a state constantly having to prove its worth against those with far larger pools of talent from which to develop.
Having a player such as Jeter choose a program like Duke can only cast a positive light on Las Vegas from other parts of the country.
UNLV followers who despise Duke won't believe so, most still obsessed with a rivalry that only has one fan base (theirs) that seems to know or care the other side exists, but anyone capable of owning unbiased vision would realize Jeter's choice says a lot about the level to which local basketball has risen.
Sorry. It's Duke and Mike Krzyzewski.
That's still huge news.
There is also this: Few teams nationally have done a better job recruiting than UNLV the past year. Rice has compiled some of the best talent the Rebels have offered in their history. He is stockpiling skill as well as any Top 25 program, of which his team still must prove it can be on an annual basis.
But that the Rebels were among the finalists for Jeter — and are for his Bishop Gorman teammate, center Stephen Zimmerman — speaks to the terrific job Rice and his staff have done selling their game plan for success.
They weren't going to beat Duke on Jeter. They probably won't beat Arizona or Kentucky or North Carolina or others on Zimmerman. But they have won enough high-profile recruiting battles to suggest Rice will always position the Rebels to make a run at the nation's best prep players.
It's a significant step of building a program capable of playing deep into March. Or, well, at least winning a game in March.
The more UNLV finds itself among those finalists for top talent, the more it lands a player such as incoming freshman guard Rashad Vaughn, the more other recruits will accept and embrace the Rebels as a legitimate option.
Rice isn't going to win every battle. He just needs to continue being involved in most of the important ones.
Jeter will fit in well at Duke and within its motion offense, an athletic forward whose skill set will allow him offensive chances merely on effort. How long he remains in Durham will depend on how quickly his game develops, but his doesn't have the appearance of a one-and-done resume. He has huge upside.
"I just love the feel, the environment. Cameron Indoor is a great place, a great basketball environment," Jeter said upon announcing his college choice. "I just felt like it was a great place for me."
All things considered, it's the perfect place.
Las Vegas Review-Journal sports columnist Ed Graney can be reached at egraney@reviewjournal.com or 702-383-4618. He can be heard from 11 a.m. to 2 p.m. Monday through Friday on "Gridlock," ESPN 1100 and 98.9 FM. Follow him on Twitter: @edgraney.