So far, free agency tame for Golden Knights and dog whisperer
Updated July 13, 2018 - 7:21 pm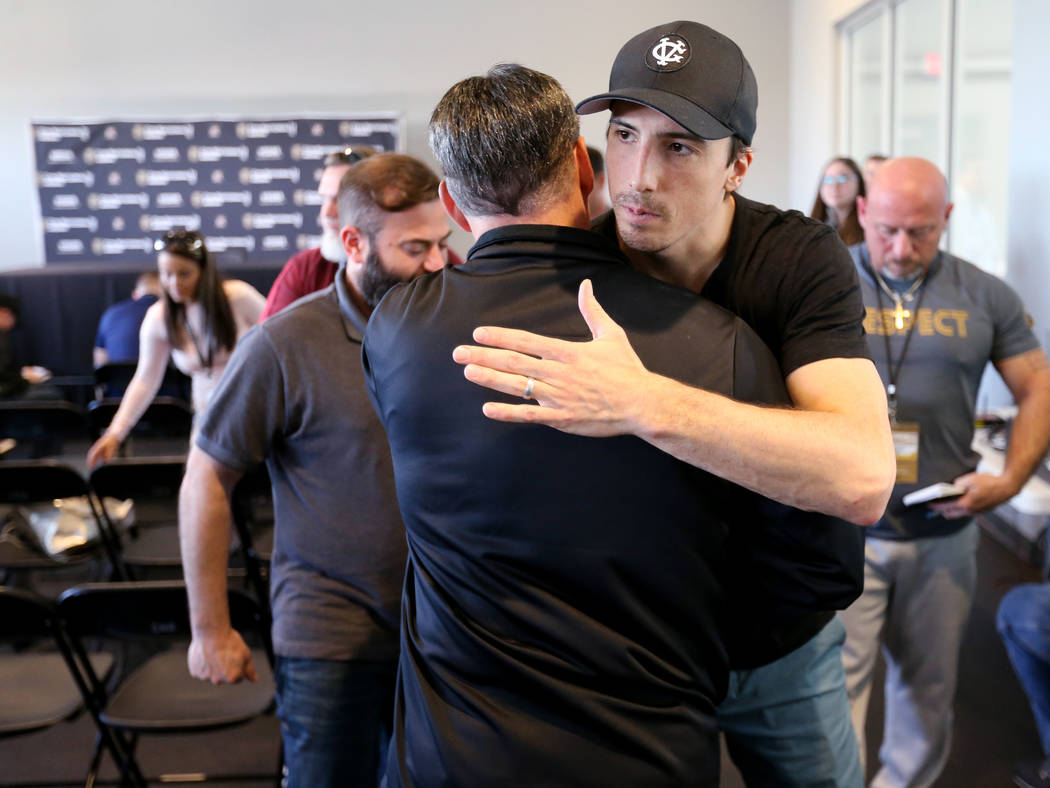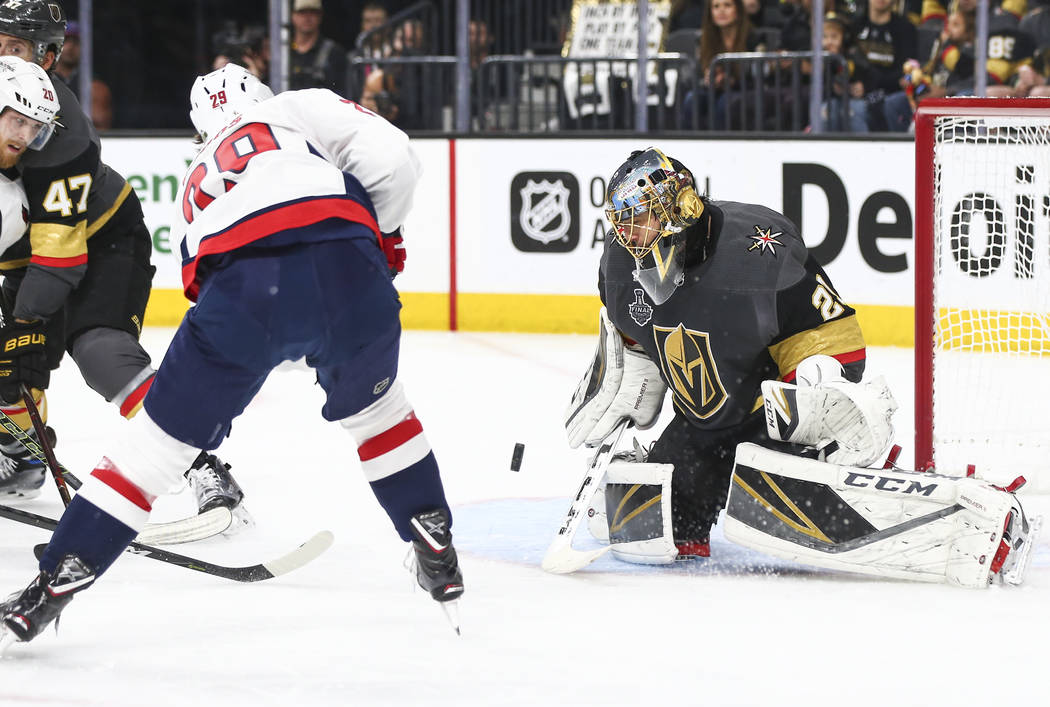 It has not yet delivered any type of blockbuster headline, and yet free agency drama might not touch the Golden Knights at all before their second season begins in October.
Thus far, the team's moves have been more expected than not.
It has been (mostly) All Quiet on the Fortress Front.
Other than signing Winnipeg center Paul Stastny, some of the biggest news was Vegas general manager George McPhee on a Twitter photograph with Bark-Andre Furry.
I could see McPhee as a dog whisperer.
Who better to tell your thoughts on Erik Karlsson without fear of seeing them splashed across the Web?
There has been a T-Mobile Arena's worth of rumors about the possibility of Vegas landing the Ottawa defenseman, who Twitter has had traded over the last several weeks to each of the league's other 30 teams, the Dallas Cowboys, Boston Celtics and Manchester United.
The latter is just silly, because there is no chance loony Senators owner Eugene Melnyk would believe any Premier League transfer fee enough for his star player, unless the team could receive in return a crafty midfielder named Cody Glass.
A few safe bets
I'll play it safe and believe Karlsson will be announced as the new mystery defensive coordinator for Air Force football, but until then, it's nice to see the Knights taking care of some deserving folks.
Marc-Andre Fleury has from the beginning insisted he is not the face of a Vegas franchise, which of course he is, which in many ways he always will be, even after he retires to a life of selfies and adoration at the level known only by that certain Jack Russell terrier named for him.
Fleury wasn't just a piece to a magical inaugural season. He was the most important one.
Vegas on Friday announced it has extended the goalie — not the dog — for three years at an annual salary of $7 million, meaning Fleury is now signed through the 2021-22 season and will be 37 when the deal ends.
In a league where a youth movement has summarily pushed aside a large number of veteran skaters for younger models, goalies have proven more capable of withstanding such visits from Father Time.
It's why locking up Fleury at this term— and then hoping like heck his concussion issues don't again find him — makes more sense than would have been offering departed forwards James Neal and David Perron longer than three-year deals.
"I know I don't have the body of a 22-year-old, but I think I have had the chance to gain a lot of experience throughout my career," Fleury said. "I think I have learned a lot and improved on aspects of my game."
Don't believe rumors
This extension was expected. So is the fact high-scoring center William Karlsson is likely headed toward arbitration and, no matter its result, a huge raise. Colin Miller avoided such a date when the defenseman signed a four-year, $15.5 million contract. Tomas Nosek could also be arbitration bound, while Shea Theodore and William Carrier have qualifying offers about to expire.
So while things have been somewhat tame, important moves have and are still being made.
When it comes to the social media buzz around Erik Karlsson, believe none of it, because the only folks who truly know what is being offered as trade bait by various teams are those exchanging proposals.
I have no idea if Glass, the first draft pick in Vegas history, has been as much a topic of such talks as reports suggest. I have no idea if the Knights have refused to include him in any deal for Karlsson to the level, both at trade deadline in February and again now, many have speculated.
No one does.
For me, it's a broader, philosophical view about teams in all sports wrongly over-romancing their love of certain prospects. As a colleague recently said, it's like the college basketball coach who hires a recruit's father or AAU coach simply to land the player. There will always be another. Same goes with prospects beyond can't-miss stars.
Connor McDavid doesn't walk through everyone's door each draft.
If you can land a generational talent like Karlsson at age 28, you do so. You give up the prospect who has yet to play a minute in the NHL. You don't even blink. You get the player who's among the best in the world at his spot.
Maybe the Knights are still a possibility for Karlsson.
Maybe they have as much chance at him as Manchester United.
We will know when Twitter explodes with actual facts.
For now, things have been fairly expected with Vegas since free agency began: Fleury has his extension and Bark-Andre is still being asked for selfies around town.
The dog whisperer has his.
There's always that if McPhee can't make a deal for the next Air Force defensive coordinator.
Contact columnist Ed Graney at egraney@reviewjournal.com or 702-383-4618. He can be heard on "The Press Box," ESPN Radio 100.9 FM and 1100 AM, from 11 a.m. to 2 p.m. Monday through Friday. Follow @edgraney on Twitter.