Standing still causes UNLV to take step back
December 12, 2010 - 12:00 am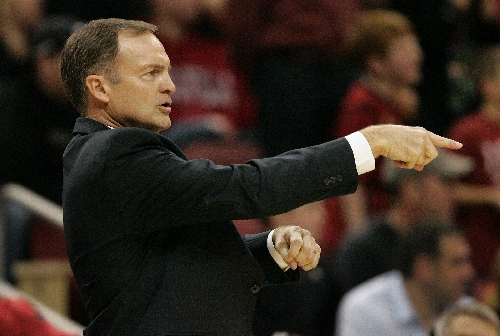 LOUISVILLE, Ky.
It's an easy part to overlook in basketball. The numbers are low. You have to calculate it off a score sheet. There isn't much flavor to it. It's the vanilla ice cream of stats.
Assist-to-turnover ratio.
It's huge.
It's a big reason UNLV opened the season 9-0.
It's why the Rebels are 9-1 today.
Nothing will expose a team's warts like losing, and UNLV in a forgettable second half Saturday showed some major blemishes, falling to Louisville 77-69 in what is a stunning KFC Yum! Center.
This was a matchup of Top 25 teams, and yet just one appeared so when it mattered most. The Rebels might have been playing just their third true road game of the season, but it was against the first legitimate opponent.
When it came time for someone to assume control, Louisville played better, coached better and absolutely adjusted to the first 20 minutes better.
UNLV entered with a ratio of 1.2, with 150 assists and 123 turnovers, meaning it had played extremely well and chosen passing over dribbling more often than not those first nine games, meaning it had moved without the ball on offense and created easy looks.
It had a ratio of .61 Saturday.
Eleven assists. Eighteen turnovers.
Standing still is good if you are playing a tree in the school play or guarding a post. It's not good when trying to attack a zone. The Rebels didn't do much attacking at all the final 15 minutes, over-dribbling and waiting instead of reacting.
They had just four second-half assists, but two came in the final 2:20, when the outcome was long decided.
"Standing is not what we want to do," UNLV coach Lon Kruger said. "That hurt us. We got tentative. That's what they're hoping you do. They play that zone a lot, so they're good at it. It's not like attacking a defense that isn't sound in what they do.
"When you lose, it typically gets (players') attention a little more. Time will tell. When you lose, it's a jolt, a bit humbling, a little tough to handle. We have to bounce back and make progress from it."
Louisville spreads its zone wide and has man tendencies inside it, but too many UNLV players afterward spoke about being confused against it. The Rebels made 7 of 12 3-pointers in taking a five-point halftime lead but managed just 1 of 5 thereafter.
If they adjusted at all as the game wore on, it didn't show.
They became an offense of one player pounding the dribble over and over, of not catching and immediately swinging the ball enough, of not breaking away from defenders to at least create movement.
Fact: There aren't a lot of easy passes to make when guys stand around.
"Everyone was waiting for someone to do something," UNLV point guard Oscar Bellfield said. "We know how (losing) feels now and don't want to feel it."
Louisville is good but not great. But it's long and practices against the type of pressure UNLV employs and wasn't all that bothered by it because it had good spacing. It passed the ball well. The Rebels just made things too easy for the Cardinals when Louisville rallied from a nine-point deficit in the second half.
Give the host credit. Louisville made 54 percent of its second-half shots and won going away on a day when four starters didn't score in the first half and two didn't for the game. But its bench outscored UNLV's, 42-26.
The Cardinals made shots in transition to cut into the lead and then several open ones to widen the margin late when the Rebels got lost too often on defense. Louisville screened for shooters such as Kyle Kuric, who rolled to an open spot and the Rebels didn't get to him quickly enough as he went 5-for-8 on 3s. It looks too easy when shots are falling.
UNLV probably beats Louisville more often than not on a neutral court, but this wasn't close to a 20th-ranked team type of execution for the Rebels on either end. Whether the loss costs UNLV its place in the Top 25 is debatable — it might depend on how many voters watched the second half.
"We needed this game," Louisville coach Rick Pitino said. "I didn't know if we had the experience to win but obviously did some great things in the second half. This was a heck of a ballclub we beat. They are really tough to defend, and we did a good job in the second half doing that."
UNLV played its part, mind you.
After all, guarding statues isn't difficult.
Las Vegas Review-Journal sports columnist Ed Graney can be reached at egraney@reviewjournal.com or 702-383-4618. He can be heard from 2 to 4 p.m. Monday and Thursday on "Monsters of the Midday," FOX Sports Radio 920 AM.
Slide show
Video