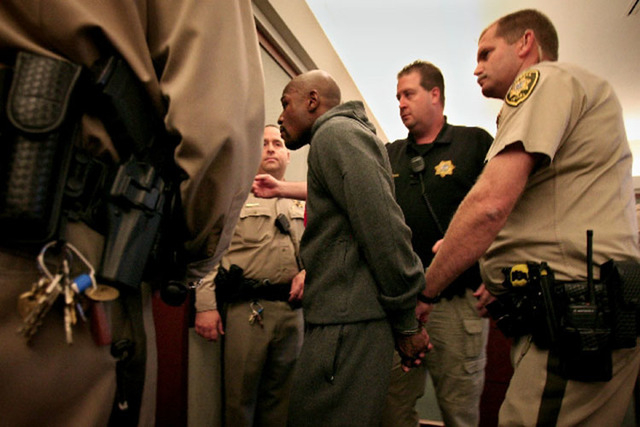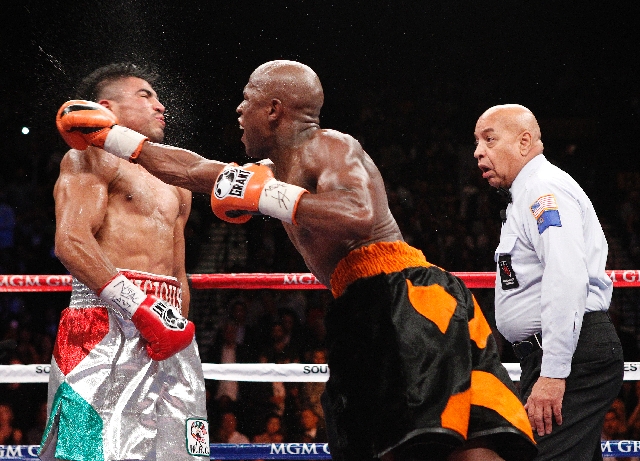 Whew. I'm sure glad Dr. Robert Voy's prognosis that day in June 2012 proved wrong. So is boxing.
Voy is the physician who examined Floyd Mayweather Jr. when the fighter was serving a 90-day jail sentence for misdemeanor battery domestic violence and harassment charges.
The doctor who, as part of a motion Mayweather's attorneys filed seeking house arrest 12 days into his stay at the Clark County Detention Center, said a dehydrated appearance and lack of muscle tone, coupled with a lack of regular exercise, could lead to "irreversible damage" that might prevent Mayweather from continuing his boxing career.
Yeah. I know. Stuff of comedy.
Mayweather's representatives also weren't big fans of the quality of food provided the fighter, but I imagine hash time at the ol' CCDC doesn't cause anyone to think of Bobby Flay's finest dishes.
The 35-page motion, quickly and correctly denied, was laughable when presented.
Given the ripped Mayweather we saw upon his release, even more so.
Given the Mayweather we see some 11 months later, ditto.
The biggest draw in boxing and the face by which the sport has been defined for some time survived his incarceration, not to mention all that nasty tap water, and emerged with a six-fight contract with Showtime/CBS that sets the sort of precedent only Mayweather has the star power to create, one that should earn the guy who loves money more than life upward of $200 million.
I can see sports book directors smiling now. The NFL season can't come quick enough.
The partnership with Showtime/CBS offers its first fight Saturday when Mayweather defends his WBC welterweight title against Robert Guerrero at the MGM Grand, when the former looks to improve his record to 44-0 and Guerrero (31-1-1, 18 KOs) tries to shock the boxing world while keeping his trainer/father, Ruben, from doing something stupid like jumping into the ring and taking a few swings.
(Don't laugh. He might be crazy enough to try.)
A minor setback for a major comeback. That's how Mayweather characterized his jail time, the way he defined 23 hours a day in solitary confinement. He proclaims that with age and having one's freedom taken has come wisdom and maturity.
There is this: Mayweather, 36, has never appeared so calm at a final news conference before a fight as he did Wednesday, never so, well, controlled as his opponent's father ranted and raved and called him a "woman beater."
"Nobody has the perfect life," Mayweather said. "Me being incarcerated was an obstacle, something I had to face. Whether I did or didn't do a crime, I served my time. Only God can judge me.
"All I can do is take the good with the good and the bad with the bad. Everyone goes through ups and downs. Everything is playing out as it should play out."
It's still difficult to determine what is genuine and what is for the cameras, what is truthful and what is just another sound bite for perception's sake.
One of the main enablers for Mayweather on Wednesday went third person in trying to defend the other hangers-on. That was funny.
An attorney for the fighter even suggested this week that, because of his celebrity, Mayweather was treated differently from others who pleaded guilty to similar crimes. I couldn't agree more. Anyone else wouldn't have been allowed to delay reporting for his sentence so he could make $32 million for fighting Miguel Cotto.
But through all the nonsense and extreme hyperbole that accompanies a Mayweather fight, the one person who appears most grounded this week is the champion himself.
His demeanor has actually made Guerrero more often than not seem the bad guy in this tussle. Either way — authentic or not — Mayweather has acted the bigger person amid all the prefight hype.
He even went as far as to not discount the claim many have accused him of for some time — that Mayweather hand-picks opponents to preserve his perfect record.
"I have been at this 17 years and feel I have earned my stripes," he said. "If I want to pick and choose (opponents) at this point in my career, that's my prerogative. I can if I want. Obviously, I've done some things right to stay at this level for so long. I'm just going to stay positive and keep working hard.
"I feel good. I feel strong."
Good. Boxing still needs him as much as ever.
I'm also glad to know that should my fingers take a break from typing for 12 days, it won't lead to irreversible damage and prevent me from continuing my career.
Las Vegas Review-Journal sports columnist Ed Graney can be reached at egraney@reviewjournal.com or 702-383-4618. He can be heard from 11 a.m. to 2 p.m. Monday through Friday on "Gridlock," ESPN 1100 and 98.9 FM. Follow him on Twitter: @edgraney.