Syracuse goes all-in with all-out zone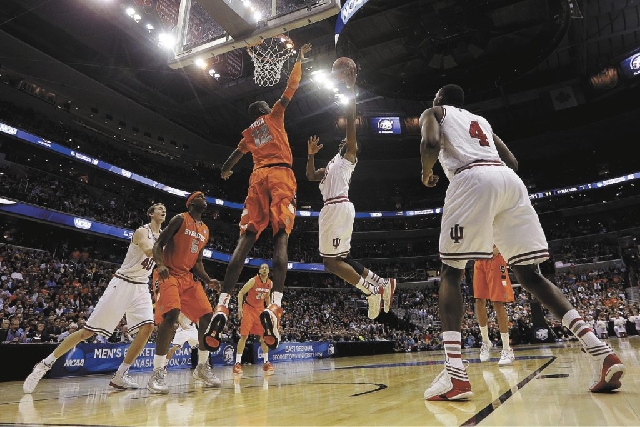 ATLANTA
You can trace the birth of such commitment to a private Jesuit school in a suburb of Syracuse, N.Y., called DeWitt. More than 75 percent of students at Le Moyne College participate in athletics, all of whom are active in raising funds for the Make-A-Wish Foundation.
Two points of interest about Le Moyne:
First, it has an annual tradition each spring called "Dolphy Day," when students skip class and relax outside, listening to music as a way to celebrate the end of another long, brutal, who-in-their-right-mind-would-go-to-school-here winter.
Then there was 2009, when the men's basketball team gained national attention by shocking local power Syracuse, 82-79, in an exhibition game.
"It was after that game where we said, 'We're going to spend more time on our zone,' " Orange coach Jim Boeheim said. "Since then, we've pretty much played it exclusively."
I suppose that's what losing to your Division II neighbor does to a team.
TV analyst and former NBA player Kenny Smith calls it a "pink elephant," but you better have enough food to feed it.
That's where all the length and athleticism comes in.
Whether it's more about a specific defense or, as Smith proclaims, those playing it, the Orange have zoned themselves back into a Final Four. They play Michigan in a national semifinal Saturday at the Georgia Dome, where the Wolverines must solve what has been the stingiest of tournament defenses this March in order to live for Monday's NCAA Championship game.
Syracuse has allowed four NCAA opponents an average of just 46 points, teams that have gone scoreless on a combined 63 percent of possessions. They're also shooting 28.9 percent from the field against the Orange and 15.2 percent on 3-pointers.
They might as well be playing outside in December in Syracuse.
In a snowstorm.
Shooting on double-rimmed baskets.
"It's basically the same great defense it has always been," said Michigan coach John Beilein, whose coaching stops included a stint at Le Moyne College in the 1980s. "The personnel and names change, but the ability stays the same. Their length is never a good matchup for anyone. When you get an open shot, you have to knock it down. You don't get many of them. You can't simulate it in practice. You just can't. We'll be as ready as we can be."
Some history on the chilling zone: The Orange played man-to-man and zone until 1996, when during a run to the national title game, Boeheim more and more opted for the 2-3 look.
By the 2003 season, his was primarily a zone team with a few remaining man concepts.
By the time Le Moyne College was finished celebrating its memorable upset on a court six years later, it was all zone, all the time.
Playing zone for most college coaches is like hedging a bet to make certain you cash a ticket. Most aren't willing to push their entire stack of chips forward and go all-in. They will show it for a few possessions, see how a team attacks, panic when a few opposing shots fall and immediately switch back to man.
How long they play zone is dictated entirely on how successful an opponent is against it.
Not at Syracuse.
"When a man-to-man coach is getting beat, he tells his team to play defense better, he doesn't switch to a zone," Boeheim told reporters earlier in the tournament. "When we get beat in our zone for whatever reason, we try to change it or play it better. As the years have evolved, not many teams are playing zone, and when they practice against it, it's a false sense of security, because you're not playing against our defense.
"It's like when Georgetown had Patrick Ewing. You could practice against their 2-3, 1-3-1, anything you wanted, but at the end of the day, when you made your play and made your move and you went to shoot it, he blocked it. You get a false sense of security sometimes at practice."
It's about length and quickness, mostly. Boeheim might constantly tweak the zone — its slides, how far he extends it given the score and time of a specific game — but its success is based on those athletes recruited to execute it.
Syracuse is a terrific steals team, able to get hands in passing lanes others can't, turning opponents over 15 times on average this tournament. It blocks shots. Mostly, it protects the middle, the one thing any zone must do to succeed.
Boeheim is all-in. He pushed a stack of chips forward almost four years ago and never worried what the river card would show.
He had seen enough from the school that on its annual "Dolphy Day" elects a senior to be the wizard who oversees such festivities.
"I figured, 'If we can't beat (Le Moyne College) playing man-to-man defense, we better forget about playing man-to-man," Boeheim said.
He figured right.
Las Vegas Review-Journal sports columnist Ed Graney can be reached at egraney@reviewjournal.com or 702-383-4618. He can be heard from 11 a.m. to 2 p.m. Monday through Friday on "Gridlock," ESPN 1100 and 98.9 FM. Follow him on Twitter: @edgraney.