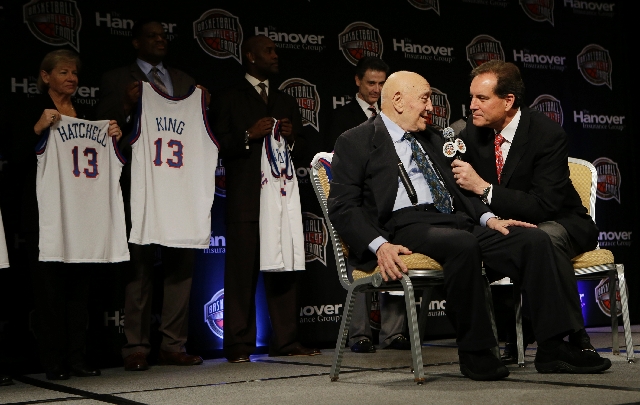 ATLANTA
When he reached the stage, supported along the ballroom path to such an exclusive group by a walker, Jerry Tarkanian was helped up a few stairs to basketball immortality.
A chair was brought to his side, and Dawn Staley, another whose name is now timeless in the game's history, took Tarkanian's hand and helped him into it.
It was a touching moment from one Hall of Famer to another.
The only thing missing was a towel to chew on.
If it is true that time heals all wounds, those which scarred Tarkanian and his family for years in relation to the gratuitous snub inflicted by Naismith Memorial Basketball Hall of Fame voters were mended significantly here Monday.
Tarkanian is a member of the 2013 class, and the former UNLV coach took part in the official announcement at a downtown hotel on the day of the NCAA Tournament's national championship game.
He is, finally, justly, where he belongs.
"For a lot of people, I think they look at some candidates through a magnifying glass," said Jerry Colangelo, chairman of the Hall of Fame Board of Governors. "They see what some perceive as a flaw or something about one's reputation or even just rumor and innuendo, and that sticks with them for a long time.
"But in time, people forget in a good way and put it all aside and look at a person's accomplishments and know they should be honored for them. I believe the timing is perfect for (Tarkanian). We turn people over on our committees, and with new blood, they recognize those who should be in. The votes were there this time."
The lack of transparency and mystery that surrounds those who cast ballots on Hall of Fame finalists remains a glaring wart to a flawed process.
There is no morals clause in the bylaws for election, and if Tarkanian's omission until now was indeed the result of his career-long battles with the NCAA about those programs that found themselves on probation following his departure, well, take a long look at the organization's enforcement staff of Keystone Cops today.
They're the last ones who should be passing judgment.
But he is in now, having received at least the required 18 of 24 votes from the Honors Committee, set to be enshrined with his class Sept. 8 in Springfield, Mass.
Tarkanian spoke in a whisper Monday, and how much of an acceptance speech he could give that evening is unknown, but beside him will be family members who traveled with him on this long journey to Hall of Fame recognition.
He is 82 and in struggling health, having suffered a mild heart attack last year. But through a constant smile Monday, you knew Tarkanian enjoyed the moment as much as anyone.
You don't have to justify anything about a resume that includes a 990-228 all-divisions record, 81 percent winning percentage, four Final Fours and the 1990 national championship, but that which is appropriate occurred here. Members of the Honors Committee are told to analyze only someone's on-court achievements. It appears they finally caught on.
"I thought it might happen years ago, but I didn't sit around waiting for the telephone to ring," Tarkanian said. "But I am very happy. It's a little overwhelming."
It was as impressive a push for induction as the Hall of Fame has known. Tarkanian's daughter, Jodie Diamant, led the efforts that resulted in a storm of support from coaches, players and media.
A week didn't pass the past several months in which a columnist didn't write about Tarkanian's deserving candidacy. From one part of the country to the next, the cause was championed.
"I think a lot of people felt it would never happen, but I just had a feeling this time," Diamant said. "Basketball people knew it was time and long overdue. Beyond the statistics and accomplishments and what he did for the game as an innovator, he changed lives. If you change one person's life, you have done a great thing, and yet he was criticized for giving kids chances.
"Some took advantage of it and became wonderful, successful people who then turned around and helped others. Some didn't take advantage. But if you don't ever give them chances, shame on you.
"I'm proud of him today and very excited for him. It's a great honor. It was all him. All we did was re-submit the application. This is all his doing."
The time came Monday for a group photo, and Tarkanian was helped to center stage. Standing around his chair were the other newly introduced Hall of Famers, all holding white jerseys with the No. 13 to signify the class of 2013.
Someone told Tarkanian to turn around the jersey that sat in his lap.
The cameras flashed, and his smile returned.
On the back of his Hall of Fame jersey, it read: TARKANIAN
Finally, justly, where he belongs.
Las Vegas Review-Journal sports columnist Ed Graney can be reached at egraney@reviewjournal.com or 702-383-4618. He can be heard from 11 a.m. to 2 p.m. Monday through Friday on "Gridlock," ESPN 1100 and 98.9 FM. Follow him on Twitter: @edgraney.