Taxing road venues might be perfect remedy for UNLV
January 15, 2014 - 8:55 am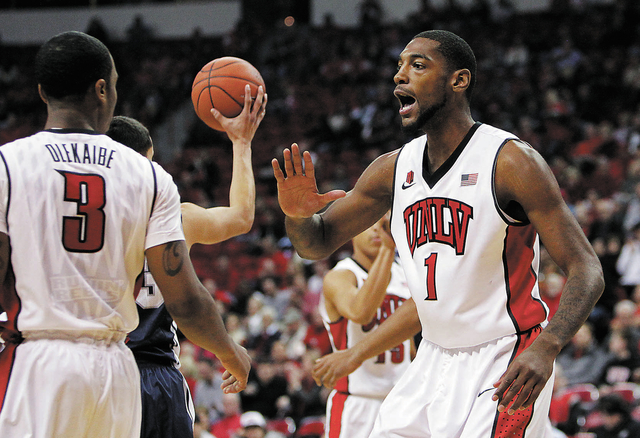 Roscoe Smith remembers the schedule.
Connecticut's basketball team was 2-0 when it won the Maui Invitational to begin the 2010-11 season, beating No. 2-ranked Michigan State in the semifinals and No. 9 Kentucky in the championship.
The Huskies were riding high and returned home to win five more games before playing their first true road game of the season at Pittsburgh.
Connecticut had risen to No. 4 in the rankings.
"They call (the student section) 'the zoo' down there," Smith said. "That was mind-blowing. The students at Pitt knew information about me that I didn't know. Playing as a college freshman, my first game away, that definitely stood out."
UConn lost 73-68.
By the end of the following season, Smith had transferred to UNLV.
He hasn't played a game in two of the Mountain West's toughest road venues, an experience he will receive when the Rebels visit New Mexico tonight and San Diego State on Saturday, when UNLV takes a two-game losing streak into "The Pit" before having to encounter "The Show" in Viejas Arena.
Funny. UNLV might be in a great spot.
How teams react on the road each season often differs more than a teenager's mood. It's easier to win away from home in the NHL, NFL, Major League Baseball and even some sketchy Argentine soccer leagues than it is college basketball.
Statistics prove the theory. Crazy stuff.
But for this UNLV team, discovering its highest level of play has come when on the road, where the Rebels are 4-1 and took the nation's best team — Arizona — to the wire before losing.
"I know we have a group that likes each other and has bonded together," UNLV coach Dave Rice said. "I had that feeling from the start. It doesn't guarantee we will win every road game or anything like that, but I just had the feeling this would be a better road team than our first two seasons here. A big part of that relates to team chemistry. On the road, no one is cheering for you.
"And we better play well this week because we have an incredibly hard game (tonight) and, while we don't look ahead, an incredibly hard one on Saturday, as well."
There have been few postgame news conferences this season when Rice hasn't said the Rebels will remain together as one, regardless of how a certain game might play out or how long a losing streak might reach.
He has mentioned this theory so often — that his players won't allow any level of adversity to break them apart — that you almost wonder if he is trying to convince himself.
UNLV didn't have the best locker-room rapport last season, when at times egos clashed and individual agendas emerged on and off the court.
Rice is adamant it won't happen with this group.
"I believe the key for our season and for any team is when the only agenda for everyone, from players to coaches to support staff, is to try to win that particular game," Rice said. "The teams across the country that are doing that at a high level are the ones who play for each other on every possession on both ends of the floor.
"We knew that if we didn't do that at Arizona, there was a good chance we'd go in there and lose convincingly. It's the same message we will send for both games this week. I'm worried that in 2014, whether you're coaching at UNLV or coaching anywhere in the country, that with all the agendas, all the outside influences on every kid playing college basketball, it's something we have to manage each and every day."
New Mexico and San Diego State are a combined 26-4 overall, including 13-2 at home. But the Rebels have had a week off to prepare for the trip, a week to try to erase the sting of home losses to Air Force and UNR, to ready themselves for the one place they have looked capable this season.
The road.
Smith has heard from teammates about the challenges that await, about playing in the altitude of Albuquerque and in front of one of the nation's best and rowdiest student sections in San Diego.
But he has experienced the Oakland Zoo at Pittsburgh.
He also has heard the musket at West Virginia.
"He's the best," Smith said of the Mountaineers' mascot. "He stands right next to your bench and sneaks up when you're in the huddle and 'Boom!' A big, old loud gun."
I'm not sure anyone will be shooting off such props in Albuquerque and San Diego.
But if it adds to the theory that UNLV plays its best away from home and when no one expects it to succeed, all the better for the Rebels.
Las Vegas Review-Journal sports columnist Ed Graney can be reached at egraney@reviewjournal.com or 702-383-4618. He can be heard from 11 a.m. to 2 p.m. Monday through Friday on "Gridlock," ESPN 1100 and 98.9 FM. Follow him on Twitter: @edgraney.