The NFL's worst team, Raiders have every chance to finish 1-15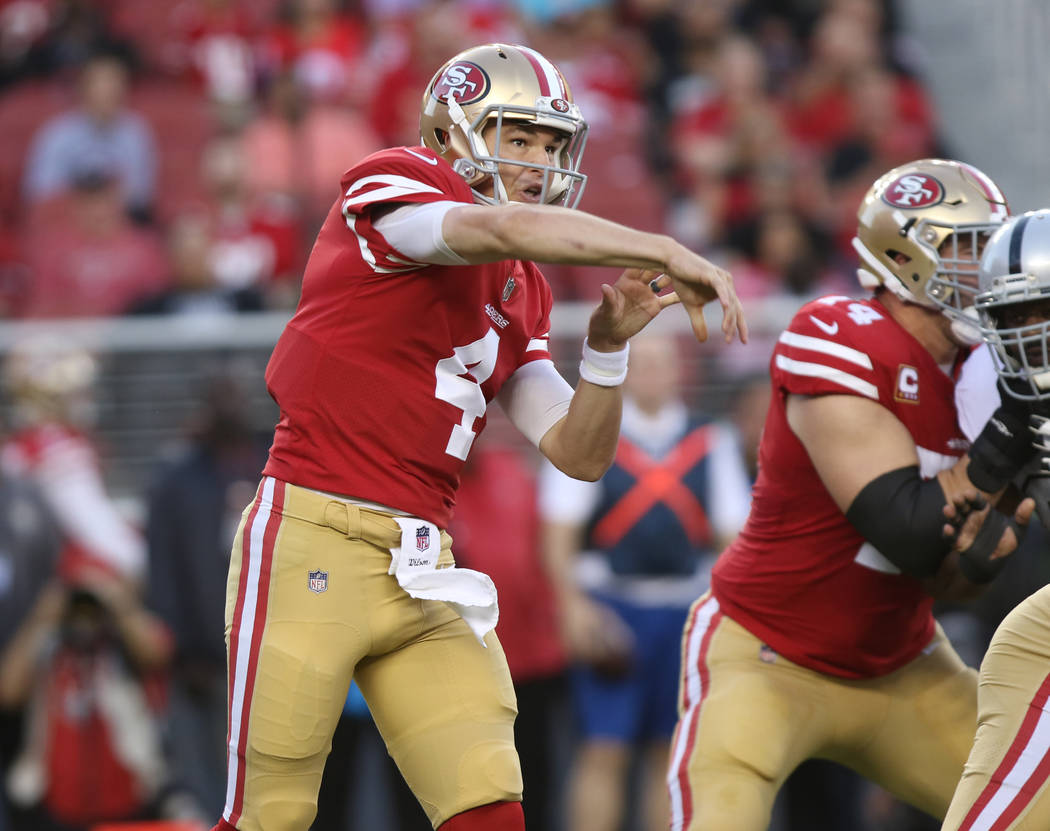 SANTA CLARA, Calif. —So, they're still building that Las Vegas Stadium, yeah?
Things can change. Teams can have an off week. One that has clinched a playoff spot could sit all its regulars.
A meteor could hit an empty stadium and cancel the next day's game.
A guy like Nick Mullens could eventually prove a tad worse than Joe Montana.
But if it wasn't official before, the Raiders on Thursday night in a prime time game — that set sports television viewing back decades — offered a closing argument so compelling that a guilty verdict would be returned in minutes.
They are, unquestionably, unequivocally, the NFL's worst team.
There is losing and then there is losing big to a dog team like San Francisco 34-3, but that's what the Raiders did before an announced gathering of 69,592 (play laugh track here for all of those empty red seats) at Levi's Stadium.
Know that it's in play now, that the Raiders at 1-7 are so inept and limited and injured at so many spots, the idea of finishing 1-15 is more than plausible.
I would make it probable, and that's amazing even for this bad a team, because the hardest thing in a parity-driven NFL isn't going 16-0.
There's always the chance a great team emerges in a given season.
But it's almost impossible to go 0-16. It has only happened twice.
It's nearly so to go 1-15, and yet you have to believe a remaining schedule for the Raiders makes earning such a badge of awfulness more than achievable. They can absolutely do this.
"That was terrible," said quarterback Derek Carr, replaced in the fourth quarter by backup AJ McCarron simply to protect the starter from a 49ers defense that finished with eight sacks. "Everyone is human, especially when you go through tough things. A lot of people just give up. I don't think anyone is doing that. We still have to compete as men. That's all we can do going forward."
It's difficult remembering a more embarrassing loss in recent seasons from any team, the Raiders rolling over for a 49ers side that entered 1-7 and had a quarterback playing his first regular-season snaps.
The Raiders actually put up a terrific fight nearing the game's conclusion, with Donald Penn leading the way. Problem was, it was during a brawl of fans in one end zone and Penn is on IR.
But the guy wearing his jersey seemed to have a great left hook.
Mullens was promoted off the practice squad when starter Jimmy Garoppolo was lost for the season with a knee injury in Week 3, and gained the nod Thursday when C.J. Beathard (wrist) couldn't go.
It's probably one reason the betting line so dramatically shifted in favor of the Raiders, to which Mullens responded: 16-of-22 for 262 yards with three touchdowns and no interceptions.
His 151.9 passer rating is the best by a quarterback in his first start since the league merger in 1970, which means I'm guessing Beathard isn't all that fired up right about now.
Eight to go
Eight games remain for the Raiders and, given what we saw Thursday, short of one of those meteors crashing to Earth, finding another win is nearing the neighborhood of highly unlikely.
They play at two-win Arizona in two weeks, which would suggest a victory could be managed, but then you remember the Cardinals have only beaten one team this season and did it twice: San Francisco.
There are two games against the Chiefs (home and away, ouch) and single matchups with the Chargers, Steelers and Broncos in Oakland and the Ravens and Bengals on the road.
All but Arizona should be fighting for a playoff spot.
All should have something to play for when the Raiders come bumbling and stumbling along.
I suppose the (black and) silver lining is this: The Raiders appear well on their way to a No. 1 overall draft pick in April.
Hello, Nick Bosa …
I know the Giants are also 1-7, but they at least have Saquon Barkley and Odell Beckham Jr., meaning they could fall into another win or two.
The Raiders just fall.
"When things suck, you still have to fight," Carr said. "You see who really wants to be here and turn this thing around and do the hard things nobody else wants to do. Going forward, I think we find out who's a Raider. I want to see men step up."
They would be doing so on what is, right now, the NFL's worst team.
The jury returned early Thursday night, and 1-15 isn't that crazy a thought.
More Raiders: Follow all of our Raiders coverage online at reviewjournal.com/Raiders and @NFLinVegas on Twitter.
Contact columnist Ed Graney at egraney@reviewjournal.com or 702-383-4618. He can be heard on "The Press Box," ESPN Radio 100.9 FM and 1100 AM, from 7 a.m. to 10 a.m. Monday through Friday. Follow @edgraney on Twitter.