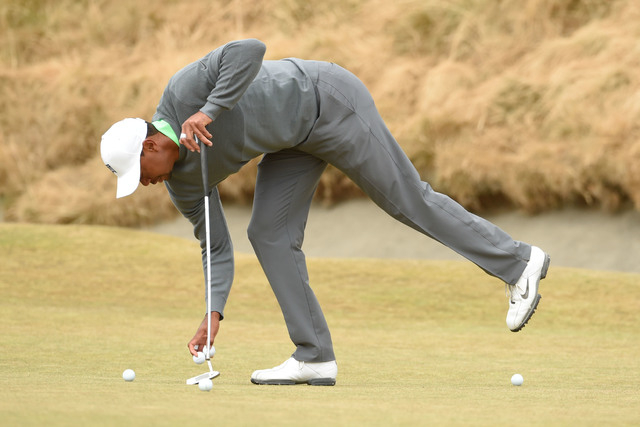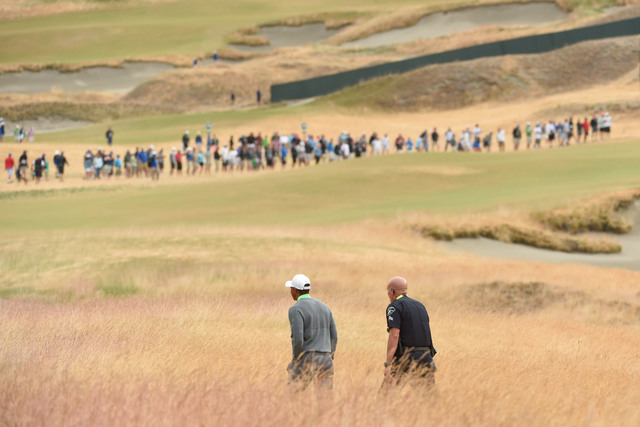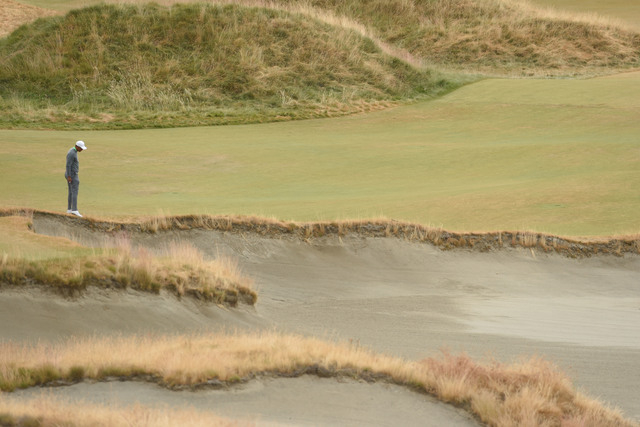 Tiger Woods has always enjoyed links golf and having the ability to use the ground for running balls up a fairway as opposed to a force carry. It's how he thinks when landowners ask him to design a course, ideas that over the years have fallen on the softer side of things so that those playing won't endure several holes of frustration.
"I try to make sure the guys and women can find their golf balls," Woods said Tuesday. "I think it's nice to have a round where you don't lose any balls."
Is he talking about himself or those guys and women?
Full disclosure: I never imagined it would last this long, that in predicting three years ago Woods would never again win a major championship, so much time would pass without my seemingly faulty forecast being proven wrong a few times over.
But his streak without a major has reached 27 events.
I'm more confident now than ever he will retire stuck on 14.
Woods last won one at the U.S. Open in 2008 at Torrey Pines, meaning that since he stood as champion at one of golf's four biggest annual events, LeBron James departed Cleveland for Miami, won two NBA titles and returned to Cleveland.
It means the San Francisco Giants have had time to be crowned World Series champs three times and Jim Harbaugh to coach Stanford, the 49ers and now Michigan.
It means 12 current NFL starting quarterbacks were drafted.
You won't find many who believe Woods will end his stretch of major championship failures at Chambers Bay Golf Club outside Tacoma, Wash., where the U.S. Open begins today and the odds of Woods winning (60-1) are in the same neighborhood as the Jets claiming a Super Bowl trophy in 2016.
He is ranked 195th, pretty much the distance from Washington state to Washington, D.C., in terms of the No. 1 spot Woods has held 11 times and for 683 weeks.
The car crash on Thanksgiving Day in 2009 seems forever ago, and to believe Woods' troubles on the course are still a direct result of his being exposed as a serial cheater on his then wife doesn't encapsulate the entire picture of why he can't seem to play his best golf on the grandest stages.
It's not about all those cocktail waitresses anymore as it is his ability.
It's not about Woods as much as it is others passing him.
Those 20-something studs can really bomb it.
He is 39, has a body that's breaking down as much as his game and is desperately trying to keep up with a new generation of players who have for some time neither been intimidated by his presence nor amazed by his swing.
They all can hit it farther.
They see red on Sunday and act the role of sharks.
You know, on those weekends Woods makes the cut.
He talks shifting a lot now. How his swing continues to evolve. To change. To shift.
How he is caught between the old Tiger and, well, the one six months shy of 40.
He keeps saying things are getting better, but fewer and fewer buy it.
Woods played the final round of the Memorial this month by himself, because that's what happens when you are in last place and shoot a career-worst 85 the previous day. He shot an 82 this season at the Phoenix Open and pulled out after 11 holes at Torrey Pines.
Face it. More than anything else, he's merely trying to stay within shouting distance of the young guys.
It's not as if Woods is ready for the Champions Tour — Jack Nicklaus won the Masters at 46 and Hale Irwin the U.S. Open at 45 — but to think Tiger can come close to breaking the all-time record of 18 majors in the condition his game consistently now appears is a tee shot short of preposterous.
"Sometimes you have to make a (swing) shift, and I did," Woods said. "Short-term suffering for long-term gain. I've done this before when I've made changes in the past, and I've struggled through it. I've come out on the good side. But I had to make those — it's more of a commitment than anything else. It's rough going through it. Obviously, I've got to do it in front of the world, and sometimes it's tough. I've got to suck it up and do it.
"I wouldn't have made the changes if I wasn't devoted to the game of golf and winning golf tournaments. I want to be out here. I want to play. I want to compete. I want to win. I want to win these championships. I love them. I love playing them. There's pressure. Of course there's pressure. You're trying to win the biggest events against the best fields."
Three years ago, it was more about Woods having lost his aura of invincibility once he began wanting more from a Perkins waitress than extra syrup with his pancakes. No one feared him anymore.
Today, it's more about Rory McIlroy and Jordan Spieth and Rickie Fowler and Jason Day and all the other young stars Woods now chases more than leads. Tiger talks a great game. He just doesn't play one often anymore.
Do you really believe he is a shift here and some fine tuning there away from winning a 15th major?
I don't. More than ever, I'm convinced he retires stuck on 14.
Time can be a cruel measure for a once dominant champion.
"For me to go through what I went through at Torrey and Phoenix this year, to come back and do what I did at Augusta, gave me a lot of confidence going forward," Woods said.
This is Tiger Woods of today, excited about finishing tied for 17th at the Masters.
Win the U.S Open at Chambers Bay?
I just hope he doesn't lose too many balls this week.
Las Vegas Review-Journal sports columnist Ed Graney can be reached at egraney@reviewjournal.com or 702-383-4618. He can be a heard on "Seat and Ed" on KRLV 1340 from 2 p.m. to 4 p.m. Monday through Friday. Follow him on Twitter: @edgraney.