To best describe Rebels' ills, foul is the word
December 20, 2015 - 1:37 am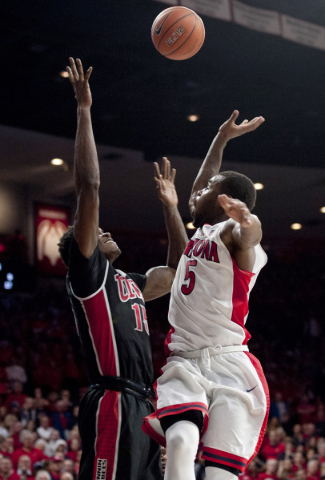 TUCSON, Ariz. — It was following a game at the Maui Invitational in November when UCLA basketball coach Steve Alford, his team having just lost to Wake Forest, spoke about the Bruins being assessed 28 fouls.
"We've got to get back and watch the tape as coaches, because we've got to figure out the new rules," Alford said. "We're doing a bad job of teaching the new rules of emphasis."
A month later, UNLV coaches know such reality, to the point Dave Rice's frustration boiled over into his second career technical foul Saturday night.
It didn't help that he was 20 feet on the court as he argued his case, which is a good 10 more than usual. The only guy who might have Rice beat for court time is former Wyoming and now Illinois-Chicago coach Steve McClain, but that's because he is a little crazy.
While the Rebels were short-handed here in one regard with an injured center, they also did themselves no favors by how they guarded at one end and didn't execute at the other, losing to No. 12 Arizona 82-70 before 14,644 at McKale Center.
The road, especially in a place where the home team has now won 46 straight, isn't usually kind to a visitor when it comes to whistles.
That's life in college basketball. Has been forever.
You need to find a way to play through it. Overcome it.
UNLV hasn't enough. It still doesn't know how to consistently win these types of games.
As it prepares for a final nonconference game against visiting South Dakota on Tuesday before Mountain West play begins, the Rebels can't escape this fact: They foul way too much, enough to rank 223rd nationally with an average of 21 per game.
It didn't help Saturday that freshman center Stephen Zimmerman Jr. was limited to nine minutes with a thigh contusion he suffered in practice Thursday, or that junior forward Ben Carter fouled out for the second straight game and sophomore forward Dwayne Morgan played the final 7:19 with foul fouls.
That all led to this: Arizona was 29 of 39 from the free-throw line.
UNLV, which attacked at times but with not near the aggressive nature as Arizona, was 10 of 14.
"That's the game right there," said Carter, who finished with 10 points and five rebounds in 20 minutes. "But (Arizona) also drove the ball hard right at us and was physical and attacked. They did a great job penetrating our defense and getting to the line.
"Refs are going to be refs, no matter what age you play at. We can't let the way they call a game affect our play. If calls aren't going your way, you're going to think the refs are bad. But we can't let it bother us and we did. We can't start complaining. If calls don't go your way, so be it. I need to be a smarter player. I think of myself as a high IQ player. I need to adjust, simple as that."
UNLV goes from pretty good to pretty average when Carter isn't in the game, and there's no question his foul trouble hurt this week in losses to Arizona State and Arizona. He played just 35 of a possible 80 minutes.
That's not good for him, and especially the Rebels.
But that wasn't the only issue in dropping two games. UNLV is an average team offensively and while Rice won't and probably shouldn't publicly admit as much, his team needs much better play from the point guard position.
Jerome Seagears has yet to find any sort of positive production on a consistent basis, his decision-making and shot selection not near that of a fifth-year senior. Patrick McCaw is UNLV's most important player, but the sophomore is struggling mightily right now, having shot 3 of 14 Saturday and 13 of 37 the last four games, three of them losses.
UNLV is still running high balls screens that don't work against a zone, still has four of its top five players in 3-point attempts shooting 33 percent of worse beyond the line, still not finishing at the rim well enough, still not executing in a manner that wins games against this level of opponent.
Still fouling way too much.
"We just have to keep working on our offensive execution and efficiency," Rice said. "No one is going to feel sorry for us. I'm always going to fight for my team. We're all competitors. Proud of our effort, but we have to execute better and play better. We have a good team. We had a challenging week and came up short. I didn't need to give our guys any sympathy. They know they're good. We have to fight back and do better. Arizona is a fantastic team. It's hard to make up 19 points at the free-throw line."
Then they need to pull a UCLA and watch the tape and teach better the new rules of emphasis, because know this: The guys blowing whistles aren't changing.
It's on UNLV to do so.
— Ed Graney can be reached at egraney@reviewjournal.com or 702-383-4618. He can be a heard on "Seat and Ed" on Fox Sports 1340 from 2 p.m. to 4 p.m. Monday through Friday. Follow him: @edgraney