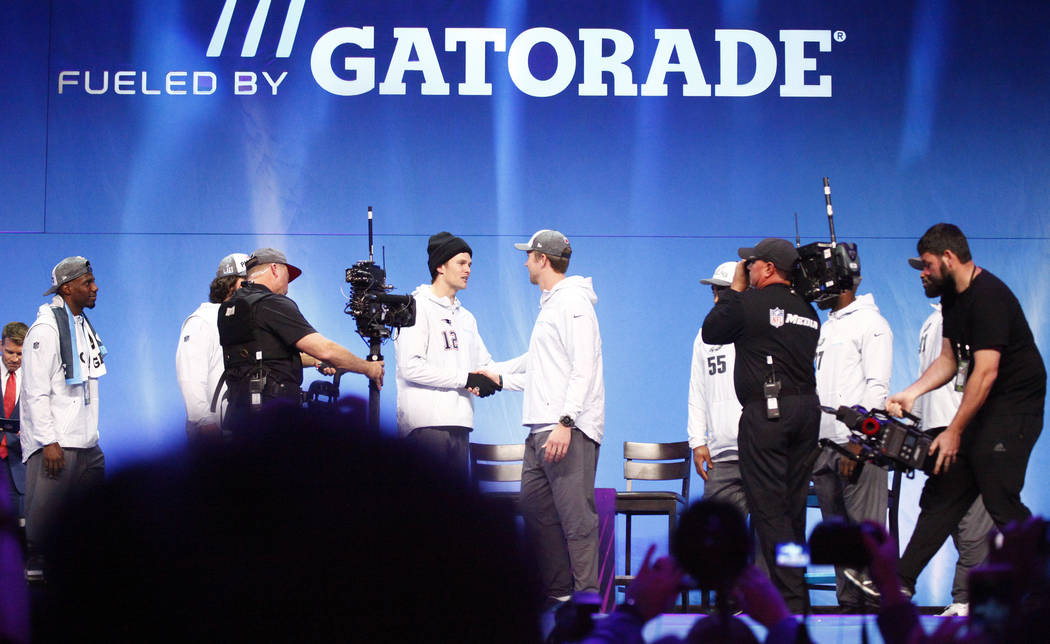 BLOOMINGTON, Minn. — We have reached the highest level of subjectivity in regard to Tom Brady, where judgments are carved from both fact and bias.
That he is part of the conversation is enough.
It's a short list on which to exist.
Brady will try on Sunday to win a sixth Super Bowl title with the Patriots, a feat that assuredly places the quarterback among the greatest sport champions in American history.
There is Brady and Michael Jordan and …
OK, so it's a really short list.
Go ahead with comparing and contrasting the two — football versus basketball, number of rings on fingers, how each performed in their biggest games, longevity of excellence, memorable comebacks, clutch moments — and you will discover opinions on who should assume the most decorated of thrones will differ more than spring weather patterns in the Bold North.
"When you talk about guys like (Jordan), I can't even think about being (compared) to them," Brady said. "Guys like that were role models for me, inspirations when I was growing up, players I loved to watch.
"To be mentioned with him would be a good problem to have, but we have to win one more game to do it."
You see. He's counting.
He knows.
Jordan won six NBA championships with the Bulls and a New England victory against the Eagles at U.S. Bank Stadium will allow Brady to reach the number, one of the benchmarks most use when arguing for or against an athlete's deservedness in the discussion of all-time greats.
I believe Brady is the best for a different number.
40.
Science has its say on this aging thing. It's easier to learn a second language at 7 or 8. Your brain's processing power peaks at 18. The ideal age to settle down is 26. Chess players are their best at 31, and yet I'm still trying to reach Dunce Master status in checkers.
It has also been proven that Nobel Prize winners make their biggest discoveries at 40.
This isn't to suggest Brady is about to offer decisive contributions to the observation of gravitational waves or get really wild and crazy and develop cryo-electron microscopy for the high-resolution structure determination of biomolecules in solution, but you try leading the NFL in passing and reach yet another Super Bowl at his age.
Secrets of Tom
I don't know if it's the diet, because I haven't eaten as much green in a lifetime as Brady consumes with a morning smoothie, and I'm not certain it's totally about pliability training, which has something to do with deep-force muscle work that lengthens and softens muscles.
I might have pulled a hamstring typing that last part.
Whatever his secrets, Brady at 40 is performing at a level in which NFL greatness has never been defined.
Think about this: There is a player who won three Super Bowls between 2001-04, a span that saw him throw for 13,919 regular-season yards with 97 touchdowns.
There is another player who has won Super Bowls in 2014, '16 and could claim a third Sunday. He has thrown for 17,010 regular-season yards and 129 TDs during that span.
Brady is the player.
He's both guys.
Jordan played just 30 games beyond his 40th birthday, and there's nothing to scoff at with a 21.2 scoring average over them. He remains the greatest to ever lace a pair of hightops.
Jordan also had a gap of three years between his third and fourth titles.
Brady had a gap of 10.
This is Brady's 18th season and on Saturday night, the 16th anniversary of his first Super Bowl victory, the evening before he plays for another ring in the state where he spent most summers milking cows and fishing on a dairy farm with his mother's family while growing up, he is expected to win a third league MVP award.
Nobel Prize those (green) bananas for longevity.
Suddenly, the dude who made discoveries of mechanisms for autophagy doesn't seem all that impressive.
"I never want to be the reason we lose a game," said Brady, who insists he can play until 45 and perhaps beyond. "I think about losing for days. … It's more than just a game to me. It feels like I'm losing in pursuit of what my life is.
"I never want to be a detriment to the team. For me, as long as I'm playing at a high level and I make the commitment to take care of myself year-round, I'll continue to play. Things change quickly. Anything can happen, but obviously I want to keep playing."
The greatest of champions usually do.
Contact columnist Ed Graney at egraney@reviewjournal.com or 702-383-4618. He can be heard on "The Press Box," ESPN Radio 100.9 FM and 1100 AM, from 11 a.m. to 2 p.m. Monday through Friday. Follow
@edgraney on Twitter.