Tony Sanchez deserves more time to build UNLV football program
November 29, 2017 - 1:54 pm
Updated November 29, 2017 - 4:06 pm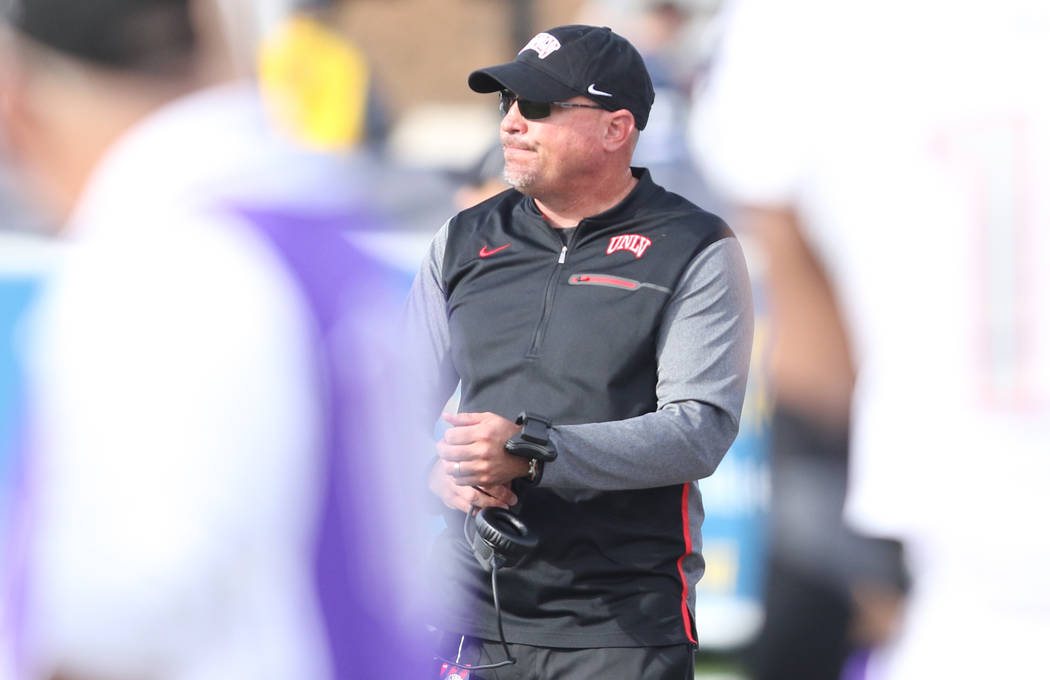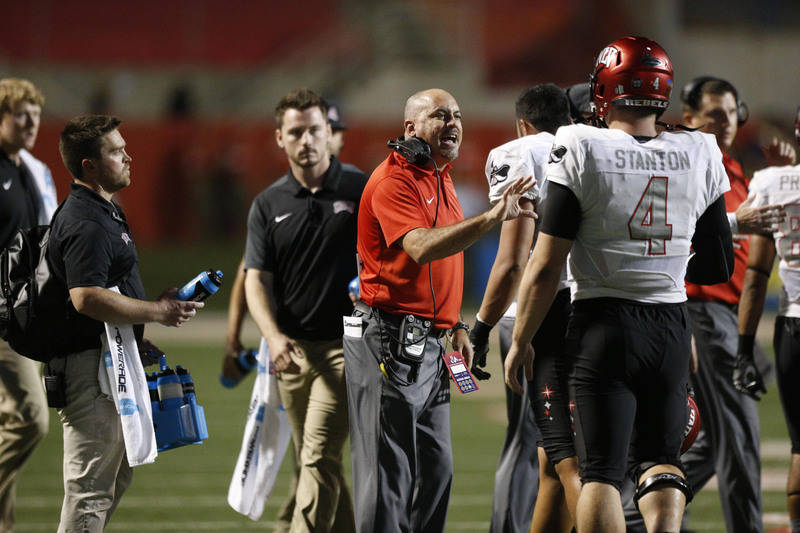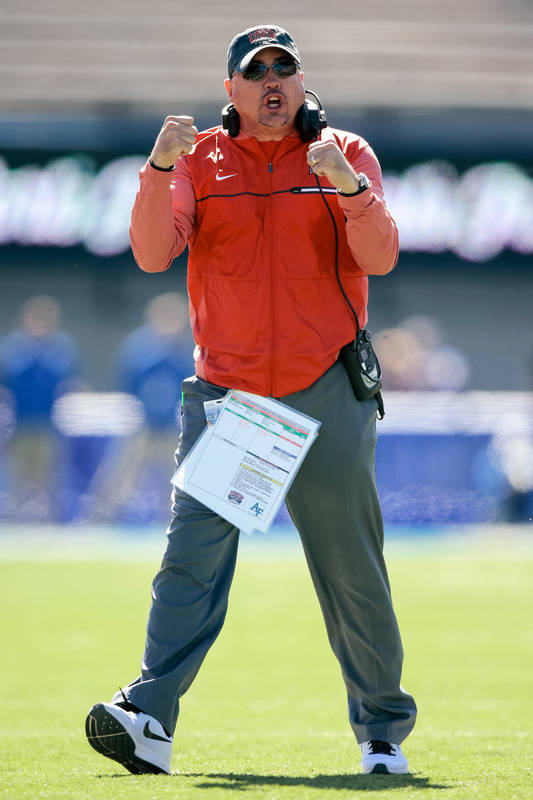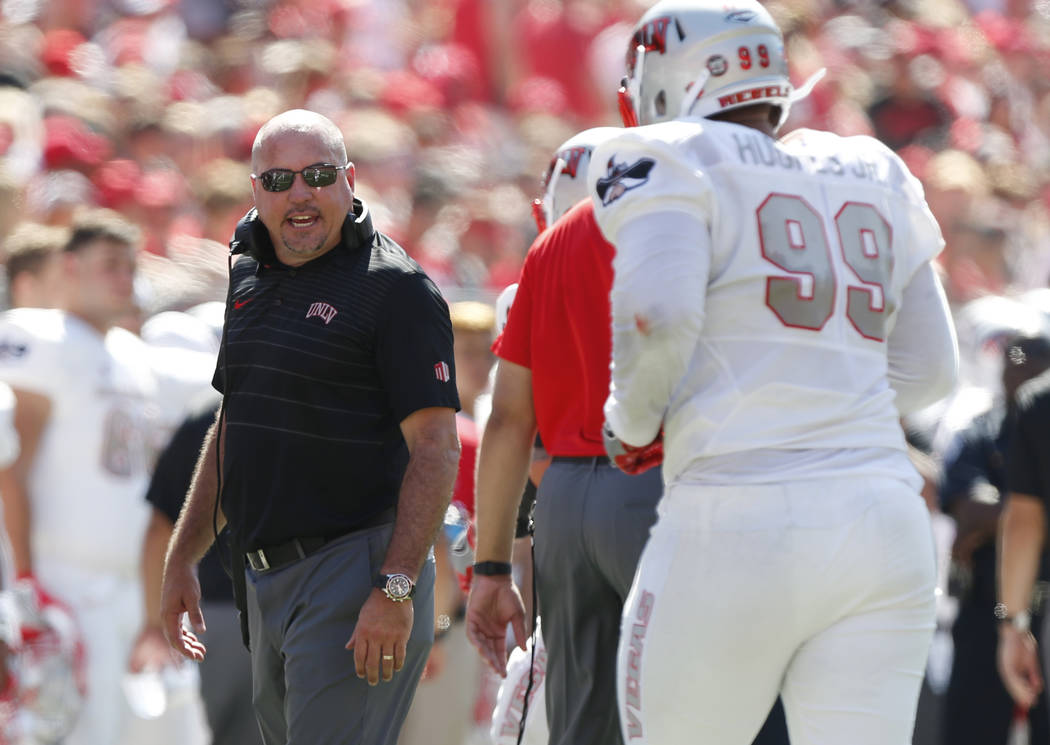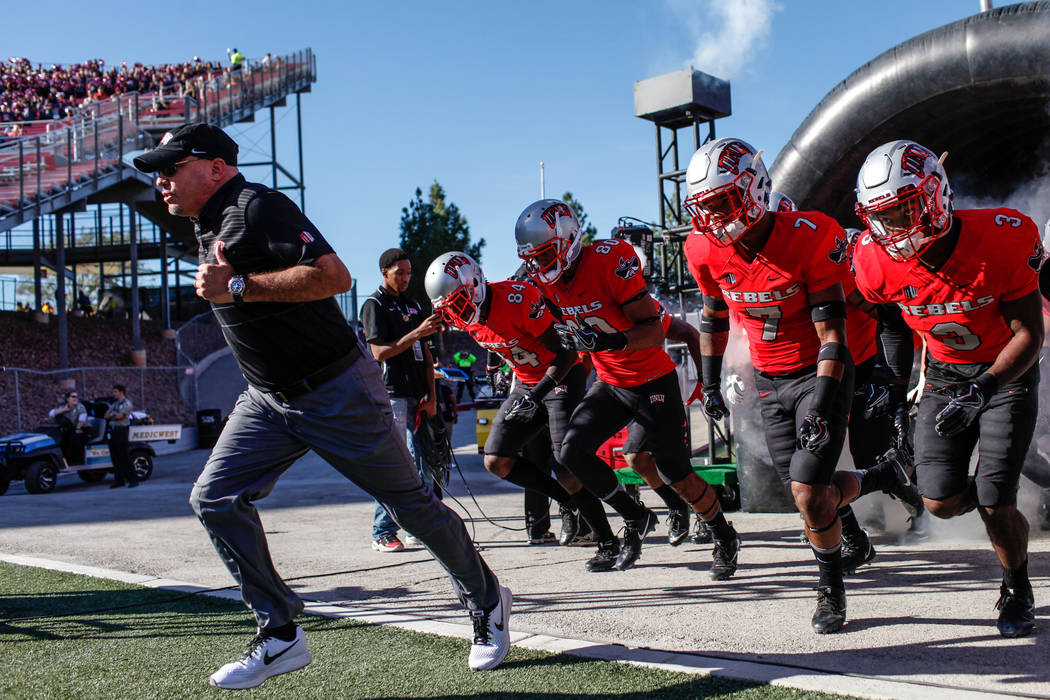 There is a level of amusement, not to mention a college football field's worth of irony, in what has become a standard reasoning many offer for the timeline Tony Sanchez needs to rebuild UNLV's program: Yeah, but look what he inherited.
You mean what Jim Strong inherited?
You mean what Jeff Horton inherited?
You mean what John Robinson inherited?
You mean what Mike Sanford inherited?
You mean what Bobby Hauck inherited?
The act of receiving leadership as an heir includes a certain uniformity when it comes to this job at this particular university.
What each successor listed above, including Sanchez, has derived from accepting the position: A program that since 1986 has produced five winning seasons and three bowl appearances, that is 120-254 during that span, that has absolutely no infrastructure of expected success, that has unsuccessfully circulated coaches through a revolving door in hopes the next one possesses some sort of paranormal capacity to do what others couldn't.
Sanchez concluded his third season Saturday, when the Rebels lost to a historically bad UNR side 23-16 and with it a chance to become bowl eligible and reclaim ownership of the Fremont Cannon.
UNLV instead finished 5-7, meaning it has won more games under Sanchez than each preceding season. Those totals have gone from three to four to five, which isn't good enough for many who either don't comprehend the veracity of what Rebels football has been for decades or simply won't accept it.
"I know Tony is disappointed, as we all were, in the ending this season," said first-year athletic director Desiree Reed-Francois. "We have high expectations, including bowl eligibility. Want to keep raising that bar, and I believe we have the foundation and building blocks to do so."
This is not the era of Bill Ireland or Ron Meyer or Tony Knap or even Harvey Hyde, former UNLV coaches who produced winning records in times when the game wasn't so clearly defined by the shameless riches on one side of the college spectrum, when the haves didn't exist on another planet from the have-nots.
There are absolutely non-Power Five programs that have done more with less, that have won consistently at a high rate despite such an inequitable balance of finances. A few compete within the Mountain West. UNLV isn't one, and yet it's also not a program whose evaluation of a coach can be reasonably framed in three seasons.
Not when things have been this bad for this long.
This isn't entirely a Sanchez problem or a Sanford problem or a Hauck problem.
This is a culture problem.
UNLV doesn't have one.
But there is a shred of hope, and it's scheduled to break ground in January.
A structure such as the Fertitta Football Complex won't alone guarantee UNLV becomes an annual league contender and bowl participant, but it affords Sanchez a level of recruiting tool those who came before him lacked.
If you don't believe those sorts of bells and whistles and signs of opulence impress recruits, then you don't know how 18-year-olds think or what they most desire when comparing schools.
It's true the Rebels have miles and miles to go, particularly on defense, and maybe that leads to staffing changes. But to offer any educated or indisputable appraisal of Sanchez's performance or future until after five seasons is to not have a sensible and realistic perspective about what UNLV football has been for 30 years.
"(Sanchez) and I talk and text daily," Reed-Francois said. "It's important we have a relationship of candor and mutual respect, and it's my job to make sure I'm providing Tony and the program all the resources they need to be successful.
"We will sit and evaluate everything, from top to bottom, and implement whatever is needed to meet those expectations. We're both very competitive, and we both know big things can be done here at UNLV.
"I hold head coaches accountable. I'm not going to usurp their power and tell them who to hire. I'll retain veto power in case we do a background check and some NCAA or ethical issues pop up, but it's not my place to dictate who a coach has on his or her staff. I will always hold the head coach accountable.
"I absolutely see a ray of light, with the Fertitta Football Complex and (NFL) stadium coming. I think we have some really good strengths to build for the future."
The past is as inadequate as the record suggests.
How is Sanchez doing? We'll let you know in two years.
At some point, if this thing is going to be relevant, that revolving door needs to stop moving.
Contact columnist Ed Graney at egraney@reviewjournal.com or 702-383-4618. He can be heard on "The Press Box," ESPN Radio 100.9 FM and 1100 AM, from 11 a.m. to 2 p.m. Monday through Friday. Follow @edgraney on Twitter.
UNLV football coaches since 1986
— Wayne Nunnely (1986-89) 19-25
— Jim Strong (1990-93) 17-27
— Jeff Horton (1994-98) 13-44
— John Robinson (1999-2004) 28-42
— Mike Sanford (2005-09) 16-43
— Bobby Hauck (2010-2014) 15-49
— Tony Sanchez (2015-present) 12-24