Trading of Mack proves Jon Gruden owns supreme power with Raiders
Updated September 1, 2018 - 5:10 pm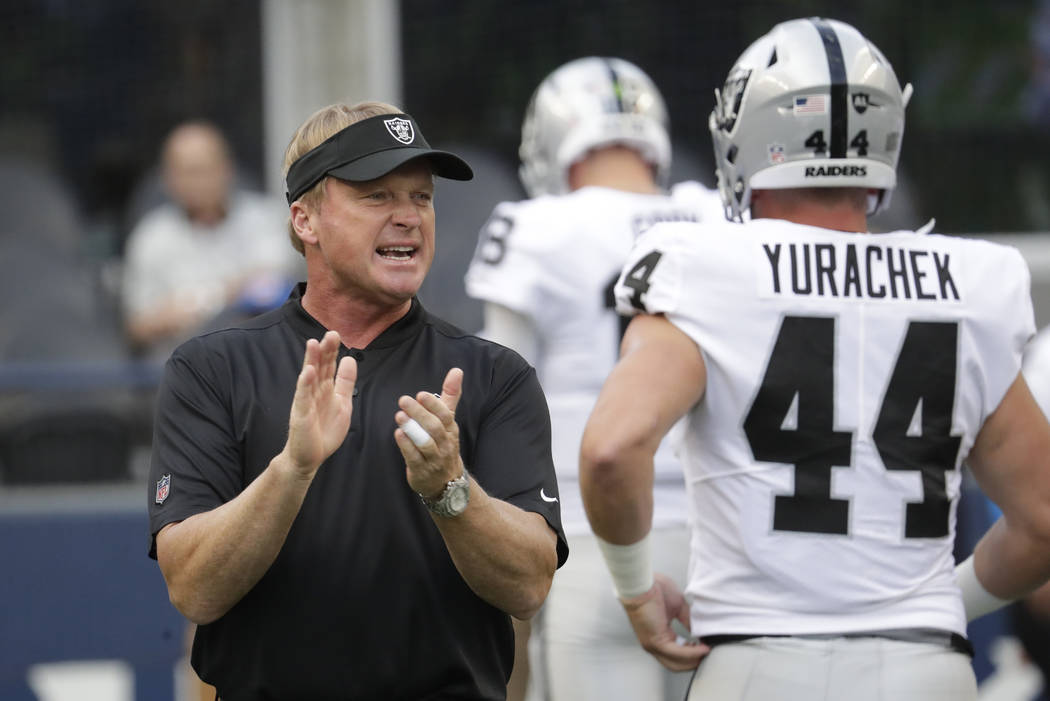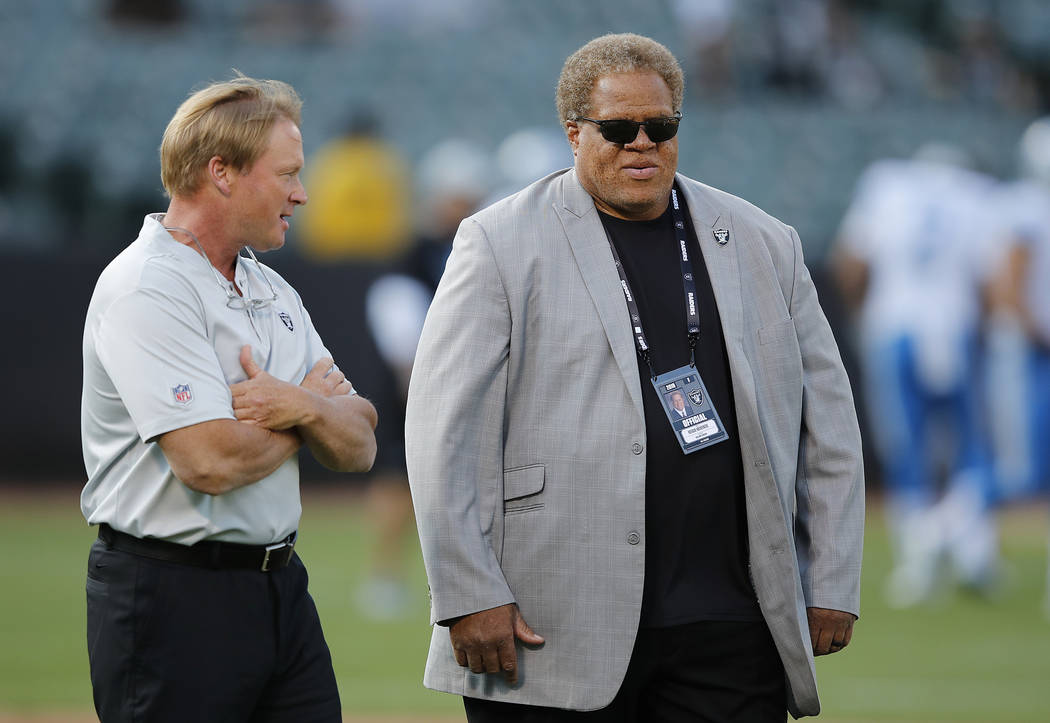 In the moment, for the coming NFL season and perhaps many beyond, this is the farce part about history repeating itself.
Jon Gruden gets to try to prove otherwise.
This isn't what Raiders fans imagined when they celebrated Gruden returning as head coach, his decision to trade the team's best player in Khalil Mack, an elite pass rusher in his prime who should he continue on a current trajectory of production, will one day be sized for a gold blazer in Canton.
There is no debating Mack's talent.
You could have multiple first-round picks the next few decades and not find another like him.
Greatness doesn't come in spades.
But this is a new era for the Raiders, of which there is only one supreme power, and whether a $100 million contract is enough for Gruden to give a hoot about legacy, his from this point forward will be judged on what happened Saturday and those consequences from it.
Which, ironically, could all work out really well for Las Vegas.
Or be a total disaster.
Gruden was himself traded by the Raiders as their head coach to Tampa Bay in 2002 for two first-round draft picks, two seconds and $8 million.
Now, the only first-round pick of the Raiders since 2004 to be named first-team All-Pro has been shipped along with a second-round pick and a conditional fifth to Chicago for two first-rounders, a third and a sixth.
The Bears would later Saturday make Mack the highest-paid defensive player in history — a reported six-year extension, $141 million, $90 million guaranteed, $60 million of which is due on signing — meaning he receieved the title and every last cent he wanted all along.
But what of the Raiders?
For better or worse, sane or certifiable, whether or not the team was financially solvent enough to meet Mack's demands, this more than proves Gruden runs all phases of the organization.
He's Dumbledore. He's headmaster all things silver and black.
Reggie McKenzie is a general manager in title alone. Does he even know Mack is gone?
It's also obvious Gruden doesn't believe the Raiders are much of a team in 2018 and maybe even for longer. Certainly not a playoff team.
The guy who goes out of his way not to discuss his team's pending relocation to Las Vegas just intimated he doesn't think the Raiders will contend until the move.
If then.
So much for telling the fans in Oakland about wanting, more than anything, to bring them a championship before the moving boxes head toward Southern Nevada.
This sort of erases that narrative.
It means Las Vegas won't have a likely future Hall of Famer on the home team to cheer for in that palatial new stadium, but also where a wait-and-see angle to all this occurs.
The Raiders have been to drafting what mixing Guinness and whiskey is to your taste buds, a decadelong worth of more misses than hits, a team whose selections produced just two Pro Bowlers between 2004 and 2013.
And those two — Latavius Murray and Zach Miller — were hardly of the generational caliber of Mack.
Think about that. Just two.
Doesn't everyone make the Pro Bowl?
Is it reasonable to believe Gruden will be better at evaluating and choosing players than those for the Raiders the past 15 years, given how low the bar is set?
And if so, does the idea of multiple high draft selections and $23 million available for not signing Mack make the prospect of the Raiders being far better upon their arrival to Las Vegas in 2020 or shortly thereafter?
Maybe. Maybe not.
Maybe the Raiders just pulled a Dallas Cowboys, dealt their own version of Herschel Walker and will reap amazing awards in coming seasons. Maybe they end up with the Vikings end of that deal.
There is no maybe about this: Saturday was about messages.
That the Raiders are OK paying a coach who hasn't roamed the sideline in 10 years $100 million but not so much when it comes to keeping their best player.
That however this might affect the locker room in a negative manner, one in which Mack was beloved and embraced as its leader, it didn't stop the Raiders from doing what most deemed implausible.
That, more than anything, Jon Gruden is the supreme power.
He won a Super Bowl with the Buccaneers after being traded back in 2002. Meanwhile, the Raiders would use those returning first-round picks on cornerback Phillip Buchanan and defensive end Tyler Brayton.
Meaning, if Gruden can't turn what he received for Mack into much, much better options, and a whole lot of wins, revisiting history will prove a farce.
Which won't be good for Las Vegas or Gruden's legacy.
If, after this, he cares about the latter at all.
Contact columnist Ed Graney at egraney@reviewjournal.com or 702-383-4618. He can be heard on "The Press Box," ESPN Radio 100.9 FM and 1100 AM, from 11 a.m. to 2 p.m. Monday through Friday. Follow @edgraney on Twitter.