Tragic week in California brings perspective to Raiders loss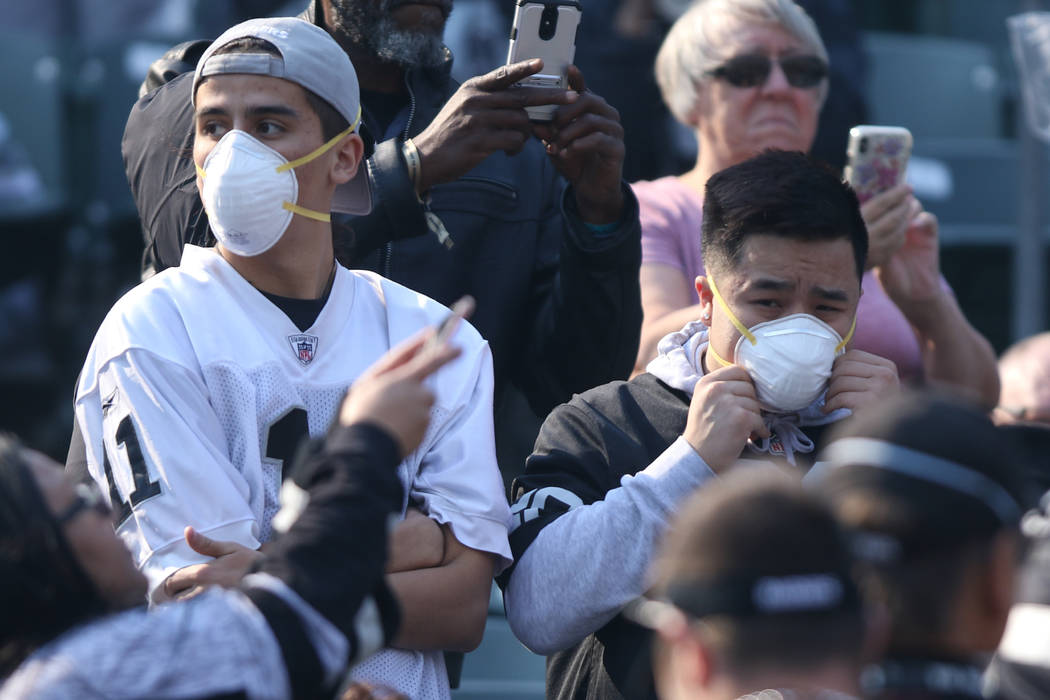 OAKLAND, Calif.
As the most destructive wildfires in this state's history sustained a relentless assault on anything and anyone in their path, as county coroners added more search-and-recovery teams to help find bodies in and around the most treacherous of areas, the Raiders continued their forgettable season in an all-too-familiar manner.
Their latest loss — 20-6 to the Chargers on Sunday before an announced crowd of 54,750 at smoky Oakland-Alameda County Coliseum — was rightly obscured by the tragedy that engulfed California this past week, a mass shooting at a country music bar followed by those raging blazes that have killed at least 31 and displaced and taken homes from tens of thousands of others. There was a moment of silence before the game.
They are carrying out the dead from camping sites in blue plastic tarps.
In some cases, victims are so charred that only pieces of bone are being found.
Suddenly, neither a 1-8 record and taking yet another step toward the first overall pick in the NFL draft seem all that significant.
The Raiders at this point have little control over what will likely continue occurring on the field — theirs is a roster simply not good enough to challenge for wins right now — but perspective is at times the only thing over which you have command.
When the vehicles of choice nearest some of the worst areas hit by fires are those from DNA labs, well, the third-worst start to a season in franchise history becomes pretty irrelevant.
"People are losing family members and houses, and we're playing a football game," said quarterback Derek Carr. "I think we're all right, you know what I mean? I want to say it in the most respectful way. Obviously, you feel it. You see it. I mean, we're playing a football game.
"We're playing a game that a lot of people care about, a lot of people put time and money and effort into, but at the end of the day people are losing their lives and stuff. Play, don't play, I don't care. I'm more concerned with helping those people."
The air quality never reached an index of 200 — the point at which a game is usually postponed or relocated — so countless attending and working the game slipped on respirator masks and watched the Chargers prove every bit a double-digit favorite.
It is thought Raiders coach Jon Gruden would like to raise his team in the image of the AFC West rival, meaning building through the draft and surrounding a stable quarterback with skill on one side while developing an elite front on the other.
But the Raiders are years from such reality and, even worse, have through all the losing become one-dimensional offensively, which in the NFL is comparable to red zone turnovers.
It's never a good thing.
That's what chasing points each week does, what allowing opposing scores at the end of one half and the beginning of another gets you.
Any sort of desired balance vanishes.
Not good enough
"It's a lot to overcome right now," Gruden said. "It's hard to lose. It takes a toll on all of us … Credit San Diego."
Man, the losing is getting to him.
Or maybe he knows the Raiders are 0-6 all-time against the Los Angeles Chargers —they were swept in 1960 and the last two seasons — and preferred to think of better times when the opponent made its home some 120 miles from where it now exists.
The Raiders aren't good enough to take an opening kickoff, drive 78 yards, have a jet sweep stopped on fourth-and-goal from the 1 and win; they aren't good enough to be at the Chargers 21-yard line and have Carr strip-sacked for a turnover and win; they aren't good enough to fail so miserably on fourth-and-5 from the Los Angeles 19 and trailing by 14 with 4:10 remaining, that Carr when pressured literally dumps a pass at the feet of his intended receiver.
I mean, he threw it right at the ground.
I mean, it was as close to a give-up move as you will see, of which Carr said he had no other option other than a covered Jalen Richard and never considered at least throwing a pass up for grabs.
"Let's just hope the fires end and we keep things in perspective," Gruden said. "It has been a tough week in California."
An orange haze hovered above throughout the game, as winds swirled at times and ash floated in the air, a constant reminder of the raging inferno continuing to spread and take lives.
The Raiders lost again.
They're 1-8 and on track for the No. 1 overall pick.
Nothing about that is or should be important right now.
Contact columnist Ed Graney at egraney@reviewjournal.com or 702-383-4618. He can be heard on "The Press Box," ESPN Radio 100.9 FM and 1100 AM, from 7 a.m. to 10 a.m. Monday through Friday. Follow @edgraney on Twitter.