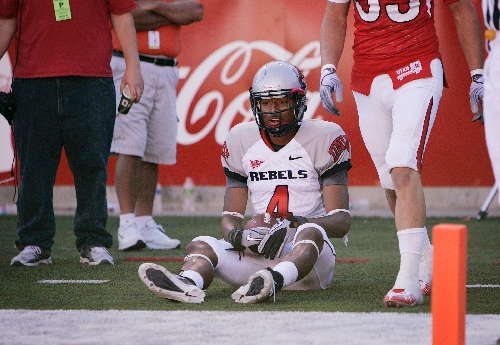 The tiny beeps kept coming from the back of my car Sunday. Beep. Long pause. Beep. Short pause. Beep. No pause. Beep. Beep.
No words. Just beeps.
And the sound of tiny fingers typing away.
The two 9-year-old girls apparently had plenty to say to each other on the way for an afternoon hike, which they chose to do by texting … sitting 2 feet apart.
We haven't talked to each other in years now, a form of communication about as ancient as cell phones the size of flashlights. We text. We tweet. We blog. We chat.
"The Social Network" ranks No. 1 at the box office today with a two-week take of almost $47 million, the only requirement being anyone who pays to watch the movie about the founders of Facebook must do so while simultaneously switching between aps on an iPhone.
Social networks don't define our lives anymore.
They run them.
It is a reality that long ago took hold of athletics at all levels and one that has placed the UNLV football career of junior wide receiver Phillip Payne in a tenuous position.
Payne was left home from the team's game at West Virginia on Saturday, the reported result of his Twitter account producing negative comments about a first-year coaching staff led by Bobby Hauck.
Something about things having been better under the former regime of Mike Sanford, which, if true, makes me wonder if Payne was conscious during that time.
Hauck on Tuesday called Payne's situation a "fluid" one, meaning the coach knows exactly what the final outcome will be or is still considering his options while making himself familiar with the world of tweeting.
Hauck definitely has the whole texting move down, but doesn't strike me as the sort who spends idle time updating a Facebook status with pearls such as "Watching tape of old UNLV games … afraid for crazed coach who just tripped over television cables screaming to speak to an athletic director."
Six games and five losses into his tenure here, Hauck's weekly mission must continue to adopt a broader theme than number of victories, important for more reasons than the skill his team owns makes it appear as if he still coaches Montana.
No matter the record UNLV finishes with — right now, 3-9 appears daunting — a main goal of Hauck's has to be developing a team that buys into his way of doing things.
That embraces his vision for the program.
That believes in his game plan for long-term success.
That will collectively run through the nearest brick wall for him.
Seasons 2 and 3 will tell us far more about whether Hauck is cut out to succeed at this level, but he has no chance if kids don't trust in his ability and that of his assistants.
So far, despite the losses, it appears the majority does. UNLV isn't a good team but hasn't stopped playing hard. A lack of talent appears far more the problem than that of effort.
Hauck at this point can't risk having one of his best players spread negative thoughts publicly, opinions that could sit and fester and spread as the losing continues this first year. Payne needs to buy in or head out. He is a talented player whose decision to attend UNLV was encouraged by the touching storyline of wanting to play where he could also help look after his dying father.
But no matter how the young man envisions this season going under Hauck, no matter if his tweets were a result of unhappiness with his role on offense or some other disagreement with the coaching staff, spreading views in such a forum comes with consequences.
This is where people get confused about the First Amendment, which only restricts government's control of speech and says nothing about private entities.
UNLV has an athletic department policy that states athletes must allow school officials access to social network pages and that it's up to a given sport how such matters are handled.
Bottom line: Payne had every right to tweet his thoughts about the coaching staff; Hauck has every right to suspend him for one game or two or forever from the program.
It's the way of the world.
The social network world.
"All our guys are well aware that they're accountable for Facebook, Twitter and all those social-networking things," Hauck said. "Frankly, we try to do our best to educate the guys on the team the pitfalls of those type of mediums because future employers can look at it, law enforcement people can look at it.
"We're in the business of educating, and that's what we're going to keep doing."
I'm fairly certain he actually said those words and didn't text them.
Las Vegas Review-Journal sports columnist Ed Graney can be reached at egraney@reviewjournal.com or 702-383-4618. He also can be heard from 2 to 4 p.m. Monday and 2 to 3 p.m. Thursday on "Monsters of the Midday," FOX Sports Radio 920 AM.