UCSB shows Rebels, Rice how to play, coach
November 13, 2013 - 11:26 pm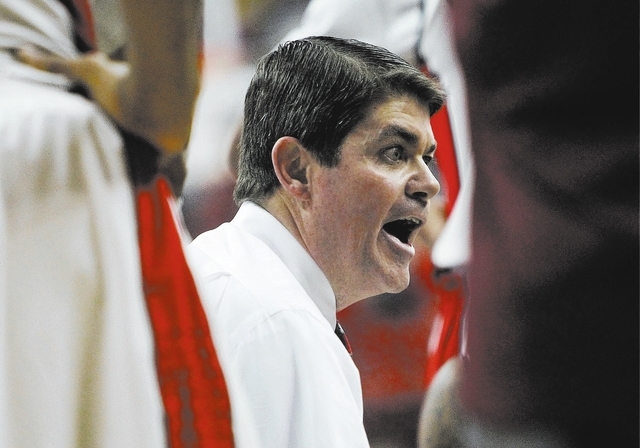 In the second game of a third season under its current coaching staff, with what has been lauded as the best basketball team Dave Rice has featured at UNLV, this is today's reality:
The Rebels on Tuesday night were dominated by UC Santa Barbara out of the Big West Conference.
Run out (and at times deservedly booed out) of the Thomas &Mack Center.
Beaten to a pulp by the Gauchos.
Whipped by an 86-65 score that more than defined the comfort by which UCSB handled the Rebels.
This wasn't a game. It was a clinic.
A shooting one. A rebounding one. An efficiency one.
Most of all, a coaching one.
All courtesy of the Gauchos.
I don't know why Bob Williams has spent the past 16 seasons in Santa Barbara as head coach — OK, so perhaps I do given the campus and beaches and other desirable sights — but he is good enough at what he does to have been rewarded long ago with an upgrade in pay and conference affiliation.
Williams is one of those terrific coaches no one knows about because he doesn't sign nationally ranked recruiting classes. He mostly takes Big West-caliber players and makes them much better.
He has landed some high-level talent — Orlando Johnson of the Pacers being one such example — but his kids are primarily those who eat at McDonald's, not ones who make the fast food chain's prep All-American team.
Williams also has a veteran staff of assistants.
These things matter.
A lot.
The Gauchos offered seven straight winning seasons until last year's uncharacteristic 11-20 record, but appear very much back on track.
I'm not sure what track UNLV exists on today.
"Santa Barbara played well and we played very, very poorly," Rice said. "We got beat in every aspect. It's very disheartening, very disappointing. It's absolutely time to grow up and take responsibility for a pitiful performance. It's the second game of the season, but we have to do better and do better quickly."
Here's an idea: Someone figure out how to play against zone.
You would have thought with how the Rebels were eliminated from the NCAA Tournament last March, when Cal beat them 64-61 by zoning UNLV into a pathetic shooting performance, that the summer would have been largely devoted to devising strategies that would best attack the defense each UNLV opponent is sure to play for large portions of this season.
Nothing has changed.
Different faces, same issues. For the most part, the Rebels played against UCSB's zone as if leading by 20 rather than trailing by 20. They appeared that confused at times about what to do.
They created some chances by attacking with the likes of freshman Kendall Smith, but such moments were few and far between an unsettling, uninspired, sort of deer-in-the-headlights approach against the zone.
Another major problem: The worse UNLV played against the zone, the more focus it lost defensively, allowing UCSB to shoot 56 percent from the floor, including 64 percent on 3s.
Thanksgiving is still a few weeks away, but the Rebels were carved up more than any such fate awaits your turkey.
UNLV coaches have done a marvelous job selling this vision of running and pressing and an up-tempo attack to recruits, who almost always give such a style of play as a major reason for committing to the Rebels.
But it's more fantasy than reality. The only thing missing from that picture is the running and pressing and up-tempo style, which becomes harder to do when you spend the night taking the ball out of your opponent's basket.
"The coaches told us this was going to be the best team we played so far," UNLV senior Kevin Olekaibe.
Well, that's one thing — and seemingly the only one — whoever did the scout for UNLV got right, because there is no question the Gauchos are better than the Three States (Dixie, Adams and Portland).
UCSB also had the best player on the court in junior forward Alan Williams, known as Big Sauce. He more than had his way against UNLV forward Khem Birch (eight points, four rebounds). Sauce (21 points, nine rebounds) handled the reigning Mountain West Defensive Player of the Year as his teammates did the rest of the Rebels.
The Gauchos were so much better than UNLV, that with 10 minutes remaining, Bob Williams had removed his jacket and was chatting casually with assistant coaches on the bench, likely already discussing a game against Utah State on Saturday.
UCSB led by 16 at halftime, 20 with 17 minutes remaining and 26 with seven minutes left.
Not a game.
A clinic.
"We need to come out stronger, tougher, just the little things that get you beat," Olekaibe said. "We have to pay more attention to detail. We have played this game since we were little, so we shouldn't allow a zone like that to affect us."
Olekaibe is new to the program, so excuse his positive outlook.
When hasn't a zone bothered UNLV in recent seasons?
Las Vegas Review-Journal sports columnist Ed Graney can be reached at egraney@reviewjournal.com or 702-383-4618. He can be heard from 11 a.m. to 2 p.m. Monday through Friday on "Gridlock," ESPN 1100 and 98.9 FM. Follow him on Twitter: @edgraney.