UNLV basketball, better at every spot, needs wins to win fans back
November 11, 2017 - 10:01 pm
Updated November 12, 2017 - 4:49 pm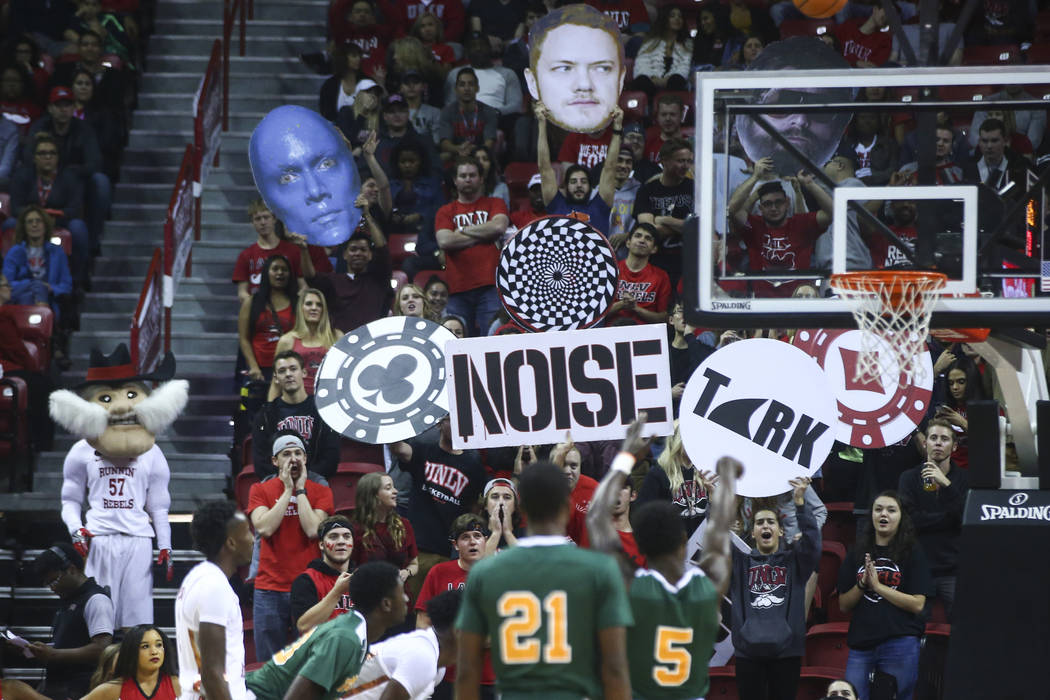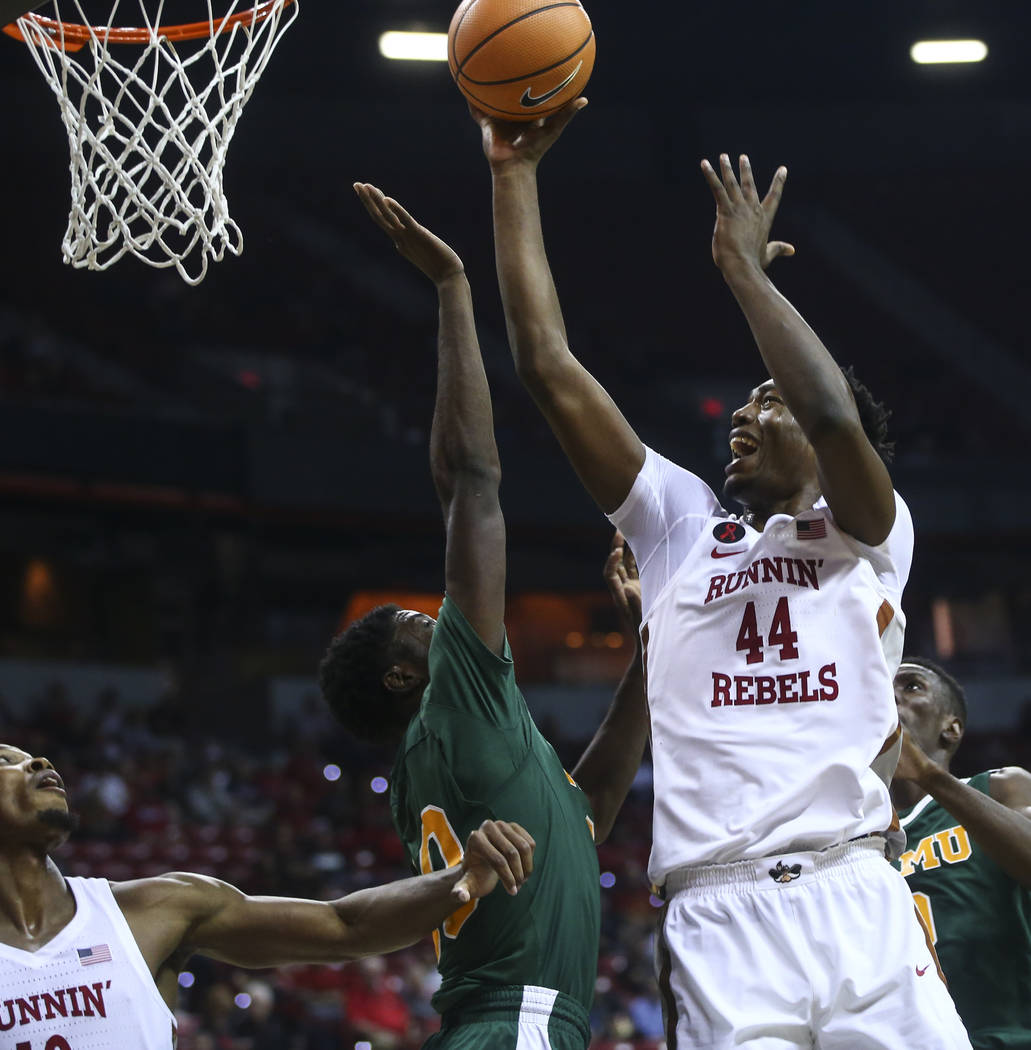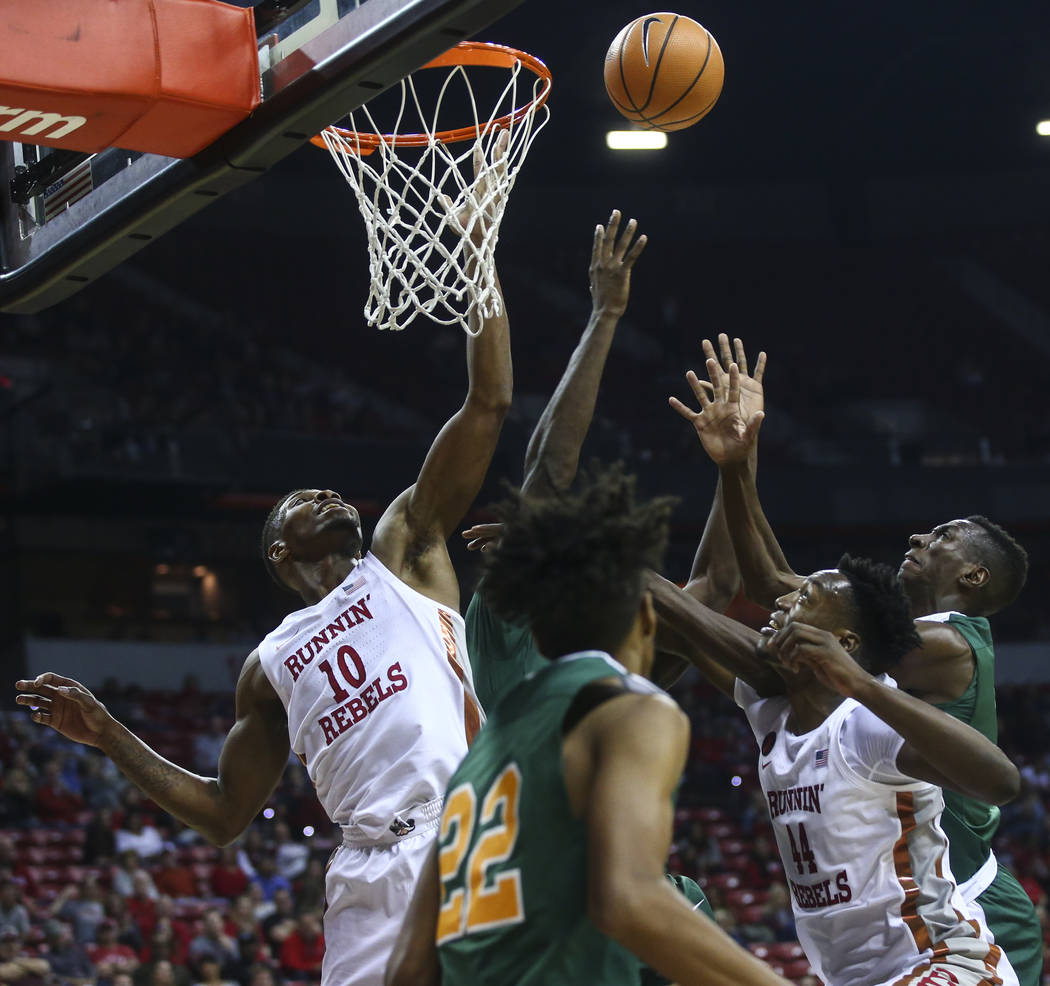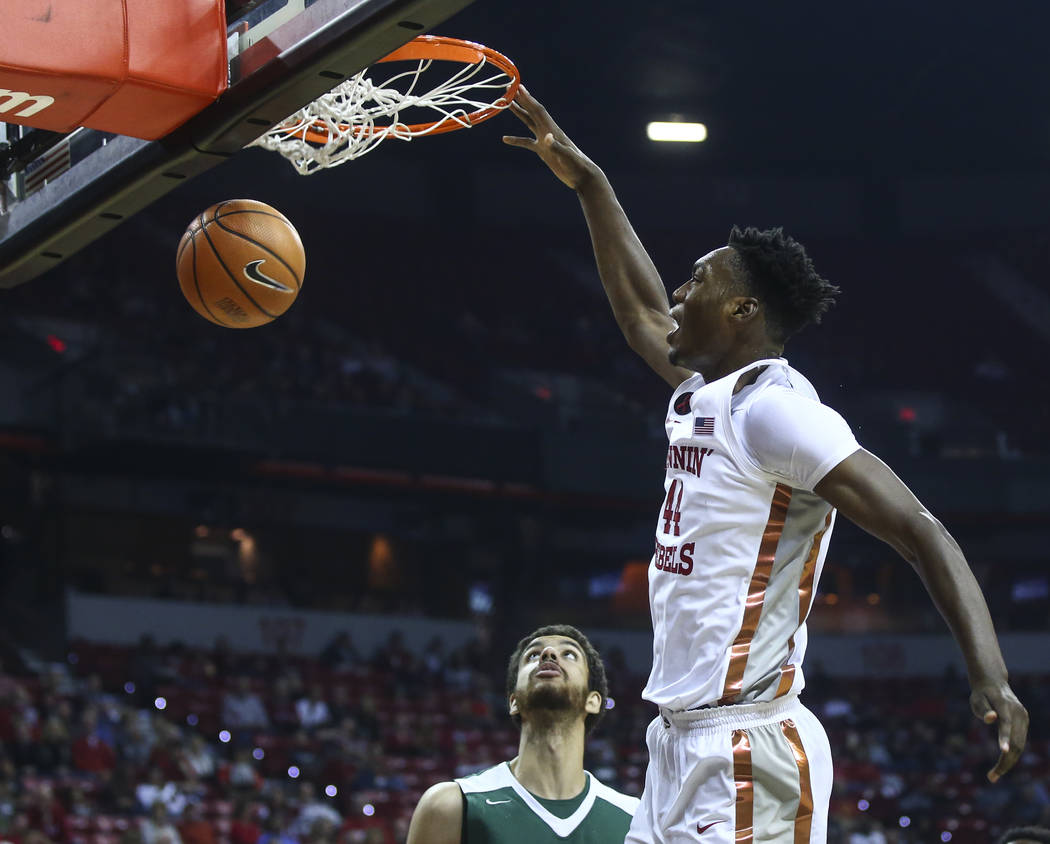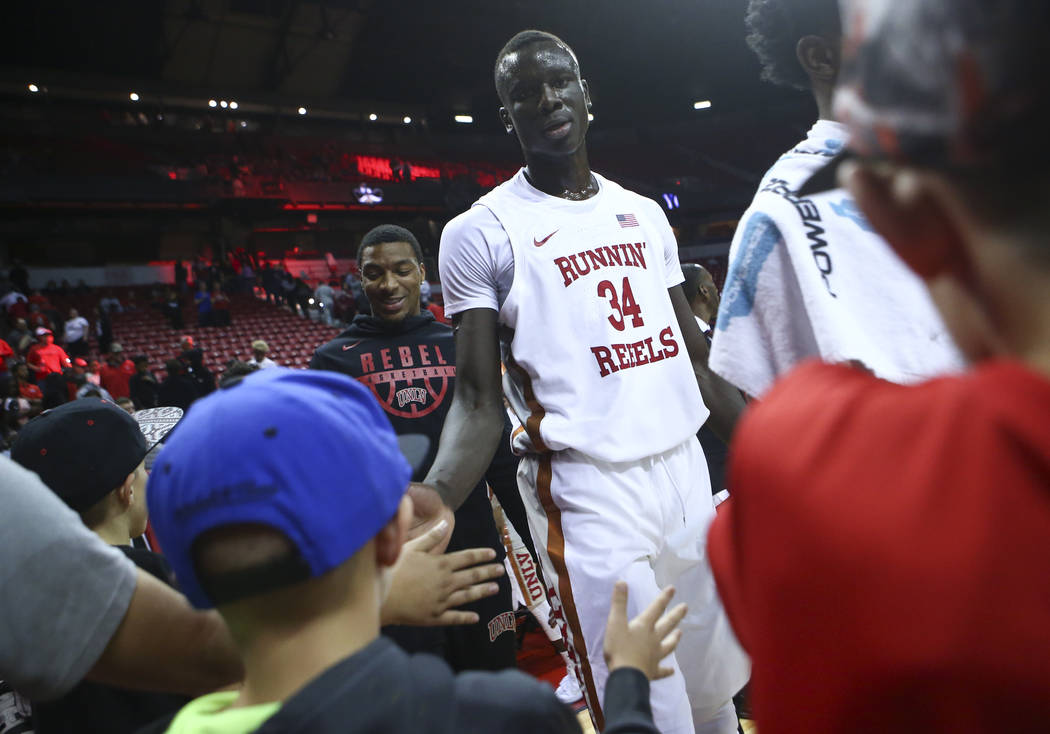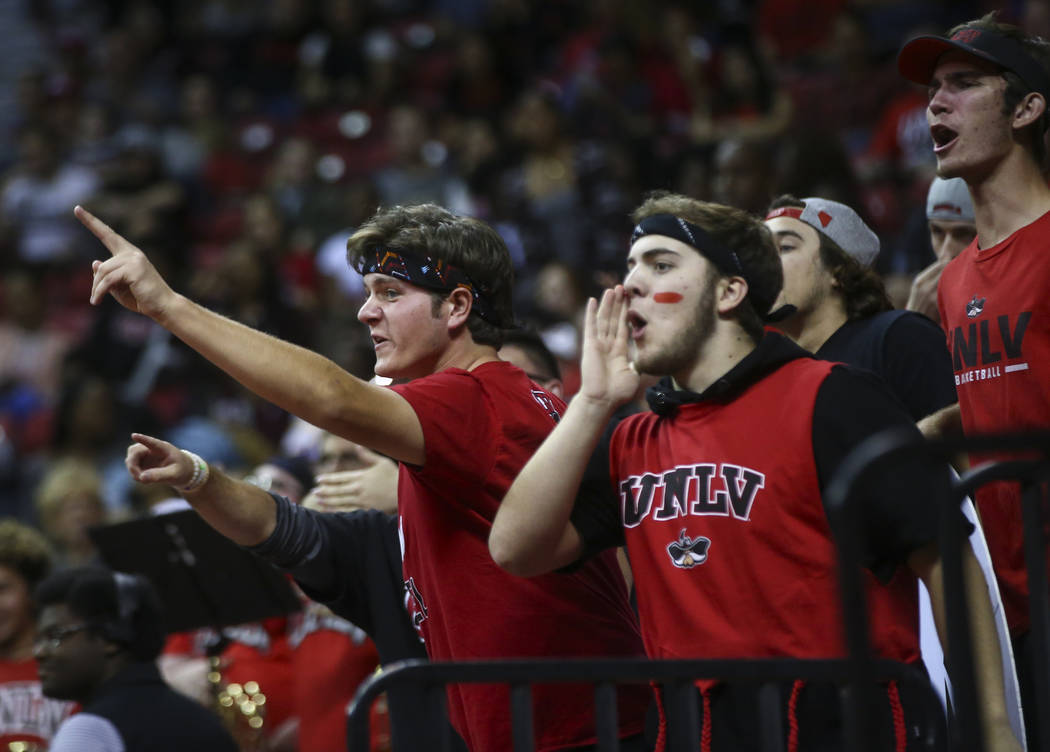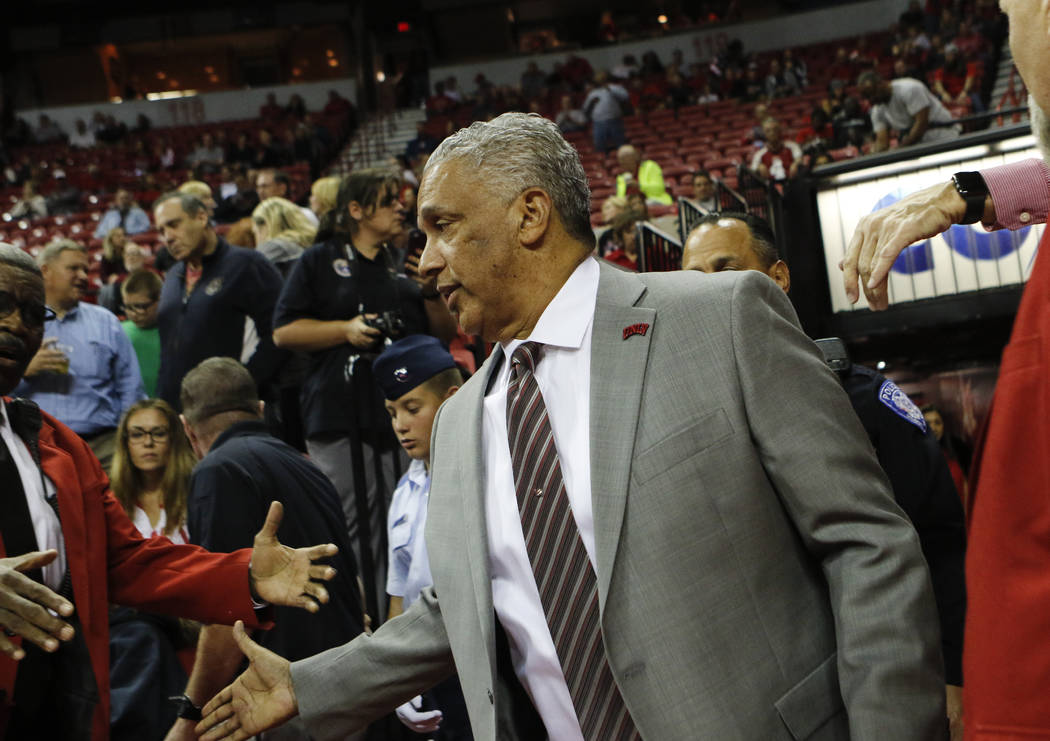 Just a guess: In designing a new court for its basketball team at the Thomas & Mack Center, UNLV smartly chose not to travel the same route that delivered a disastrous new logo that thankfully went all Jimmy Hoffa and vanished from any discernible view.
The court, now displaying a silhouette of the Strip skyline on one side, looks terrific.
It's a big upgrade.
Just as the product is on it.
There is nowhere to go from 11 wins and tied for last place in what was a terrible Mountain West last season than up, and from the looks of the UNLV team that opened its season Saturday night, the climb could be vast.
You can't gauge much from a 108-66 victory against lowly Florida A&M, and it will be difficult during most nonconference games to truly know where the ceiling exists for a second season under coach Marvin Menzies.
There will be a few such serious tests, a handful of opponents — OK, no more than four — that would be considered potential resume builders.
But the nonleague schedule as a whole is awful.
Eight of 13 opponents had losing records last season. UNLV plays the Nos. 325, 333 and 351 teams in the Kenpom ratings, along with several others in the 200s.
You know what?
It makes perfect sense.
It's the best path for a program in the midst of rebuilding itself, both on the court and throughout what has become, in parts of the community, indifference to UNLV basketball.
The Rebels are better at most spots. At some, incredibly so.
They're longer, deeper, more athletic, more savvy, far better suited to compete on a nightly basis, no matter the opposing side.
But more than anything else, Menzies has to begin by getting fannies back in those red seats at the place with the nice silhouette, at least to the point where you don't hear announced attendance numbers and break out laughing.
The number Saturday was 9,457. There weren't that many in the place, but it was a closer count than the morgues of last season. There is still much work to do on this front.
The joke that was UNLV's coaching search that ultimately landed Menzies his job made last season an impossible task, which led to thousands of folks staying away.
The committed and die-hard fans, those raised on the traditions of UNLV basketball, will always come. But it's those who relate attending games solely with a team's level of success that the program needs back.
You get them by winning.
You win with this schedule.
I've been married 21 years and am fairly confident the wife has had during that time just a fleeting interest in my profession until now. But she can tell you the name and sweater number of every Golden Knight.
All TVs in the house are turned to the team's games.
I'm getting texts from home like this: When is Flower coming back and they looked good killing that power play.
Flower!
The woman has gone nuts.
But she's also the perfect example of why UNLV basketball is no longer the only sports show in town. Not even close. The Rebels can't assume disposable income from fans is coming their way.
There's competition for it now and a ton more in the future.
Menzies will always recruit at a high level. UNLV will always have talent under him. I said the day he was hired, knowing the ridiculous spot any coach who took that job was put in, that 30 wins over the first two years would be a successful start to building a program.
Always horrible at math, I still know that would mean a minimum of 19 victories this season.
This team can get that and potentially more. It has a chance to be really good.
But first, get people excited again. Get them back in those red seats.
The nonconference schedule is a good start. It's not near strong enough to be considered for an at-large NCAA berth — unless perhaps the Rebels sweep those resume builders — but there are future seasons for more stringent and high-profile games. Those can return in time.
They have to win first. The taste was just so sour last season. It lasted for months on end.
That doesn't disappear with one blowout victory against a hopeless opponent.
The floor is cool, and if you look across from it and raise your eyes to above Section 117, you see a light shining from the UNLV logo.
Thankfully, not the disastrous one that cost $50,000 and then vanished.
So for starters, things couldn't have gone better for the Rebels on Saturday.
Much better team than last season.
Much better (old/same) logo.
Much more enthusiasm in the arena.
"The ball is rolling now," Menzies said.
I think that means he liked the result.
He should. He has something going here.
They're good.
Contact columnist Ed Graney at egraney@reviewjournal.com or 702-383-4618. He can be heard on "The Press Box," ESPN Radio 100.9 FM and 1100 AM, from 11 a.m. to 2 p.m. Monday through Friday. Follow @edgraney on Twitter.