UNLV basketball's roller-coaster season hard to stomach
February 20, 2014 - 8:33 am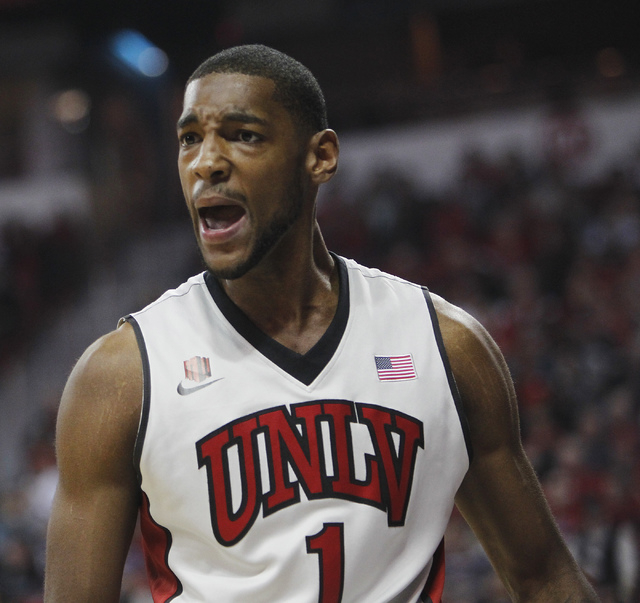 Up. Down. Right. Left. Fast. Slow. Twist. Turn.
So goes the roller-coaster of a basketball team UNLV has proven itself to be time and again this season.
When this happens, when you look so good and confident one night and so bad and lost another, the reach to discover the truth isn't a long one: The Rebels are a cut or two below the Mountain West Conference's best right now.
They're a mix between talented and flawed, between capable and inept.
They also have a major problem with reliability and accountability.
UNLV fell to New Mexico 68-56 before an announced gathering of 13,701 at the Thomas &Mack Center on Wednesday night, when an ESPN2 audience was treated to all of the warts that have made it impossible for the Rebels to put any real pressure on conference leaders San Diego State and New Mexico.
"We had a great opportunity to put ourselves in the middle of the conference race and didn't take advantage of it," UNLV coach Dave Rice said. "We didn't give up. We just couldn't make enough plays. The only thing we can do now is watch film, come back and practice hard and get ready for Boise State (on Saturday)."
Here's the thing: UNLV wasn't really in it from the first media timeout of the second half, when New Mexico's lead had swelled to 16. If anything, whistles (many questionable) against the Lobos kept the Rebels close enough that more televisions than not likely remained tuned into the game.
Darron George is a conference referee who had a terrible night at the office. He appeared more lost than UNLV's offense.
The Rebels had six fewer fouls called against them and shot 11 more free throws than New Mexico.
And still lost by 12.
You're not going to beat anyone good shooting 31 percent from the field, 14 percent from 3-point range and making just 15-of-26 free throws. UNLV was as poor offensively Wednesday as it was efficient in winning at Utah State by 11 on Saturday. Up. Down. Right. Left.
That's the small picture with UNLV. A bad night. A fifth conference loss. An overall record of 17-9.
This is the big one: Junior point guard Deville Smith was benched to start the game for reportedly being late to a team bus on the trip to Logan, Utah and again for a shoot-around before Wednesday's game.
What would be considered a small issue has grown to an embarrassing one for Rice.
Smith marks at least five UNLV players this season that have been removed from the lineup due to being late for buses or practice.
Why and how does this keep happening?
I suppose if eating too much pasta is an NCAA violation at Oklahoma, buying all these players new watches would also be frowned upon by the compliance folks at UNLV.
But this is beyond silly now. It's stupid, actually.
Your team has won two straight and can climb within a game of second place with a victory at home against New Mexico and you're late to shoot-around?
"To have your starting point guard not be on time is disappointing," said junior forward Khem Birch, who is among those docked playing time for being tardy this season. "It's a big issue and we will have to deal with it."
Said Rice: "I think it's something we have to address and will address. It hurts your teammates when you show up late like that, absolutely."
It's about perception. Discipline. Responsibility. The fact Smith didn't start and gave way to sophomore Daquan Cook had no influence on the outcome.
New Mexico is better than UNLV. It has more to compete for today and would have won had Smith played the opening few minutes or not. He still logged 32 (second highest on the team), meaning the punishment for these late arrivals isn't all that serious anyway.
But when you are a coaching staff in its third year and trying to build a program, when you have stated this is your best team to date and are looking squarely in the face of a National Invitation Tournament berth, the last thing you need is even the hint of an appearance that the children are running the school.
You can't be good one night, bad another and continue to have players show up late. Those sorts of things are tolerated a tad more if you're 22-4. They're viewed as a big problem when you're 17-9.
As it is, the Rebels next meet a Boise State team that should be thinking NCAA Tournament bubble if it can finish the regular-season strong and show well at the conference tournament.
It's a road game for UNLV, which means there is a good chance the Rebels will compete to win.
That's the reality of a roller-coaster season.
Bad then good. Down then up.
And apparently late a lot.
Las Vegas Review-Journal sports columnist Ed Graney can be reached at egraney@reviewjournal.com or 702-383-4618. He can be heard from 11 a.m. to 2 p.m. Monday through Friday on "Gridlock," ESPN 1100 and 98.9 FM. Follow him on Twitter: @edgraney.