UNLV close, but journey not over yet
November 14, 2008 - 10:00 pm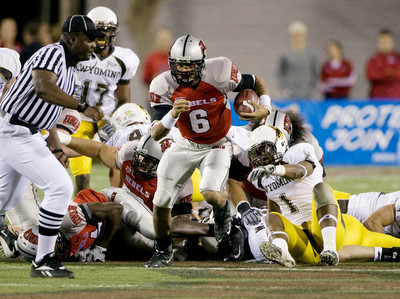 It is in their hands now for the first time in what seems an eternity. Eight years, really. But what a long, painful, frustrating eight it must have been for those who follow UNLV football. Think of the world's incessant wait for Tom Cruise to take up scientology full time and try ruling the universe in anonymity. That long.
College football bowl eligibility comes easier to some programs than a pregame stretch, but UNLV for some time has approached the concept with the urgency as one might crawling up Mount Charleston in full pads.
That changed this season, and the Rebels today sit 60 minutes from delivering themselves into such postseason consideration.
All they have to do is break an 18-game conference road losing streak by beating one of the worst teams in the country.
Simple, no.
Achievable, definitely.
Phase two of three ended with a 22-14 win against Wyoming on Thursday night at Sam Boyd Stadium, meaning UNLV has nearly completed the sweep it needed to even its record at 6-6.
First came New Mexico, then Wyoming and next San Diego State on Nov. 22.
"I came here to help make a change in this program," said running back Frank Summers, one of 16 seniors honored before kickoff. "We're not quite there yet, but we're in the right direction. It's a hunger and desire we have to get the (San Diego State) game.
"I think we did a great job of blocking out last week and getting focused and prepared (for Wyoming). I don't think we'll have a problem doing it again this time. We'll get some time to rest. We still have a goal in mind, and the goal isn't accomplished."
The next nine days will be sprinkled with discussion about how dreadful the Aztecs are (very) and what must transpire elsewhere for UNLV to earn a bowl invitation with a victory.
Some of it the Rebels must try to avoid, because to try to dress up an upcoming opponent that is just as awful on offense (107th nationally) as defense (111th), that is so banged up it has ceased tackling in practice and has started 40 different players this season, that gave up 70 points to an incredibly flawed New Mexico side would be, well, more than a bit devious and fairly laughable.
Some of it (whether Utah advances to a BCS game or Colorado State wins its final two games and is the more attractive choice over UNLV to a New Mexico Bowl committee) is in others' hands.
Some of it is on UNLV. It must prepare as if trying to beat Florida, and for this Rebels coach Mike Sanford should perhaps grab a game film from 1996, when San Diego State was a victory from a Holiday Bowl berth and came here to face an 0-10 UNLV side.
Final score: Rebels 44, Aztecs 42.
Crazy things happen all the time on college fields. You don't want to get this close and not realize the dream for an inflated sense of arrogance, but 18 straight road conference losses should temper any chance of that for UNLV.
"We know what is at stake and what we have to do," redshirt freshman quarterback Mike Clausen said. "No matter what the outside talk will be about, we just have to stick together and follow whatever game plan the coaches give us. We have to play to our potential and then should be OK."
Winning changes so many things. It creates confidence in what was a frightful defense for weeks. It doesn't allow an offense to surrender season-long momentum when a starting quarterback goes down to injury. It establishes a culture of assumption rather than hope.
UNLV should walk into Qualcomm Stadium on Nov. 22 and win a game because it is the better team. It should finish the regular season 6-6 and await its bowl fate, hoping what has been a pathetic home attendance base the last month doesn't cost the Rebels a postseason game with selection committees wanting to fill seats and hotel rooms in poor economic times.
Nothing is certain. Crazy things happen. But the first part of earning a bowl bid is putting yourself in position to do so. It has been eight years since the Rebels did, and that time has now been replaced with 60 minutes.
"It's fun to win," Sanford said. "I love winning."
He had the postgame Gatorade bath to prove it.
"The best shower I have ever had," he said.
Another could await Nov. 22. All they have to do is beat one of the worst teams in the country.
Don't for a second think it will be easy.
Ed Graney can be reached at 702-383-4618 or egraney@reviewjournal.com.