UNLV couldn't afford loss against Portland
December 18, 2014 - 8:05 am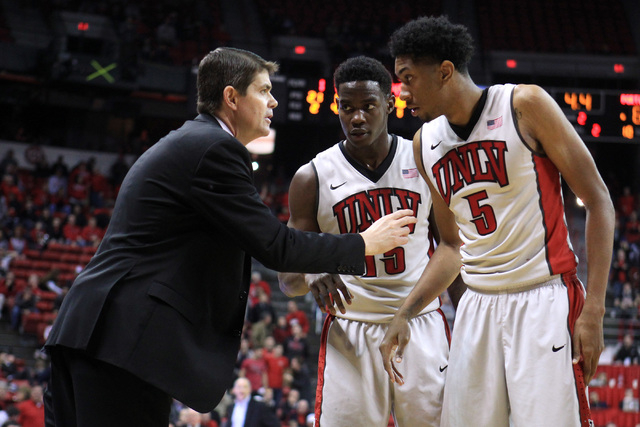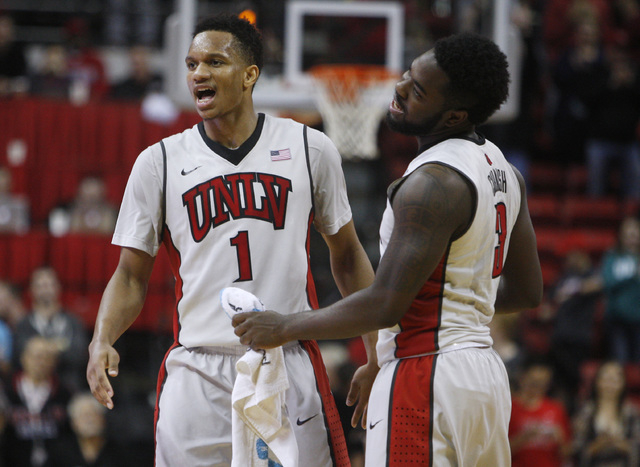 No matter how the journey transpired, no matter how difficult it was for 45 minutes, no matter how many warts were re-exposed along the way for UNLV's basketball team Wednesday night, the end result was more than required for the Rebels.
It was imperative. Essential.
It couldn't go the other way.
Not if the Rebels are to be taken seriously.
Because in the big picture of a season for a team that believes it has a legitimate chance of making the NCAA Tournament, which is an extremely debatable point right now for anyone outside UNLV's program, a midweek win against Portland means nothing nationally.
It won't move the ol' exposure needle one inch.
It won't turn one head that matters or open any eyes from those who could eventually judge UNLV's resume.
But a loss would have been dreadful.
UNLV doesn't have to deal with such fallout today, having survived the Pilots 75-73 in overtime before 12,536 at the Thomas & Mack Center, having thanked its lucky stars yet again that Cody Doolin transferred to the Rebels for his final college season.
They certainly wouldn't have won this game without their senior point guard, whose driving layup proved the difference in overtime and who made all the big plays over a final few frantic minutes of regulation that saw UNLV rally from eight down.
If there is such a thing as a monumental victory against a side whose ceiling this season is likely third in the West Coast Conference, this is it. Mostly, because of what it would have meant not to win.
What you can't do if you are UNLV is lose at home in mid-December to a team that sits 137 in the Ratings Percentage Index, 146 in Kenpom, has three wins against opponents with an RPI of 301 or worse and whose best win is versus Murray State.
Those sorts of losses move the needle, and in the wrong direction.
They open eyes to how average your team might actually be.
Portland is a nice WCC squad. Nothing more. Nothing less. It is not terrific, a word used far too often to describe many of UNLV's non-conference opponents thus far.
Believe me. Terrific is coming soon.
The Pilots have some size and play hard and made UNLV look all kinds of weak on the boards, grabbing 38 rebounds to 30 for the Rebels and owning a 21-12 edge in second-chance points.
When playing at home, Portland will give the WCC's best teams some issues this season.
But nothing has changed for UNLV through nine games. It has seven wins against those with lesser talent and losses to better teams in Stanford and Arizona State. If such a trend is going to change against the latter group, the Rebels better improve fast.
They will be underdogs in four of their next five games, a stretch that begins against No. 13 Utah on Saturday in the second game of the MGM Grand Showcase.
Arizona, ranked third, visits the Thomas & Mack on Tuesday. There is also a Mountain West opener at Wyoming on Dec. 31 and a date at No. 10 Kansas on Jan. 4.
Southern Utah visits on Dec. 27.
That's the gimme of the stretch.
Or better be.
"We understand the challenge (against Utah) on Saturday," UNLV coach Dave Rice said. "We'll be ready for that game."
They will be. They should have every chance to be in it late against the Utes and possibly win, because UNLV players will understand the competition and those sorts of things tend to raise the level of execution for any team.
It's not difficult to get up for Utah or Arizona or Kansas. That's how basketball often works — a team with talent and athleticism like UNLV tends to play its best in big moments when the crowd is in its favor.
The Rebels obviously have to rebound better. They can't allow upcoming opponents 16 offensive rebounds as they did Portland and expect to have any chance.
And they need that chance.
UNLV needs a signature win.
There isn't any on the resume today, meaning the Rebels are in danger of repeating last season, when they needed to win the conference tournament to make the NCAA field.
Didn't come close.
"We never quit," Rice said of his team's overtime victory Wednesday. "We just kept playing. We made every important play down the stretch. (Doolin) wouldn't let us lose. He is absolutely a winner. We need to do a lot of things better. We know that.
"But we found a way to win a very important game."
It was important for one reason: The alternative would have been dreadful.
Can't lose this game.
Can't lose to Portland at home in mid-December.
The Rebels didn't. They found a way.
Now comes the hard part of the schedule.
Now comes a few opponents that really are terrific.
Las Vegas Review-Journal sports columnist Ed Graney can be reached at egraney@reviewjournal.com or 702-383-4618. He can be heard from 11 a.m. to 2 p.m. Monday through Friday on "Gridlock," ESPN 1100 and 100.9 FM. Follow him on Twitter: @edgraney.