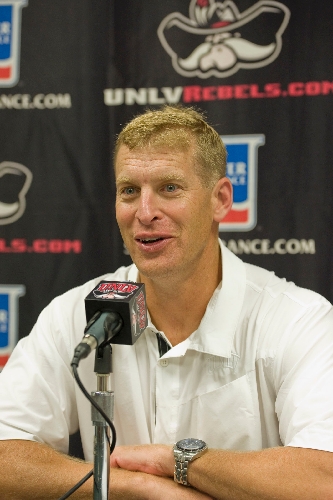 This is what happens when you lose to a bunch of Lumberjacks.
Alarms sound. Tweets demand change. Panic buttons are crushed.
The stench still resonates from UNLV's loss to Northern Arizona on Saturday, from a 17-14 defeat to a Football Championship Subdivision team that was dead-flat average for its own division, never mind the one above it.
Not even the downpour that hit Las Vegas on Tuesday could totally wash away the reality of such a result.
"There is nothing good you can say about it, nothing to build on it except that it's a lesson learned," UNLV athletic director Jim Livengood said. "You don't want to be the team that writes a book on such lessons. It was horrific. Bad. Absolutely bad. Disappointing. All those things. I've said this so many times – we have to win the games we're supposed to win. But at the end of the day, we have to move on."
It's a truth for everyone involved, including those who reacted with what have become typical assertions about the Rebels.
Here are three and why, while understandable given the program's state, they are more reaches than solutions from those fed up with a bad product.
Fire coach Bobby Hauck
Really?
And replace him with whom?
Understand that Livengood last week had to beg, borrow and plead to get approval for men's basketball coach Dave Rice's raise, which still only puts him in the middle of the pack when compared to Mountain West Conference peers. Rice is about to unveil a Top 15 team.
Hauck makes $350,000 annually.
What proven name are you going to get for that salary?
Someone mentioned Bobby Petrino during the loss Saturday.
Actually, it was me who mentioned him, immediately after the Rebels attempted, for some godforsaken reason, a fake field goal against an FCS team.
Petrino would fit better in Las Vegas than buffets.
He was fired from Arkansas amid scandal after ignoring university guidelines in hiring his 25-year-old mistress as a player development coordinator, crashing his motorcycle with said mistress on the back and then lying about it.
We live for these kind of degenerates.
I could see Petrino at next year's home opener, emerging from a tunnel on his bike while wearing that wacky neck brace with his mistress in a bikini riding along, and purposefully crashing at the 50-yard line of Sam Boyd Stadium to the deafening cheers of a sold-out gathering.
The guy has it all!
His 10-year contract at Arkansas was also worth nearly $26 million.
He's not coming for $350,000.
If the salary structure for a UNLV football coach remains the same, those who hired and supported and believed in Hauck should continue to put all their efforts into affording him any and all advantages to build the program for at least a five-year window from the day he accepted the position.
If not, hiring the next guy for pennies when compared to most Division I-A coaches will only continue a never-ending cycle of mediocrity.
FORGET THE STADIUM
It's a short-sided viewpoint.
The UNLV Now project is moving forward, plans that would include a mega-events center and on-campus stadium surrounded by a retail district. It could cost in the neighborhood of $2 billion.
There is no question the Rebels would benefit from a home-field advantage that entails a short walk for students rather than a trip down I-95.
Support. Recruiting. Perception. All probably would change dramatically for the better. In the arms race that is college football, pristine facilities have become the norm for those who want to compete at a high level.
But this venture reaches far beyond six or so games a year.
UNLV football is never going to move the city's economic needle in a substantial manner, but a stadium that seats 60,000 would generate through mega events hundreds of millions of dollars of new money annually.
Legislators have to be smart enough to realize that approving a tax-increment financing district for the project would be more a vote for the greater economic good of Las Vegas than any opinion on the merits of affording UNLV football a sparkling on-campus home.
Please. Tell me they're that smart.
DROP FOOTBALL
This makes no sense. It makes less than no sense.
It makes minus-zero sense.
It would change the perception of UNLV overnight and not for the better, put other sports at risk given how slashing 85 football scholarships would alter gender-equity requirements, and send a nationally ranked basketball program back to a weaker midmajor conference such as the Big West.
It's a small-time move from small-time thinkers who would define the university as small time.
"Before we jump off the deep end and as bad as it is to lose to NAU," Livengood said, "we have lost two games so far this season by six points. I'm not into moral victories. You lose, you lose.
"But I have to believe we're going to get better."
Four days later, you can still smell it.
But that doesn't mean the best solutions are the most drastic ones.
Las Vegas Review-Journal sports columnist Ed Graney can be reached at egraney@reviewjournal.com or 702-383-4618. He can be heard from 11 a.m. to 2 p.m. Monday through Friday on "Gridlock," ESPN 1100 and 98.9 FM. Follow him on Twitter: @edgraney.